Wide-Format Printers Have Replaced Tradition with Innovation! Part 2
For more
Published in American Printer on Friday, December 18, 2020

By Debbie Nicholson, Think-to-INK!
https://www.linkedin.com/in/debbie-nicholson-24a53627/ 

What is the definition of innovation?
"Innovation is the creation, development, and implementation of a new product, process, or service, intending to improve efficiency, effectiveness, or competitive advantage."
Let's see how W-F Printers have replaced Tradition with Innovation - Part 2
6.  Selling Promotional Products, but wait, there's more!:
Over the last two weeks, I have taken part in a few Zoom Meetings that specifically highlighted Promotional Products as a no-brainer addition to drive revenues.  My amazement – some of the attendees, just this year, have sold anywhere from $250,000 to over $1,000,000 (as a side-job).  From what I heard, these companies made no major attempts, marketing-wise, to entice buyers.  Some sales came from a short conversation with clients, who responded – "oh, wait – I didn't know you sold promotional products."  Did I mention -- 25-30% profit margins (est.)?
I'll give you a minute to think about that.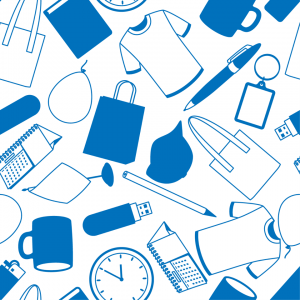 Here's the more!  Now that wide-format printing companies have realized their full potential of producing items and products never attempted before COVID-19.  What about this???
In addition to being a 'customer' of well-known Promotional Product companies (I cannot list their names), why not become a 'supplier'?  That could be marketing on steroids.  Sure, there are some rules and regulations, but I believe it could be worth your time to give it a hard look.
The word is -- buyers are looking for something unique and different…you know, other than pens and mugs.  What can you manufacture that everyone would want – think about it!  You have the equipment, technology, design teams, engineers, production staff, and a high probability you have employees who might have some great ideas. Don't look at current trends; look to future trends.
It might be worth your R&D time!  Also, employee collaboration would be priceless!
7.  Embellishment Printing: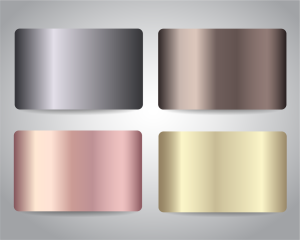 Our customers not only want something different; they need different! Think of your customer's customer when designing and creating specialty printing.
For example, Metallic colors produce eye-catching decorative effects – igniting packaging and promotional materials to a depth not realized with regular printing.  A specific plug-in software program allows creatives the freedom to think outside-the-box to create eye-catching metallic designs while using their existing design software.
Suggestions where Embellishment Printing could be effective:
Packaging (outer and inner packaging, product packaging)

Retail End-Caps

Merchandise Labels

Cut & Stack Labels

Retail Displays

Posters / Informational Materials

Custom Envelopes

Point of Purchase Products

Wall Décor

Wall Covering

Corporate Collateral

Publishing (catalogs, newsletters, on-demand books)

Corporate logos (brand identity)
What printing processes can produce Metallic Colors:
Offset

Digital

Inkjet

Flexo

Screen

Gravure
If you would like information regarding Metallic Embellishment Printing, please contact me directly.  I am here to help!
In Closing…Make 2021 a Year of Learning.  What you choose to learn may be directly related or completely unrelated to your business.  Learning something new will add to your skills and add a new dimension of interest to your life.  This learning process can help you build confidence that promotes a belief of self-assurance that will propel you to excel in whatever future endeavors you choose!
I wish each of you a joyous and safe Holiday Season!   Take care of each other!
Debbie Nicholson
For part 1 of this article click here >>>