Stop Dreaming and Start Machining!
For more
By Debbie Nicholson, Think-to-INK!
https://www.linkedin.com/in/debbie-nicholson-24a53627/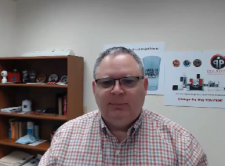 Last month, I had the honor and opportunity to interview my friend, Todd Murphy, President of Engineered Printing Solutions, for the UNBOUND event presented by APTech (Association for Printing Technologies).
Todd Murphy has been in the printing industry longer than I would like to admit because I have known him for most of that time!  His company understands printing companies need to grow and prosper.  Not only do they know, but they manufacture the custom equipment to get it done!  EPS is known for being The Leader In Industrial Inkjet Integration. 
So, what's in it for you if you watch this inspiring and awakening interview?
You will…
…look at your production line with a renewed focus
…see the opportunity to add massive specialized print manufacturing to your portfolio  
…say, "I had no idea EPS could custom manufacture printing equipment".
…add value to your current and future customers
…excite your employees with new in-house opportunities and personal growth
…love the samples Todd shows us
…be glad you took the time to watch this video to ignite and inspire 2022
Enjoy!