Breaking the Barrier to Production Inkjet Article 4 of 6
For more
 
The Reprint Dilemma
A New Effective, Affordable, High Integrity Solution
There is an expectation – and often a contractual requirement – of 100% document accuracy since printed documents often relate to business contracts, product deliveries, payment requests, government reports and other critical business transactions. This makes the reprint process one of the most critical in high-volume production facilities.
The RISO ComColor family of printers are designed and engineered to provide peace of mind for organizations that recognize the need for flawless document integrity.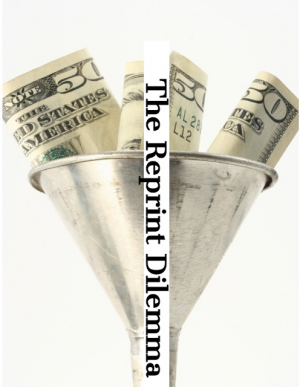 Output Integrity
From the moment a client entrusts their data to a print provider, it is expected that it will be processed to provide output with the highest levels of integrity.
Output integrity is particularly critical when producing personalized, information-rich documents such as financial transactions, medical records, government reports and a host of other communications that, if miscommunicated, could result in substantial penalties and lost client confidence. Many vertical markets have government specified regulations that dictate the data and formatting requirements for print output.
Integrated Workflows
Effectively processing critical and sensitive documents requires a properly configured and managed infrastructure. Producing and mailing high-integrity documents requires sophisticated workflow processes that are tightly integrated with a company's printers, post-processing and mailing equipment. 
Having the right printer and post-processing technologies that can integrate into the firm's workflow is critical to maintaining the integrity of all printed documents.
Reprints
No matter how good a production print environment is, things happen that require additional document processing. Data errors, hardware hiccups, material defects, accidental setups – every production environment deals with these issues. Most operations factor these events into their operational planning and have processes that catch the mistake and reprint the identified documents. A stable reprint process is essential to meeting production goals, resource schedules and complying with the ever-expanding client and regulatory expectations.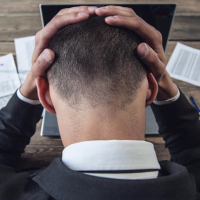 Reprint Headaches
Reprints - every print shop has them, regardless of the size or sophistication of the facility. The reprint process wastes valuable time in the print, finishing, insertion and mailing operations. And that wasted time can lead to unmet Service Level Agreements and diminished profits.
To minimize reprint disruption when damaged pages are identified, many print operations create a new file with the damaged pages. Then they either send that file:
Back through the workflow system to the production printer, or;
To an auxiliary printer specifically designated for reprints.
The second option offers significant production advantages. However, those advantages have often been outweighed by the cost and space requirements of a color-compatible auxiliary printer.
For a more in-depth read on how RISO inkjet technology is solving the reprint dilemma, request a free copy of the Breaking the Inkjet Barrier eBook
With document integrity being of utmost importance, damaged reprints must be equivalent in quality as the original. If reprinted documents lack the same look and feel as the initial output, clients may reject the job and ultimately will not view the print company as a trusted supplier.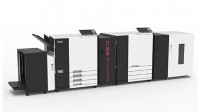 A Better Reprint Alternative
RISO ComColor GD family of production inkjet printers offer a terrific solution to this reprint document integrity issue. The compact design and inkjet quality of the RISO ComColor family allow easy integration into a company's existing production workflow to produce reprints with the integrity and quality required to meet customer requirements.
The ComColor FORCEJET technology produces crisp, rich color that rivals larger, more costly production printers. RISO applied creative engineering to develop FORCEJET™ technology as the right platform, at the right price for more printers to profit from inkjet applications. The Breaking the Inkjet Barrier eBook provides more detail about FORCEJET.
Race cars are measured by the time they take to get to top speed. Should we not also evaluate printers on how soon, after a print stream arrives, they begin printing at full speed and quality?
RISO's FORCEJET technology eliminates the requirement for the heating element prevalent in other inkjet printer platforms. Therefore, there is no lost production time waiting for the system to warm up. The RISO printer system is ready to produce quality output as soon as the print stream arrives. The on-demand architecture plus a clean, fast loading paper path means no wasted time and materials with this printer.
Yes, patience is a virtue but RISO's FORCEJET technology allows print professionals to save that virtue for other matters.
Simple Efficient Design

The small footprint of a RISO printer enables installation in places where other production devices simply cannot fit.  This allows for placement in optimum locations throughout the facility to help maximize productivity and efficiency without the need for expensive and time-robbing remodeling. For example, many RISO customer's have moved their devices near-line to mailing technologies allowing operators to quickly reprint any documents that may have been damaged during folding and inserting processes to ensure 100% mail-piece integrity.
RISO printers easily integrate into a company's workflow and post-processing environment at a highly competitive acquisition cost with top-level maintenance, service and support.
The ComColor production inkjet operates on standard 110V outlets to minimize power usage and pre-installation electrical upgrades.
RISO's fast, cost-effective, high-quality, production-level color inkjet platform meets the most rigorous quality and performance requirements in the full range of small, medium and high-volume production environments.      
In Closing
For organizations focused on document integrity, RISO's ComColor GD family of production inkjet printers provide an affordable, tightly integrated solution to the error-prone reprint predicament.
For a more on RISO's innovative solutions for color inkjet in the production print environment, request a free copy of the Breaking the Inkjet Barrier eBook