Breaking the Barriers to Production Inkjet Article 1 of 6
For more

RISO topples the inkjet acquisition barriers with the ComColor® GD and T2* Series of Production Printers
Competitive Advantages
An opportunity to acquire affordable technology that provides a money-making, competitive advantage is precisely what success-focused printers are seeking in today's marketplace.
Inkjet has been recognized as a clear path to higher profits. However, the cost of acquisition and site preparation has prevented many printers from installing and enjoying the benefits of inkjet technology.
RISO's ComColor ® GD and T2* series, with FORCEJET technology, answer the need for affordable inkjet technology designed for reliable, high-quality, high-volume production print.



FORCEJET™ technology, from RISO, is the result of smart thinking, rigorous planning and a willingness to look beyond the obvious to develop the right platform, at the right price to enable more printers to reap profits from inkjet applications. 
The TCO Factors Defining Affordable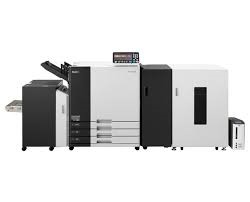 The term affordable is often based solely on the price of a printer with great efforts made to negotiate that price to the lowest possible level. While the hardware price is but one of the critical factors when assessing affordability, the total cost of ownership (TCO) should be calculated and evaluated. TCO includes factors like the printer's price, facility modifications, floor space, maintenance, electrical and utility fees. Add to TCO the overhead that accumulates during the 'ramp up' time as new inkjet applications are sold, set up to use the printer's full volume capacity.
Printer price

is a crucial factor, with most of the production cut sheet inkjet printers costing in the high six figures.

       

The RISO ComColor ® GD and T2* series have one of the lowest, if not the lowest hardware acquisition costs of any production inkjet printer on the market today.

 In most cases, the cost of a RISO inkjet printing system is equivalent to or less than that of a production black and white toner printer.

This allows any company that was previously priced out of the inkjet market to immediately gain the advantages of that profit producing technology.
Floor space

is always at a premium in production facilities. More so when there is the need for equipment redundancy to meet production peaks and rapid turn times. In many cases, companies require major building renovations or additions to accommodate a single installation of inkjet technology.

RISO's compact design makes it the smallest production inkjet printer on the market, eliminating the need for expensive and time-consuming building modifications.
The RISO T2* production press requires 1/9th the space of a comparable speed cut sheet inkjet press.
Electrical usage

is another necessary expense to be included in the TCO formula. A high-volume inkjet printer can dramatically increase a company's monthly electricity bill.

RISO printers are power savers using less energy – a lot less energy – than competitive cut sheet inkjet printers.

The FORCEJET plug and play architecture operates on standard 110 power – the same outlet used for any coffee maker – for low electrical costs.

There are no requirements for expensive, time-consuming power modifications.

Utility

costs for air conditioning and additional cooling capacity are another cost associated with the heat produced by high-volume production printers.

RISO's FORCEJET technology uses heatless imaging with no little effect on a production rooms temperature/

No additional cooling capacity needs to be added to accommodate the ComColor printers.
A RISO T2* production press requires 1/6th the energy of comparable speed cut sheet inkjet presses.
Maintenance

is often costly due to the heat, stress and wear on parts for high-speed cut sheet inkjet.

RISO's architecture contains no heating elements to minimize failures and provide outstanding performance to meet the demanding uptime requirements of high production operations.
The 'Ramp Up'

period is another often overlooked cost factor. New inkjet installations can take weeks, even months to become operational costing hundreds of thousands of dollars in lost opportunity as the asset sits on the floor without running at full capacity.

RISO's ComColor® GD and T2* printers can be fully operational in as little as one to two days for immediate profitability.

The plug and play architecture also allows for quick and easy scaling to address new peak volume or turn time requirements

.
An opportunity to acquire affordable technology that provides a money-making, competitive advantage is precisely what success-focused printers are seeking in today's marketplace.
Toppling the Inkjet Acquisition Barriers
On each cost of ownership component, RISO is the undisputed winner. And when one calculates the total cost of ownership, RISO's ComColor® GD & T2* series topples cut sheet inkjet acquisition barriers.
Printers who have previously had to watch the inkjet revolution from the sidelines can immediately gain the competitive advantages available from production inkjet. By providing their clients the added value of high-quality, color inkjet applications, new revenue and profits flow to the company. The eBook titled, Breaking the Inkjet Barrier discusses how printers can capture profitable opportunities with RISO's low-cost FORCEJET technology.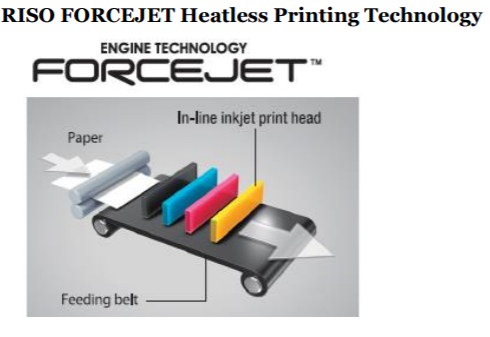 FORCEJET™ Technology
RISO's unique FORCEJET technology is the platform that allows this combination of compact size, speed and quality with the lowest TCO in the production inkjet market space.
FORCEJET is RISO's high-speed, heatless, inkjet technology platform was designed with straight-paper feeding to support speeds of up to 160 pages per minute. The FORCEJET's intelligence matches the printer's speed to accommodate the amount of quick-drying, oil-based pigment ink applied to a page for optimum output quality. The system is engineered for minimal moving parts with wide, in-line Piezo inkjet print heads arranged in parallel for single-pass printing of black, cyan, magenta, yellow and gray.
This 6-Article Series looks at the ways printers and their customers can benefit from RISO's game-changing FORCEJET technology including: ease of entry; toner replacement; short-run production; reprint workflows; complimenting roll-fed systems; and business continuity and disaster recovery solutions. 
For a more in-depth read on how RISO is changing the color inkjet equation, request a free copy of the Breaking the Inkjet Barrier eBook.
* RISO plans a limited launch of the T2 system.