Breaking the Barrier to Production Inkjet Article 6 of 6
For more

Production Print: Disaster Recovery, Backup and Redundancy - A Cost-Effective Solution

Transactional printing environments have contractual service level agreements (SLAs) with their clients that require on-time completion of critical customer communications. Failure to meet these SLA's is not an option – regardless of the circumstances such as unplanned downtime. And the cost of failure – in revenue rebates and lost business – can be expensive.
But the reality is that unplanned or even planned downtime will occur, even with the most advanced production print engines. As a result, providers need to execute backup and disaster recovery plans to maintain production and meet SLA requirements during those down times.
Backup and recovery plans are often accomplished via redundancy of technology at the company's central plant or off-site disaster location for immediate availability. However, full redundancy can cost millions of dollars and companies are searching for more affordable solutions.

RISO – The Affordable Solution
Today, operations have and will continue to capitalize on the opportunities of integrating RISO ComColor inkjet printers for efficient and cost-effective redundancy solutions.
RISO's compact and versatile cut sheet and roll-fed platforms can be installed in virtually any production environment and run side by side with existing production systems for backup and redundancy. The ComColor inkjet printers provide a fast, compact, affordable backup cut-sheet or roll-red solution. And, RISO's FORCEJET™ technology driven by advanced digital front ends help ensure consistent high-quality output to match that of the rest of the fleet.  
Cost
Investing in multiple RISO ComColor inkjet devices makes good sense – business sense, economic sense, operational sense, productivity sense, and flexibility sense. The RISO ComColor platform allows companies to maximize profits by:
Delivering color inkjet output at comparable prices to monochrome toner systems;
Reducing or even eliminating build out to accommodate production footprint;
Minimizing electrical upgrades and power usage;
Reducing HVAC system costs by printing without heat-generating drying elements.
 
This six-part series reviews profit-based solutions RISO's ComColor Digital Inkjet platform provides growth focused print professionals. For a complete review, download the Breaking the Inkjet Barrier eBook.



 The Service Differentiator
RISO printers are intelligently engineered for simple installation, operation, and serviceability.
Serviceability, one of RISO's key differentiating factors, is immediately apparent as installation and integration into production workflows can be accomplished in a day versus weeks, even months for other inkjet printers.
Flexible service options provide maintenance support tailored to each company's production environment. Comprehensive self-service training is available with parts and supplies management to match the operators' skills and company business needs.
RISO's FORCEJET inkjet engines deliver high-quality color that rivals the output of high-volume production systems.
Color Quality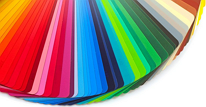 One of the keys to RISO's ability to properly compliment cut-sheet or roll-fed solutions is the ability to closely resemble their color output. RISO's professional services organization works directly with a customer's design, composition and production staff to create customized color profiles for each system to ensure the best possible match.  
This color optimization capability means that any job run on a RISO inkjet printer will meet the most demanding quality and consistency standards.
Flexible Reliability
RISO printers operate at production speeds, providing reliable capacity for the most demanding print projects as a:
Stand-alone printer;
Part of the production print fleet;
Dedicated reprint
Short-run specialty system.
RISO ComColor printers can accept both cut-sheet or roll-fed input, so choosing between a continuous versus sheet printer is a non-issue. With multiple configuration options, a RISO solution provides seamless integration into any production space.
Multiple RISO ComColor printers can be placed in the space required to accommodate most production inkjet printers. And, a considerably lower cost.
 A short, direct paper path combined with the FORCEJET heatless inkjet technology delivers effective throughputs that produce up to 9600 sheets per hour.
Configurations with multiple engines offer even higher, worry-free production output. 
Adding a high-capacity output takeaway further increases throughput capacity and operator efficiency. Higher productivity, higher flexibility and higher efficiency all are available with the RISO ComColor inkjet platform.
Now, more than ever, print companies of all types and sizes are searching for flexible, cost-effective, high-quality inkjet systems. Successful print professionals recognize the RISO ComColor inkjet platform as an excellent solution for their production inkjet projects.
In CONCLUSION
Financial penalties for missed deadlines demand an immediate and affordable solution.
For disaster recovery, backup and redundancy, RISO provides the solution. The low cost, easily integrated, RISO ComColor inkjet printers - in cut or roll-fed configurations - represent an excellent solution for the print redundancy production printers need.
For a complete review of the benefits of RISO's ComColor platform, download the Breaking the Inkjet Barrier eBook.