Breaking the Barrier to Production Inkjet Article 5 of 6
For more

Maximize Productivity & Profitability with Complimentary Technologies

Improving operational productivity, flexibility, efficiency and top-line sales growth drive bottom line profits. Therefore, print providers are seeking more efficient technologies to maximize profits no matter the applications, run lengths, or turnaround requirements.
In this article we share complimentary inkjet technology from RISO that can significantly impact productivity, flexibility, efficiency and profits for print providers already utilizing roll-fed and cut sheet, toner-based and inkjet technologies.
Success is achieved by blending the right technologies to support the client applications you have - and the client applications you want. RISO's ComColor® GD Series of inkjet printers support the technology blending capabilities production printers need to thrive in today's competitive environment.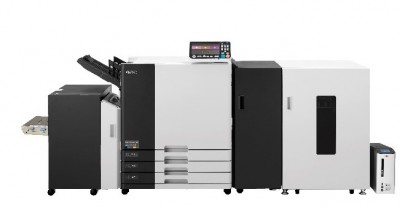 The Roll-Fed Cut-Sheet Dilemma
High-volume, production printers are designed to maximize efficiency and productivity on long-run jobs. But the reality is that a client's portfolio of applications requires the operation to manage and schedule hundreds, even thousands of short-runs and reprints in addition to the longer run jobs. In addition, clients are consistently developing and testing new applications resulting in even more short-run jobs. Trying to manage these short-run requirements on roll-fed equipment results in added expenses from wasted production resources, paper and ink and often missed opportunities due to timing.
Despite the recognized advantages of a well-blended printer environment, for many operations the problem had been the high acquisition and operating cost of such a complementary solution – until now.
The Solution
The RISO ComColor GD Series of inkjet printers can be easily blended into even the most cost restrained production print operation for efficient processing of long and short runs.
RISO is the answer to the roll-fed cut-sheet dilemma.
Short runs, reprints, demonstrations and customer testing applications can be directed to the production class RISO ComColor GD fleet of inkjet printers in a blended cut-sheet, roll-fed operation.

RISO's cut sheet production inkjet printers manage short-run jobs efficiently with little to no profit-robbing time and resource wastage. Easily automated job setups and pre and post-processing options further increase production efficiency.
RISO's FORCEJET™ technology allows quick starts without warm-up time to dramatically cut the time from start to job completion. The low-energy platform eliminates the need for high-cost, high-voltage electrical runs and additional cooling systems.
Cut and/or Roll to Cut Sheet – Your Choice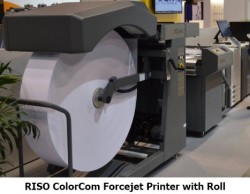 RISO previously sold cut sheet printers only. But now, RISO's forward thinkers have added roll-fed capabilities to their platform "SheetFeeder T2*." This new accessory allows print operations to run RISO printers side by side with other roll-fed printers to support their workflow and application mix while leveraging their paper buying power.
RISO recently added roll-fed capabilities to their production inkjet family.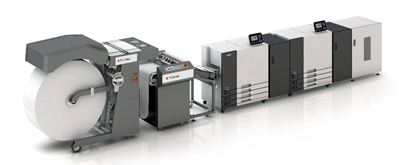 This added roll-fed functionality means RISO inkjets can serve as either backup or incremental capacity for both cut-sheet and roll-fed, inkjet or toner-based machines. And, the RISO printers can use the same roll or cut-sheet paper used by the rest of the operation's printer fleet. A true win-win! 
Breaking the Inkjet Barrier discusses more ways printers can capture profitable opportunities with RISO's low-cost ComColor GD Series of inkjet printers.

The Demands of Color Consistency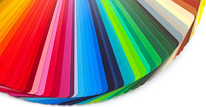 Image quality and consistency are two key success factors that an operation will strive for when implementing complimentary print technologies from multiple manufacturers.
RISO's Professional services team has the experience and skill to work with your design, composition, and production staff members to create color profiles to ensure the highest levels of quality and consistency are met.  
The result – RISO's output can support and enhance a company's most demanding color applications.

The Downtime Dilemma
Even the most advanced production printers will have downtime which can range from unplanned machine failures to thoroughly planned preventative maintenance activities. No matter the driver, downtime can negatively affect contractual service level agreements (SLAs) resulting in costly rebates and even lead to loss of key clients.
RISO production inkjet printers provide an excellent backup dilemma solution.
Features like the straightforward and short paper path, no-heat inkjet imaging, standard 110 power usage, a compact footprint and color profile matching make RISO an easy-to-setup solution to back up any operation. And because of RISO's flexible service options and low acquisition cost, companies can afford to install multiple units in varying configurations as auxiliary printers to ensure continuous productivity for sheet or roll-fed, toner or inkjet environments and relieve the downtime dilemma.
The Right Technology at the Right Price
Blending RISO production inkjet technology into production environments provides a low-cost path to greater operational productivity, flexibility and efficiency.
Short run and reprint jobs;
Extra capacity and backup;
Compact footprint;
Color profiling and consistency across the fleet
Cut-sheet and roll-fed capability*
For organizations desiring to increase profits by expanding their range of customer solutions – at an affordable price point - RISO's production ComColor GD inkjet series provides the answer.
Would you agree?
Breaking the Inkjet Barrier discusses more ways printers can capture profitable opportunities with RISO's low-cost ComColor GD inkjet platform.
*SheetFeeder T2 is only compatible with RISO T2.
​​​​​​