Breaking the Barrier to Production Inkjet Article 2 of 6
For more

Overcoming Impediments to Replacing Monochrome Toner with Color Inkjet: The RISO Solution

Prioritizing investments. It is one of the toughest challenges faced by any management team. How do you prioritize investments into developing people, processes, and technologies to achieve short-term business objectives, and just as important, how those investments will ultimately drive the organization into the future, especially as certain existing technologies reach the end of their useful life? It's certainly a balancing act.
The Opportunity
Augmenting or replacing aging toner-based, monochrome printers with color inkjet is just one example of management's balancing act of prioritizing investments. Today, the migration to color inkjet is now not a question of "if", but "when."

The Problem
Despite the obvious operational efficiencies derived from production inkjet engines, deciding to implement is often delayed or flat out denied due to the number of significant investments needed in addition to the print hardware. Operations need to consider pre and post technologies, facility and environmental upgrades, document composition, and the workflow re-engineering required to achieve the levels of efficiency and automation to make all their investments pay off. Additionally, a migration will be distracting and disrupting the as it can take months, even years to become 100% integrated. This leaves many in the classic 'can't afford' dilemma:
Can't afford to do it - because of the costs;
Can't afford not to do it - because of competition.
The Solution   
RISO provides inkjet solutions that allow in-plant operations or service providers the opportunity to drive the total production costs of inkjet printing down to a point comparable to toner-based engines without significant capital investments and/or significant monthly volumes.
RISO's ComColor ® series of cut sheet inkjet printers powered by FORCEJET™ technology is specifically designed to conquer the 'can't afford to do it' dilemma:
1. Cost - hardware equal to, even less than similar-sized monochrome toner devices;
2. Integration- fits into any existing cut sheet toner-based environment;
3. Footprint - smaller than traditional monochrome engines;
4. Scalable - from delivery to production in a little as one day;
5. Speed - up to 9,600 full-color /storage/app/media/Featured Articles/ per hour per engine.
FORCEJET™ technology, from RISO, is the result of smart thinking, rigorous planning and a willingness to look beyond the obvious to develop the right platform, at the right price to enable more operations to reap profits from inkjet applications. 

Out With The Old
Using toner-based monochrome devices to add variable text in pre-printed color shells was the standard for meeting a customer's color requirements. However, sourcing, warehousing and managing each client's variety of pre-printed shells is expensive and time-consuming. When a customer's color requirements changed, the remaining inventory was discarded, and new shells ordered, resulting in additional costs and time-to-market delays.
As print buyers began just-in-time ordering of short run, print jobs, the old pre-printed shell practice proved impractical. What was needed was an affordable way for print providers to migrate from monochrome toner to full-color inkjet production for clean-sheet production.
Clean-Sheet Production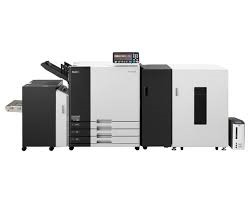 The GD Series supports just-in-time print and reduces operating costs by replacing pre-printed shells with clean-sheet production. RISO's FORCEJET technology allows a print shop to serve today's high-value print buyers with an affordable, efficient, single pass workflow to produce complex, color print jobs from a clean sheet of paper.
This cost-controlled, just-in-time, single-pass, short-run environment requires production printers capable of producing high-quality, high-speed print at the lowest possible cost.
Modular Ramp-Up Solution
RISO's flexible and configurable modular platform was created to allow print providers to minimize both acquisition costs and under-utilized print power during the initial ramp-up stage of their inkjet migration.
A single GD Series print engine runs up to 9,600 full-color /storage/app/media/Featured Articles/ per hour. By buying only what you need when you need it and then adding capacity when you need it, the path to a positive return on investment for color inkjet is dramatically shortened. The T2 Series with its' twin-engine configuration, can produce up to 19,200 /storage/app/media/Featured Articles/ per hour making it as fast or faster - up to 70% faster- than competitive cut-sheet monochrome production printers. RISO's solution allows print providers to migrate from beginner stage to full capability of managing production spikes and short turn times in a full-color environment.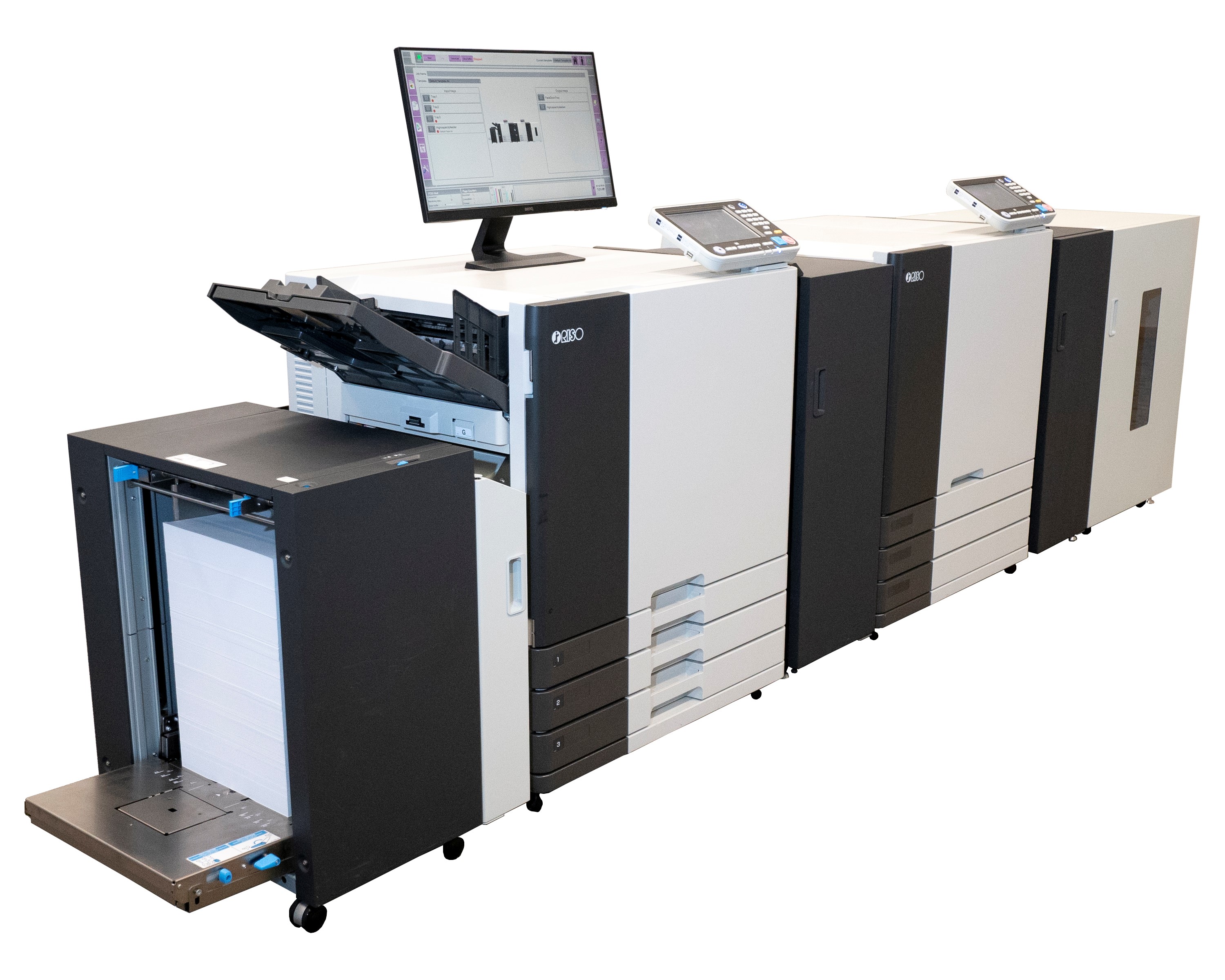 RISO Production Printing Mission
Innovate the way transactional, direct mail, commercial and enterprise in house print operations offer new capabilities, expand service offerings, drive operational efficiencies and control expenses.
Capture Outsourced Revenue
With the added capabilities of the RISO Inkjet platform, printers can now dramatically change the profitability equation. Rather than risk the loss of a customer to competitors, printers can now add color capacity to capture outsourced revenue and better serve customer needs.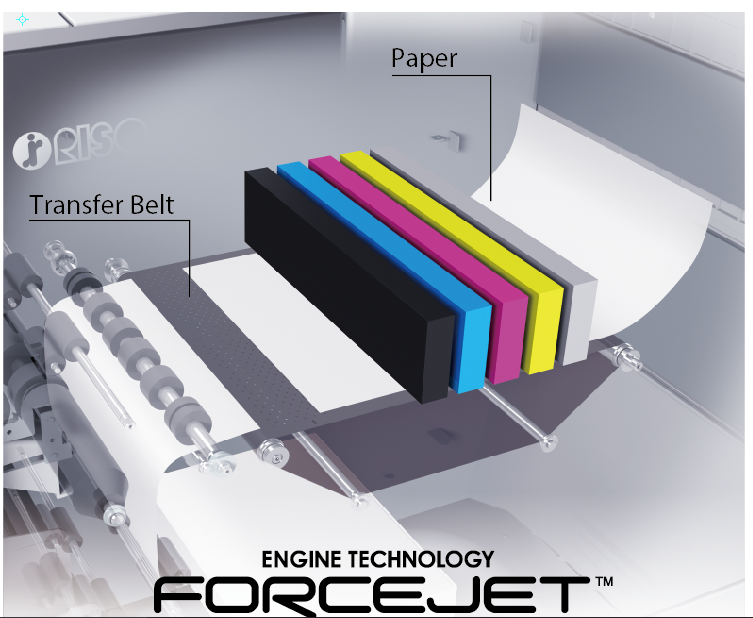 Smart Solutions
RISO's smart inkjet solutions help future-focused in-plant operations and service providers alike to be at the forefront of color inkjet to serve their clients' requirements for on-demand, personalized color printing, and is a clear differentiator for any print operation. The RISO ComColor GD series with FORCEJET technology delivers that capability in an affordable, modular fashion. The hardware acquisition cost of GD or T2 series printer is comparable to a similar class of toner-based monochrome machines. Getting started with inkjet is now affordable.
The impediments to replacing toner-based, monochrome technology have now vanished. RISO's Color GD series with FORCEJET color inkjet changes the story.
RISO's GD and T2 printers will be on display at PRINT'18. To coordinate a personal tour of the technology, please email [email protected].
*RISO plans a limited launch of the T2 system. 
For a more in-depth read on how RISO is changing the color inkjet equation, request a free copy of the Breaking the Inkjet Barrier eBook.