​​​​​​​Sign, Sign, Everywhere A Sign!
For more
By Debbie Nicholson, Think-to-INK!
https://www.linkedin.com/in/debbie-nicholson-24a53627/ 
Can't you read the sign?
A little history worth noting!  In my former work-life, my company produced thousands upon thousands of in-store reflective Menu Boards and back-lit drive-thru Menu Boards for well-known, national/international QSR (Quick Service Restaurant) corporate/franchise groups. 
Timeline:  Around 15+ years ago, company suppliers and vendors were invited to attend a forward-thinking event for this QSR Company.  I can't remember the name of the event, sorry. However, it became a "scary" introduction to Digital Signage Menu Boards!  Yes, Digital Signage Menu Boards!
The introduction started immediately with cause and effect.  Slowly, I was able to get back in my chair -- all the while saying in my head, "What, are you kidding me???  Surely no one heard me say that out loud!  I was terrified of this new thinking and digital technology and how it would affect our company.  I was scared to death!
I could only see my POV; I was blinded by what the technology could offer my customer and their customers (franchise groups and end-users).  In other words, it was all about me!
Most importantly, over time we have learned to be more open with forward thinking ideas and approaches to new business opportunities.  In addition, we should embrace newer technology – it is obvious we are great at it – it's not our first time integrating new technologies.
Often, I am asked…
"Debbie, how do you see Digital Signage affecting the Wide-Format industry?  My reply, we better get on board – it is only getting bigger and better and integrating into ways we can't imagine.  We need to think of ourselves as Print Service and Technology Providers!
After many years of researching and talking to industry expert leaders – I encourage you to learn and become knowledgeable in providing customers with print and digital signage technology (after all, they do work hand-in-hand).  Developing relationships with Digital Signage Providers will offer you an opportunity to play a much larger role as a print provider for current and future customers.
Suggestion, start small and be willing to take on larger projects as the opportunity is available.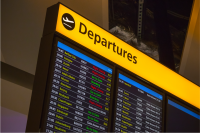 A few "Good to Know" Digital Signage solutions by Industry:
Airlines & Airports:  Improves every aspect of the overall passenger experience.
Banks & Investment Branches:  Improves the in-branch experience and ensure customers have access to relevant information.
Casinos & Gaming:  Integrated casino resorts rely on digital signage platforms to power their screens.
Convention Centers:  Digital signage integration helps increase event bookings by modernizing space and improving the attendees' experience.
Corporate Offices:  Provides solutions for employee communications through displays, wayfinding, and meeting room signage.
Events & Stadiums:  Applications that promote return visits increase revenue, improve operations, and ensure every aspect of the venue exceeds customer expectations.
Higher Education:  Improves communications, sports facilities, study rooms, and in case of emergency.
Healthcare & Hospitals:  Solutions help hospitals, healthcare networks, and those serving the medical industry connect with their patients, visitors, and employees.
Hotels & Resorts:  Digital signage engages guests with accurate information about the property, so they are more familiar, more satisfied and spend more time and money during their stay.
Retail:  Customer's experience is modern, digital, customized in-store experience. 
Manufacturing:  Digital signage is used on the manufacturing floor to communicate more effectively with frontline workers, improve productivity, and spotlight employee safety.
Quick Service Restaurants:  Increase customer experience, drive repeat business, make menu updates easily and help the brand to stand out in a competitive market.
In closing
There's your Sign!