Raise Your Voice And Invoice!
For more
By Debbie Nicholson, Think-to-INK!
https://www.linkedin.com/in/debbie-nicholson-24a53627/ 
Sneak Peak!

So, you just borrowed money for payroll, your vendors are threatening to cut you off, and your credit cards are maxed out!  Oh, and just this morning the flatbed press went down!  Does any of this sound familiar? I hope not!
If so:  Take Action Now!
Are any of these line items getting in the way of invoicing your clients?  Well, fix them! Immediately!
Missing Data
Errors in the Job Order
Incorrect or Missing Line Items
Wrong Contact Information
Email address is undeliverable
Waiting on answers from sales or production
The invoice does not match Customer's PO
Job pocket does not contain a Change Order approval from the customer
Waiting on Shipping Costs
Waiting on Mailing Costs
Invoicing Procedures are too complex and not streamlined
An invoice should be produced and submitted to your client (preferably by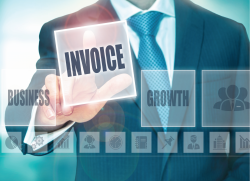 email) after you have fulfilled their order.  In my opinion, invoicing is just as crucial to your company's success as meeting the customer's deadline(s).
Change of plans:  If your customer receives their goods today, they should receive your invoice the following day!
I was attending a client's production meeting recently, and at the very end of the session, the CEO announced the previous day's sales total entered into the system.  So, it got me thinking – maybe the following statement should be…the previous day's sales total invoiced!  Daily awareness is the win here.
I know many of you believe you might leave money on the table if you don't spend days reviewing the job pocket for accuracy.  But, don't pass over a dollar to get to a nickel – it's just not worth it in the end.
You must streamline your internal processes in advance to avoid the Invoice black hole!
CONSIDER THIS!
It's not free to borrow money for payroll (not to mention the sleepless nights and the stress it causes).

You don't want vendors to lose faith in your abilities to pay their invoices -- because

 they will turn a deaf ear to raw goods discounts and rush deliveries!

Do I even need to mention the high interest rates of credit cards?
Raise Your Voice & Invoice!