Has Your Wide-Format Vision Been 20/20 in 2020?
For more
By Debbie Nicholson, Think-to-INK!
https://www.linkedin.com/in/debbie-nicholson-24a53627/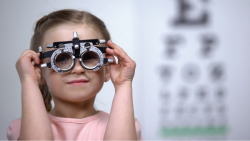 20/20 vision is a term used to express normal visual acuity (the clarity or sharpness of vision) measured at a distance of 20 feet!
However, sometimes it is hard to see the obvious things that are right in front of us.
COVID-19:  I find it amazing that the extraordinary achievement for a spiky ball of genetic material coated in fatty chemicals called lipids, which measures 80 billionths of a meter in diameter, has caused so much suffering, worry, change, stress and uncertainty.
Seeing Possibilities Beyond COVID-19 in Wide-Format Printing (a few):
Seeing the exciting and enormous possibilities of Wide-Format printing should be more crystal clear than ever!  Visual communications and implementation will transfer to more interactive and dimensional experiences that engage customers personally through a direct connection.  Printed visuals are growing and evolving and are remaining relevant in our industry.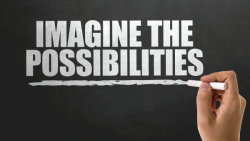 Retail:  Wide-Format printers need to have in-depth knowledge in the industries they wish to service.  Just so you know, retail makes up the largest market for wide-format printers – or at least it did.  As retail pushes through the pandemic, I believe printers will be expected to acquire knowledgeable and experienced staff that understands retail-activation and in-store marketing aspects – at every level.  Wide-Format Printers, who become known as true industry experts, will experience long-term and legacy success with their clients.
Architecture:  Architectural designers are also seeing the tremendous benefits of using Wide-Format Printing, which offer varying textures, rigid substrates, flexible substrates, textiles, and surface wraps. These options ignite customization for both exterior and interior projects (new building projects and renovations & refreshes).  Most exciting, they are willing to spend the money to gain the WOW factor!
Fabrication:  Fabrication capabilities are essential and demanded in Retail, Architecture, QSR, Dine-in-Restaurants, HealthCare, Education, Hospitality (to name a few).  There is a noticeable trend in multi-substrate signage and retail displays that define the construction, application, installation, and marketing material change-out.   Keep in mind, if you engineer/create the marketing hardware, chances are you will also be the one to produce the change-outs!  Did I hear customer retention?
Specialization:  The process of concentrating on and becoming expert and skilled in a particular market segment (vertical).  Say, you are an expert at not only producing retail P.O.P – you are experienced in everything from discovery to pick, pack, and ship.  Use that extensive layer of knowledge and establish that specific vertical as a sales priority.  Research, research, research!
Customization & Personalization:  Wide-Format printers have the in-house capabilities of On-Demand printing utilizing their software to add customization (copy changes, image changes, substrate changes) and personalizing with company branding and even individual names.  This capability is seen as a well-deserved up-sell.  Print it, like you mean it!
Packaging:  Prototype packaging, as well as short-run production, creates an extra layer of business capabilities.  Fulfilling your customer's need for short-run, fast turn-around projects adds a whole new revenue stream – building continued relevance and growth opportunities for your Wide-Format business.  Oh, did I mention customization?
In Closing:
I ask you to – challenge yourself differently -- challenge others differently -- work differently -- sell differently -- manage differently -- so you can 'See Differently.'