"Take Me Out to the Ball Game…" Printed Cutouts Put Fans in the Stands!
For more
By Debbie Nicholson, Think-to-INK!.
https://www.linkedin.com/in/debbie-nicholson-24a53627/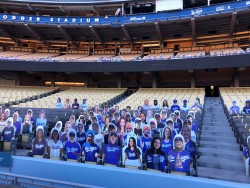 Well, that much-loved baseball song will be stuck in your head for the rest of the day, sorry! But I am happy to report that commercial printers are adding new life to the pandemic-restrained game of baseball.
As players make their way to the batter's box this season – they won't hear fans clapping or screaming hit the ball out of the park encouragements. But they will see fans supporting them – with full-size printed, PP IntePro plastic Cutouts of real-life fans - and even their pets!
With a donation of $299 to $149, fans can upload their desired photos to have their Cutout made and secured in a seat at Dodger stadium. Net proceeds from the Cutouts benefit the Los Angeles Dodgers Foundation.
The Fan Cutouts make a positive difference for the players and the community. It's not if "we can" adjust to an unforeseen pandemic situation; it's "how can we best" adjust that is important. In this case, best was accomplished.
Wide-Format Print to the Rescue!
To learn more about Cutouts, American Printer interviewed Omar Khan, Co-Owner of iColor Printing and Mailing Inc, and one half of the Khan Brothers, who's company is producing the Los Angeles Dodger's Cutouts.
iColor serves as a "Solutions Provider" to its clients, one of which was the Dodgers organization. So, when the Dodgers said they needed a reliable source to produce the fan Cutouts, Adil, the other half of the Khan Brothers, said Yes!
First Base: Equipment Preparation
Omar noted that this large, quick-turnaround project needed a clearly defined, concise workflow process. First, the iColor team had to work with their print suppliers to maximize equipment speeds and materials efficacies.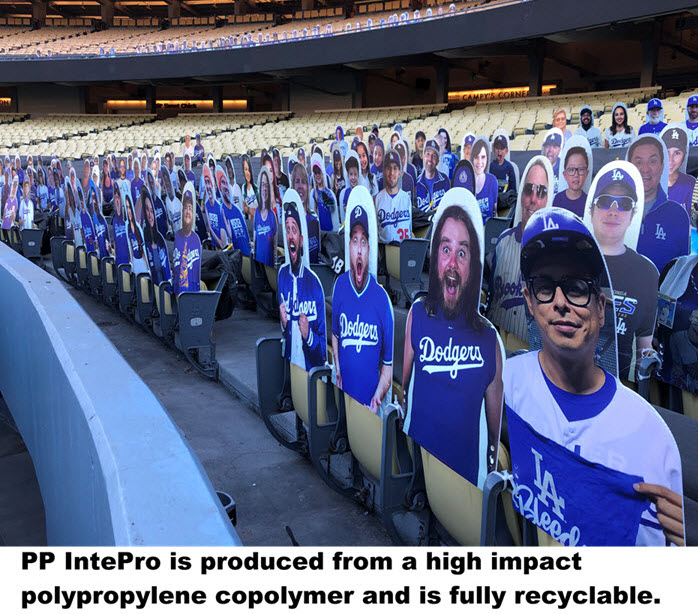 Second Base: Assignments
iColor's SLA requires all photos to be installed at the stadium the following day! To ensure that the daily schedule was met, a "Project Manager" was appointed to oversee the prepress process.
Dedicated staff was assigned to sweep their hot-folders for photos that fans upload online. Each photo must be sized and prepared for placement, then named and assigned an identity number. That identity number is used by Fans, who participate in the promotion, to pick up their Cutouts at the program's completion.
Third Base: Production
The prepared image files are sent to iColor's Grand Format Division, where the files are printed and contour cut. Each process is supported with a Quality Control process to ensure print quality and trackability.
Home Run! Wrap Up
The iColor team installs hundreds of the fan cutouts with their install team per day upwards of 1,000 on some days.
The Print Community's Opportunity
Printers need to be more determined than ever to secure new business during these uncertain times like iColor did!  Don't wait for it to happen; make it happen!
Q&A with iColor's Omar Khan
Q:  How did you get into the printing business?
Omar:  Our father, teacher, and friend, Taki Khan, helped shape both Adil and me into the world of print. As a product of immigrant parents, we both understood the struggles and hard work our father had put into his printing business. In our early years, we both worked and learned from dad and eventually started our own business in 2007. We work everyday towards a goal to make sure we do justice to what this family stands for and the values our father left behind for us.
Q: How many Cutouts has iColor produced?
Omar: Over 8,000 cutouts and counting.
Q: Has the Dodgers Cutout program been a morale booster for your employees?
Omar:  Oh my gosh, YES! Of course, it is always nice to be recognized for the hard work the team puts in.
Q:  If you could go back and start over, how would that look?
Omar: I would re-engineer the process for installing the Cutouts at the stadium.
Q:  What part of the Cutout process has caused production bottlenecks?
Omar:  The varying sizes of digital photos has created time-crunches for us. Sometimes, photos come in way too large. That usually means a long night ahead to meet our next day installation commitment.
Q:  When customers order their Cutout online, is iColor identified as the manufacturer?
Omar:  Yes, and the customer also sees that the program benefits the Dodgers Foundation.
Q: Has the program been helped expand iColor's brand recognition?
Omar:  The media coverage we received as local television stations reported on the Cutouts promotion was a significant brand booster. It makes us make us even more relevant to our current customers and helps us gain new customers. Our Grand Format capabilities was not previously a complimentary service for specific clients. However, projects like this put us into an exciting new arena of product capabilities and awareness.
To help meet the growing needs of our customers, we continue to invest in new equipment and technologies. We want our customers to relax and know that everything we produce will be the best quality and completed on time.
I believe our customers want to bring us a problem and it is our job, not to just be a printer – but to be a Solutions Provider! We pride ourselves on delivering exceptional Customer Experiences!

In Closing:
iColor's success with Cutouts demonstrates that commercial print companies have the tools and wisdom to deliver needed solutions to meet the unique needs of these pandemic times. A suggestion would be to gather the company's leadership team and begin brainstorming the current needs of your clients and prospects. Make a list of those needs and then start brainstorming to use, modify, and/or expand your technology and team to meet those needs – profitably!
An old baseball proverb states "If you don't take a swing, you can't hit a home-run!" I know these are tough times for our industry, heck it is tough for everyone. But we can't just sit in the dugout – we need to get out there, play ball, and hit some home runs!
Make it happen!
CUTOUTS Purchasing Information:  Los Angeles Dodgers Fan Cutouts are available in the Dugout Club or the new Pavilion Home Run Seats for $299 and in the Field Level or Loge Level locations for $149. Plus, you will get the chance to take your Cutout home at the end of the season, which will also be authenticated as game-used by Major League Baseball! Pick up information will be communicated at the conclusion of the 2020 season.