LORD® Knows The Wide-Format Industry Needs To Keep It Together!
For more
By Debbie Nicholson, Think-to-INK!
 
Wow, finally, the Wide-Format industry is bonding with expanding its portfolio line of products by adding custom finishing and structural assembly.  I love it!  It is the perfect add-on.
While adding new valuable business opportunities is exciting, it can be somewhat perplexing, mind-boggling, and scary for those team members in production.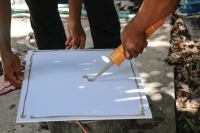 PSPs are great at the print side of things, but sometimes are challenged with utilizing the most effective glues and adhesives for short-term and long-term projects.  So, we drive to the nearest home improvement store to find a solution, purchasing five different adhesives only to realize that none work.  What now?
We need professionals to guide us through using the correct glue(s) and adhesive(s) to avoid manufacturing failures, wasted materials, and customer disappointments.
Here are a few substrate examples you may have questioned the need for adhesives.
Aluminum/Steel

Stainless Steel

Prefinished Metal & Aluminum Composite Material (ACM)

Polycarbonate

Acrylic

TrimCap

Urethane Foam

PVC Foam Board

Paper/Foam Board

PETG Sheet

Vinyl Laminate

Wood

Ceramic / Stone

Cured Concrete

Glass


 
Well, here is some help.
Note:  I didn't want this to be an adhesive advertisement, I want this it to be a helpful resource for PSPs who have struggled to find adequate answers!  I know this because I have received numerous calls from production staff asking if I could help them find the appropriate adhesive after their many failed attempts (which can be expensive and a waste of time).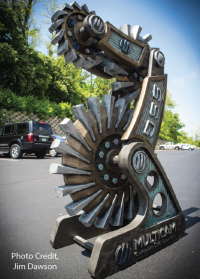 As luck would have it, I attended the ISA (International Sign Association) in Atlanta a few months ago and I had the opportunity to meet and speak with LORD® Structural Adhesives for the Sign Industry who were exhibiting at the show.  I appreciated their time in explaining how they help our industry.  They go way beyond selling adhesives…they advise the correct adhesive to use for any project and have reference sheets (Selector Guide – which is awesome) to coach and guide you the proper way to prepare any surface to accept adhesive.
Look, a two-part adhesive doesn't always work!  The next time you have an adhesive bonding issue call a reputable resource for accurate and proven methods for the best success.
Don't hesitate to take on projects that require custom finishing and assembly.  In short, you will realize your customers will award you larger projects because they can count on your knowledge and expertise to get the job done right and on time!
Remember, be an Order Maker, not an Order Taker!