Who Needs Wide Format Printing?
For more
Retail Stores
Convenience Stores
Shopping Malls
Office Buildings
Hotels
Hospitals
Arenas
Museums
Grocery Stores
Printing Companies
Dye Sublimation Companies
Textile Companies
Apartment Buildings
Real Estate Firms
Convention Centers
State Capitals
City/County Information Centers
Day Care Centers
Elementary Schools
Junior High Schools
High Schools

Colleges
Home Design Companies
Real Estate Staging Companies 
Advertising Companies
Marketing Companies
Packaging Manufacturers
Assisted Living Facilities
Architecture Firms
Non-Profit & Churches
Décor Companies
Doctor Offices
Dentist Offices
Airports
Manufacturing Facilities
Parks & Recreation Areas
Food Trucks
POP UP Kiosks
Special Events
Political Campaigns
Medical Centers
Expo Companies
To name a few…­
So, let's explore what you could produce for just one of these opportunities – Schools!
Banners (Interior/Exterior)  · Trade Show Exhibits  ·  Wall Murals (Permanent & Temporary)
Wall Covering  ·  Floor Graphics  ·  Wayfinding Signage  ·  Posters  ·  Signage (Interior/Exterior)
Window Decals  ·  Door Decals  ·  Yard Signs  ·  Cut-Outs w/Easels  ·  Billboards  ·  Elevator Wraps
Lobby Signs  ·  Safety Signs  ·  History Displays  ·  Room #'s  ·  Room Names  ·  Banners
Promotional Items  ·  Dry Erase Boards w/imprint  ·  Lobby Directories  ·  Sidewalk Signs
School Stadiums  ·  School Gyms  ·  Building Wraps  ·  Fencing Wraps  (to name a few)
Maybe this is enough to get your ink flowing!

You might be saying.
"Debbie, I can't produce all of these products.  I don't have the right equipment, enough production staff, and I have no idea how to get it done!" 
Suggestion:  Take time to make connections with other printing companies and printing networks that could help you learn and understand the processes and procedures of Wide-Format Printing.  It is a complex field of printing.  I believe it is also the most rewarding!
Customers ask me how I became so knowledgeable of Wide-Format Printing – they laugh a bit at my answer – I made a lot of mistakes!  I always learned more when I made a mistake because I needed to fix it.  So, I was intent on finding not just the right way to produce something, but the most efficient process.  There are daily "teaching moments" in our industry.  We need to recognize those moments and teach those around us what we learned.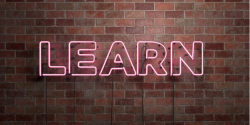 Learn something today, so that you can teach it tomorrow!