Here's Why Employees Are Leaving The Printing Industry!
For more
By Debbie Nicholson, Think-to-INK!
https://www.linkedin.com/in/debbie-nicholson-24a53627/
Here we go: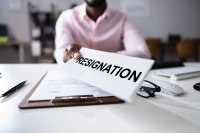 In the last few weeks, many of my clients and owner friends were handed resignation letters from employees or the employee just walked out the door with no noticeable warning.
I am not solely referencing new employees; I am referencing employees with tenure -- 5, 7, 10, 15, 17+ years.
Employees leaving is more rampant in our industry than anyone cares to talk about, heck, it's even referenced as, The Great Resignation! 
Employees are not leaving because they have better opportunities elsewhere, new explosive titles, a massive pay increase and benefits, or virtual work opportunities.  Nope - that's not it at all!  Actually, it is a bit more complex than that!
The truth always comes out:  If you want to know.
I was allowed the opportunity to lead an independent discussion with several employees noted in my second paragraph (who will remain anonymous).
Here are my findings on why employees resigned: (not in any specific order)
01.  Toxic work environment (leads to stress, burnout, depression, self-esteem issues)
02.  Negative company culture (lack of employee enthusiasm, encouragement, education)
03.  Job Security (lack of work, asked to leave early, work in other departments)
04.  Secrecy (Owners hide in their offices – not interacting with employees)
05.  Lack of Production Meetings (causes jobs to go off the rails, effect: finger pointing)
06.  Employee Evaluations (not evaluated in 2-4 years)
07.  Pay Increases (not received pay increase in 2-4 years)
08.  Company Mission & Vision (null and void)
09.  Open Door Policy? (Leadership ignored suggestions, better processes and complaints)
10.  Industry Training/Education (promised but not carried out)
11.  Personal Growth Opportunities (promised but not followed thru)
12.  Employee favoritism from Leadership (undermines transparency and negates positive attitudes)
13.  Processes & Procedures (no written policy from leadership – causes continual confusion)
14.  Lack of Accountability from Sales (no sales, no work – job insecurity festers)
15.  Equipment aged out (employees were blamed for slow performance and quality issues)
16.  New Employees brought in at higher wages (resentment is poisonous)
17.  Lack of Pre Project Meetings (invites problems and dismisses collaboration)
18.  Lack of Post Project Meetings (loss of educational training and problem solving for future)
19.  Work Areas (insufficient work areas, causing projects to be touched numerous times)
In closing: (not literally)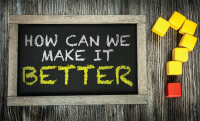 Owners, Partners, Leadership, Management, Supervisors…we have created our worst nightmare.
The employees did not want to leave – they saw no other choice – you gave them no choice! 
Your employees just wanted to take care of their families and be fulfilled at work.  Like most, they wanted to wake up and enjoy going to work. They wanted to make a difference for their co-workers and company owners.  However, when it became one-sided – the only way out – was the door!
It is challenging to replace seasoned employees – you will find that out soon enough.  It will cost you more to get less.  It will cost you training time (sometimes professional training – which is not cheap). A two-week notice isn't enough time to find a replacement and effectively train.
Now, you have been given notice why you lost your employees – hopefully, this message will resonate and become actionable items for your organization's future.
Thank you for allowing me to vent!