You Did What? Are You Kidding Me?
For more
By Debbie Nicholson, Think-to-INK!
https://www.linkedin.com/in/debbie-nicholson-24a53627/
Reminiscing: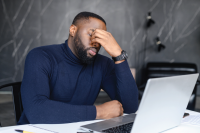 I am sure most of us have experienced a printing project that exasperated every corner within the four walls of our facility. You may have even tagged it with a name that summarizes your internal feelings – one that I can't introduce here; I'm sure you understand.
Let's look at how a company's four walls expanded into something even the customer didn't expect.
Now to the event:
My client received an urgent call from one of their largest customers – you guessed it.  The customer needed their help; I mean "a call-to-action" -- because their primary printing provider failed to meet a critical deadline!
My client is a preferred provider for this retail customer and produces weekly and monthly campaigns. However, they never had the opportunity to produce this one specific element because the other print provider locked it in.
Side Note.  My client, in the past, asked to bid on this specific project; however, to no avail.  So, yes, you got it…until now!
Here it gets a little messy, okay, a lot messy!
Received artwork 1.5 days late (not kidding)

Special stock provided by the customer was received late

Details from the customer were misleading – needed clarification twice

Three ship-to locations with staggering receive by dates changed

Unique plastic sleeves were ordered for the kitting process

Customer's quantity changed during production

Equipment (flatbed printer, roll-to-roll printers, flatbed cutter) ran 24/7

Equipment broke down (lost production time)

Employees worked 24/7 (staggering shifts)

Employees didn't show up as scheduled and promised

The customer was called in advance informing them the first delivery date could not be met

Yes, the customer was upset and disappointed

Hearts sank!!!!
   
Sorry, I omitted a critical part of this significant project (okay, I did it on purpose) …my customer had just five production days before shipping to each location.  Yep, five days!
Stay with me; this is where it gets good:
What you didn't know is production seeped into the weekend.  The first shipment needed to arrive on that Monday – at that point, the customer knew there was no way it could happen.  My client made numerous attempts to arrange overnight or same-day delivery, to no avail. 
Resolve:  The leadership team agreed to fly a willing employee on a 3-4 hour trip to deliver the shipment in person.  The employee arrived in Texas and hired an Uber to take her to the distribution center so she could hand off the delivery to obtain a signature of receipt.  Funny thing, the distribution center employee indicated they had not received any printed product from the other print supplier.
In closing!
Once the product was delivered, the CEO called the customer and informed them they accomplished the first shipment on time because they flew an employee to Texas to make the delivery.
The customer said, "You Did What? Are You Kidding Me?" -- he was elated and relieved.
Moments later, the CEO called to thank my client for everything they did to make the delivery on time and was grateful for such a valuable partnership.  He kept saying he couldn't believe they had made it happen.  He was in awe of their commitment!
The moral of this story is -- don't give up; make sure you are challenging all resources to reach your goals and keep your promises!