ISA I Saw it All! 
For more
By Debbie Nicholson, Think-to-INK!
https://www.linkedin.com/in/debbie-nicholson-24a53627/
Two weeks ago, the International Sign Association (ISA) Sign Expo 2022 was held in Atlanta, GA.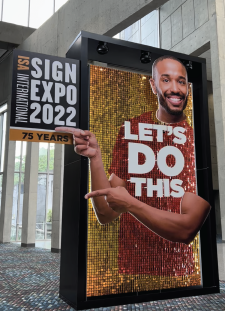 I hope you were able to attend. I am confident you were inspired and learned more about our industry to grow your company and customer base.
From The Inside:
I am not sure who needed the Sign Expo 2022 more, the exhibitors or the attendees. But it is safe to state that we all needed it! I was inspired, elevated, and even transcended by the whirring of the machines, the excitement in voices asking questions and then listening with intent and purpose. The breadth of visual displays screamed the current trends in showcasing products and services. Well done, ISA, well done!
I would pause to watch people throughout the show – okay, I am a "people-watcher." However, what continually grabbed my attention was the tactile connection I witnessed with individuals, substrates (rigid, flexible, textile), printed samples, hardware, and equipment. People wanted to engage with strangers, shake hands and hug people they hadn't seen in a long time.
Printed samples were handled with envy and stroked to feel the texture, surface characteristics, and appearance confirmation. I overheard several attendees say… "my customer will love this new printing technology – I can't wait to show it to them." That is a statement that all manufacturers want to hear. 
As I walked the show, I could feel the confidence of our industry. The exhibitors were purpose-driven, knowledgeable, and well placed within their booths (I saw no indication of staff shortages).  Sometimes I can ask complicated technical questions, and I always hear, "let me get someone that can answer that for you; I'll be right back." However, the frontline was knowledgeable and experienced, and ready to help in any way possible.  Impressive!
Attendees were there to make meaningful business transactions, update their equipment, and grow their business by expanding their portfolio offerings. They knew it was time, and they showed up!  The air was thick with excitement and relief.  Sign Expo 2022 was more than a Trade Show, it was verification that the Sign and Wide-Format Industry isn't going anywhere -- but up!
In closing!
I want to thank the staff at ISA for their relentless attention to detail in allowing us the opportunity to gain knowledge, build trust in our industry and enhance our business opportunities for years to come.  Thank you for being so committed.
Exhibitors, I want to thank you for the time and money invested in securing a position in the marketplace for yourselves and all the PSPs who attended. Knowledge is key to the success of our industry…so thank you for manufacturing and inventing physical products, equipment, hardware, and consumables for our industry. There would be no need for PSPs without your engineering and printing expertise.  We appreciate you! 
Attendees, thank you for showing up with vim and vigor. I understand the number of attendees was more than expected. That tells me something important about our industry – we are all in and want everyone to know!