Our Employees Are Screaming
For more
By Debbie Nicholson, Think-to-INK!
ttps://www.linkedin.com/in/debbie-nicholson-24a53627/
Question: Are your employees silently screaming?
Answer: I haven't heard a thing…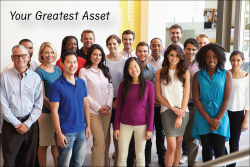 While preparing and drafting this article, I struggle between what I should write -- versus calling out the truths of print leaders failing miserably at setting the stage for future generations of Print Professionals!
I decided to hit this head-on!  So, I'll give you a second to buckle up!
Setting the stage: "Employees are our Greatest Asset!"  If you don't believe me, ask the many printing companies spending hours and hours trying to unearth 'valuable' replacement employees.
Over the past two weeks, I spoke with many of our Printing Associations across the United States to discuss the percentage of printing companies seeking new hires vs. the supply of print industry candidates.
The answer was not what I wanted to hear.  Job opportunities are a long list; however, print candidates have dropped off dramatically, practically nil in some locations.  Many associations have gone the extra mile to market their open positions, to no avail! 
WHY ARE SHORT-TERM AND LONG-TERM EMPLOYEES RESIGNING?
Let's start with why short-term employees (a few reasons):
The onboarding experience was not initiated on arrival of the new hire (paperwork only)

The new employee feels unwelcomed and confused

On-site training and education sessions were never scheduled or initiated by the leadership

The new employee who has no idea what they are doing – becomes scared and self-conscious

The 30-day review did not take place (never calendared) no follow-thru

The new employee is now re-thinking their decision – tired of being ignored

The new employee was continually passed off to anyone who had time to train them

New employee resigns after 30-60 days – was not a good fit
Next up, why are long-term employees resigning (a few reasons):
The leadership team blocked growth opportunities year-after-year

The long-term employee is deflated by being looked over and taken for granted

An annual employee review was never calendared or taken seriously

The long-term employee knows they are not considered valuable or important

It's been three years since receiving a raise

The long-term employee has been patiently waiting – consistently ignored

New hires make more per hour (with much less experience)

 The long-term employee resigns
Here are a few thoughts on how to improve relationships between you and your employees.
Offer flexible work hours
Provide remote work opportunities
Improve employee benefits
Ask employees -- How Can You Help?
Recognize your employees in a formal setting
Improve onboarding and training practices
Support employees
Initiate Continual Learning (CL) and stick to it!
Include your employees in growth opportunities
Hear and See your employees (quit ignoring your greatest assets)
Schedule pop-up meetings with your staff – get to know them – mentor them to the top
Calendar company functions – it is excellent for team-building
Push employee recognition out to social media channels
Write a personal note regarding what they mean to your company
Commit to monthly luncheons – make it fun, and have drawings (include everyone).
Explain to each employee their role – this process can help clarify any misunderstandings.
Lastly, be transparent with any narrative (as much as you can) – no one likes to be in the dark.
In Closing:
Your company is a reflection of you and your Leadership Team.  Sometimes it is hard to look in the mirror – but you can't promote change within your organization if you refuse to see the need.  Be open to suggestions and change.  You will be rewarded in ways you thought were not possible!