Wide-Format Printing Focusing on the Outside-In!
For more
By Debbie Nicholson, Think-to-INK!
https://www.linkedin.com/in/debbie-nicholson-24a53627/
There is an inherent contradiction in most printing organizations – that we exist for our customers, but we spend a disproportionate amount of time, resources, and effort focused internally.
Yes, I know – an internal focus is essential.  However, without being focused on our customers – the sense of purpose can get lost.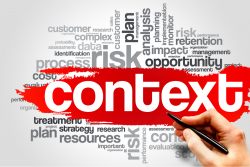 Definition of 'context:
The circumstances that form the setting for an event, statement, or idea, and in terms of which it can be fully understood and assessed.
Knowing our customer's "context" is vital to understanding their actions and preferences; now more than ever.  New technologies and this new economic trend presently affect customers.  Understanding how these changes have already modified your customer's business is essential to understanding their now "new" perspectives.
We always say, "customer experience" – maybe we should say "experience our customer."
Ask your customers: "How Can I Help?
Wide-Format Supply Chain Update!­­
Sheet and Roll Plastics have been in high-demand due solely because of Face Shields, Partitions and Barriers due to COVID-19.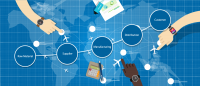 1. Plastic Sheets:  While calling on some major suppliers – I was continually told delivery was out anywhere from 4-12 weeks. 
After hearing that, I began calling on the smaller, local distributors and found they did have stock.  No, they are not fully stocked by any means - but they can ship immediately.  Some smaller distributors were limiting the purchase to 10 sheets by size (not thickness) – so if you could utilize the small, medium to large sheet sizes, you might be able to make it work for a specific project.
2. Plastic Films (Rolls):  I was able to contact several plastic suppliers stocked with plastic material.  They are shipping and responding to customers without delays.
Order immediately and more than you currently need, because should we run into a shortage, it could take anywhere between 4-12 weeks.
SPECIAL NOTE:  Some manufacturers of plastics make Anti-Fog (2 sided) material for Face Shields (so that you know).  I received samples this week – the clarity is spectacular – best I've seen!
3.  Face Shield Foam:  There is no shortage of foam for the face shields (1" x 1" x 9" is standard; however, you can have them produced up to 1" x 1" x 13").  I have talked to several suppliers, and they are in full-on production. 
I prefer the white foam for Face Shields rather than grey or black.  In a medical environment, it is easier to see blood, facial smudges, or dirt – prompting the medical staff to discard it and retrieve a new one.
Also note:  You can purchase closed-cell foam as well as open-cell.  The closed-cell foam can be sanitized along with the entire shield and used again.  Yes, the cost does increase – but for front-line medical needs, it is a much safer product in so many ways.
So, how are Wide-Format Printers doing during this pandemic?­­
No, it is not business as usual.  Printers are down in the market – anywhere from 25 to 65%.  Yes, this is awful news for our industry – horrifying!   But wait, there is more!
Many companies have seen an uptick in business over the last week or so.  Why, because they have been talking to their clients, using ingenuity to design and implement custom products.  Many printing companies are sending weekly informational e-blasts, creating product brochures, direct mail pieces (they are reinventing themselves).  They are using this down-turn in business to wake-up, and they are choosing to get out of the corner to "make" business happen – instead of hoping that it will.
I wrote about businesses Re-Entry in my last article (two weeks ago).  In some states, It is now a reality.  Take this time to help your customers – show them a list of necessary products to help them with this unfamiliar territory (you will need to research local rules). 
Come up with a plan to cater to specific markets.  Put your in-house designers to work with making custom signage – branding will be bigger than ever now.  Companies want and need to see their names in big lights again.
Re-Entry signage (a few ideas):
Social Distancing Signage & Floor Graphics
Wayfinding Signage for new in-store routes
Stanchion Signage – instore and curb-side
In-store Shelf Talkers
Ceiling Danglers and Banners
Entry Way Signage
Exterior Informational signage
Window Clings
Door Clings
Counter Barriers with cut-outs
Safety partitions + barriers
Directional Signage & Floor Graphics

(one-way, no entry, enter, enter one way, do not enter)

Parking Lot signage
Face shields for kitchen employees
Table Top Placeholders
Up-scale Barriers and Partition Hardware
Floor Decals
Header Signage
Signage for hand sanitizer stations
 
In Closing:
We can do this!  We want to do this!  We will do this!
We will be better because of this pandemic.  Daily we are learning what is important.  We are taking care of business better today than we were yesterday. We have seen the ugly picture of what happens when we sit idly by – and we don't like it!
Make your business the best that it should be
Make hard decisions – don't put them off as you have in the past
Be the Leader employees need and deserve
Engage employees, daily
Engage customers, often
Be a collaborative account executive
Be an informative customer service rep.
Teach a higher quality level with the production team
Wipe the dust off customer list and call them, connect with them
Re-invent your Company
Re-invent yourself - continually
Call your customers; ask them, "How Can I Help!" 
Remember, be an Order Maker, not an Order Taker!