Let's Exhibit Excitement About Trade Shows!
For more
By Debbie Nicholson, Think-to-INK!
https://www.linkedin.com/in/debbie-nicholson-24a53627/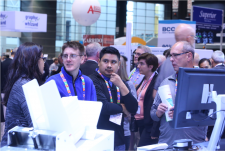 A trade show is an event held to bring together members of a particular industry to display, demonstrate and discuss their latest products and services.  Sound familiar?
Great news - I just registered to attend an industry Trade Show in a couple of months.  I can't wait to stroll down the aisles while looking back and forth and trying to decide which booth I want to stop at next; I want to chat with exhibitors about their products -- old and new -- I don't even care at this point.  I want and need a connection with my industry.
I want to notice the accentuated signage hanging from the ceilings and be awed by the design and fabrication of massive booths on display, subliminally saying --come on in!  I want to hear flatbed and roll-to-roll printers, cutters, and industry tools permeating their distinct sound-of-manufacturing that pulls me in to see what's new and unique about their equipment.
Also, just knowing I can hold, feel and review a substrate up close and personal -- not having to squint my eyes because I can't relate to a 1" x 1" image on a Virtual Tour.  I promise I will never take a Trade Show for granted again!
I have realized and respect that Trade Shows are an essential lifeline for our industry (Printing as a whole).  Trade Shows are a master class for prospective buyers, sales staff, operations, and PSPs.  For our business to flourish, we need to see, inspect and question what is new; compare product lines in the same room, and talk with device technicians – hearing the key facts.  It is priceless!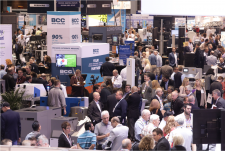 Beyond what I have written – a massive plus of attending a Trade Show is the excitement of refueling your mind and soul – enticing you to produce new products, improve your quality and delivery speeds.  It gives us hope that there are new business opportunities in front of us that will grow our businesses, giving us a sense of security that is long overdue.
I think Trade Shows is just the shot-in-the-arm our industry needs!
Teaching Moment!
Let's be mindful of supporting Trade Shows; it is expensive for exhibitors to attend – while it may be a free or a minimal charge for us – they have poured their heart into making sure they have staffed the booth with effective and knowledgeable staff, essential devices, and products that help us grow our businesses.
Thanking exhibitors for their commitment to our industry is the right thing to do!
Invite your staff to attend Trade Shows with you; when they experience the array of applications and manufacturing possibilities, they will be energized and excited about sharing what they have learned with customers and other employees.  
So, Exhibit some Excitement about the next industry Trade Show!