Wide-Format's Segway into SEG!
For more
By Debbie Nicholson, Think-to-INK!
Introduction: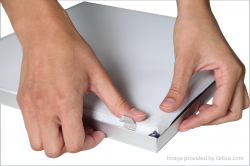 Long considered a modern signage solution, Silicone Edge Graphics (SEG) are printed on specific tension fabric using a high-definition dye-sublimated (dye-sub) printing process.  The graphics combined with frames that have a recessed channel to receive the silicone edge make it quick for installation and on-demand change-outs.
The versatility of SEG allows many options for customers because they can design and create a visual that fits their needs (we're not just talking square frames – be creative; triangular, oval, round, hexagon).  With a seamless appearance and bold graphics, there is no reason why you shouldn't invest in manufacturing SEG yourself!
Or, you can Segway into SEG by outsourcing your projects.  This process is ideal for understanding the manufacturing process and extended versatility available for your customers.  It never hurts to add beautiful and outstanding visual options to your Wide-Format Printing portfolio.
SEG and SEG LED uses (a few)
Airports
Athletic Teams
Backdrops
Backlit Graphics
Convention Centers
Decorative Partitions Displays
Hanging Ceiling Soffits
Home Décor
Light Boxes
Medical Centers
Museums
Office Buildings

Reflective Graphics
Retail Displays
Restaurants
Religious Centers
Schools
Signage
Stadiums
Suspended Displays
Trade Shows
Transportation
Wall Décor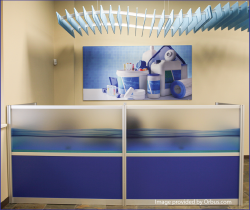 Here are a few qualities of Silicone Edge Graphics worth noting:
On-Demand quick change-outs - Astounding color contrast - Bright backlit option
Cost-effective transporting - Easy install and de-install - Extremely versatile
Lightweight (lower shipping costs) - Low-glare viewing - Sound abatement (decreases noise)
Won't scratch or tear - Wrinkle resistant, to name a few.
 
In Closing!
Remember, adding new products to your portfolio expands to new customers and assures your current customers that you are committed to developing solution-based products that will advance their success!
Be an Order Maker, not an Order Taker!