When You Take Shortcuts You Usually Get Cut Short!
For more
By Debbie Nicholson, Think-to-INK!
https://www.linkedin.com/in/debbie-nicholson-24a53627/
Question:  Is getting 'cut short' self-imposed?
Answer:  Absolutely!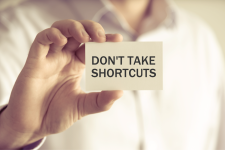 The DISADVANTAGE of shortcuts is they create risk; here are a few risks to consider:
Discounting projects new (to the company) without experience or history as a price guide

The unknown is costly and may not be recouped.
 

Purchasing inferior materials to meet budget demands

Inferior materials open the door to ineffective ink adhesion, cutting, and finishing problems
 

Underestimating employee and manufacturing time

Shortcuts could add enormous hours of overtime and rush shipping expenses
 

Inconsistent processes for securing live pricing from distribution channels

This is no shortcut you should take – live pricing is not negotiable
 

Foregoing detailed pre-project production meeting(s) to save time

Huge mistake – this will cost you in ways you can't imagine!
 

Knowingly accepting tight deadlines that are not achievable

This deserves a serious conversation with your client (including overtime expenses)
 

Disregarding strict Quality Assurance guidelines to move the project forward

You think this project is costly now – just wait!
 

Inattention to Customer Change Orders by not securing updated POs

Customer POs with up-to-date Change Orders avoid confrontation and payment delays!
 

Accounting for rushed goods shipping expenses

Avoid this problem by having a detailed pre-project production meeting
 

11th-hour need for temporary employees for finishing, kitting, packaging, and shipping

Always assume the worst; equipment down, employees call out…
 

Live-wire cross-training to enhance manufacturing

Look, crunch time is not the way to learn – cross-training is a pre-determined commitment
 

The job jacket lacks critical billing information – everyone was too busy!

Last but not least – remember cash is KING – don't mess this one up!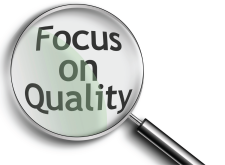 In Closing:
When we take shortcuts, we tend to get careless and emphasize efficiency more than quality. Is it worth the risk to take a shortcut when applying best practices for our printing industry?
As a thought: The lack of understanding can be a catalyst for many shortcuts. Frequently, this results from insufficient training that didn't fully assure our employees understood the content. As a result, employees may believe they've discovered a shortcut that in actuality, could be detrimental. For example, simply telling our production staff what quality - is - may not be adequate; a visual introduction with a walk-down quality lane may be necessary to help them understand the company's expectations and standards.
Shortcuts can be both a blessing and a curse depending on how and why we approach them; following business instincts is always best!