Where's your Sign? Let me help you find it!
For more
By Debbie Nicholson, Think-to-INK!
https://www.linkedin.com/in/debbie-nicholson-24a53627/
In my previous column, I outlined the many reasons to Outsource your Wide-Format projects (in part and whole) as well as securing Parameters to make it a positive outcome for both parties.  Now let's talk about how to add client value and add a much-needed healthy profit to your bottom-line!
Sign Company Visit: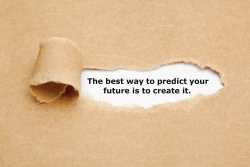 Recently, I had the privilege of visiting and touring an over-the-top, bonified Sign Company.
Upon arrival, I met with the two owners to learn about their company, how it operates, how they market their products/services, and what they understand their growth potential looks like over the next few years.
During the tour I was seriously blown away by the equipment on the floor (like a kid in a candy store).  I couldn't soak up all the information and details fast enough…and yes, I asked a million questions.
What I realized, quickly – the Wide-Format Industry is missing out on specialized finishing and manufacturing because the level of this finishing equipment is not in-house.  Nor do we know where to go if it is needed.  However, it is available if we are willing to outsource to a viable and experienced Company.
Remember, the goal here is to add client value and profit.  Don't decline projects that need specialized production and or finishing.  Make some calls, do research – it will be worth it.
I realize that not every company that offers Wide-Format Printing could utilize this equipment on a "daily or weekly" basis – but from time-to-time, it's nice to know where and how a project could be completed with the most optimum manufacturing equipment.  Expand your offerings while expanding your way of thinking – a great partnership will evolve if there is a commitment of trust.
With respect, I asked my new client if I could list his equipment in this week's column. 
Here is the short Equipment List to extend your customer offerings:
Industrial CNC Router 7" Thickness
2 Auto Channel Letter Bender (3" to 10' Tall – unlimited depth)
14' x 14' x 30' Size Paint Booth with Bake & Cure
Certified Matthews Paint Specialist (which is key - can match PMS colors)
CNC Plasma Steel Cutter Unlimited Size (cuts up to 1" Steel)
Welders (both Steel and Aluminum)
150w 4' x 8' Bed C02 Laser & Engraver (.02 accuracy)
UV Flatbed 6.5' x 10'
PVI 6' x 10' Vacuum Forming Machine
3D Carving Capabilities
LED Illuminated Displays
Coming Soon, Braille applications
Coming Soon, Steel Channel Lettering (I saw a sample, simply beautiful)
Now, this is where you come in – a few new things you can add to your product line:
Channel Lettering (Indoor & Outdoor Signage) again, unlimited depth
Routed HDU & Sign Foam Signage (and painted)
Post & Panel Architectural Signs (Inside & Outside Signage)
Custom Shapes for Special Projects (Steel and Aluminum is a current trend)
Laser for Acrylic Signage (glass edge) layering two/three different substrates is unique
Steel & Aluminum Painted Plaques for Buildings, Offices, Malls, Education, etc.
Custom Logos for display (Interior & Exterior)
Hardware Manufacturing for Special Projects
3D Carving is more popular than ever (high mark-up for this specialty application)
Interior LED Illuminated Wall Displays
Interior LED Illuminated Ceiling Displays
Match a customer's PMS # with Certified Matthews Paint Mixing for any application
Purchase ADA Braille signage with confidence
Base plates for Awards and Engraving (Steel and Aluminum)
Streetscapes
Metal Archways for Design & Architecture
Metal Wayfinding Signage
In Closing:
Over the last few weeks, I have talked to many Wide-Format producers, unlike what you are hearing – they have been pretty slammed (customer's offering to pay rush charges) because of the need for urgent signage due to COVID-19 restrictions.
Many of my clients are at full-throttle, having employees working overtime.  Yes, they all realize that this could come to a slow-down (due to the nature of current events).
As a few clients pointed out…they are also busy (business as usual) with the following verticals.
Lawn Services
Landscaping Companies
Construction Companies
Architecture & Engineering
Health Care
Remember, be an Order Maker, not an Order Taker!