Is Anyone Out There? Is Anyone Listening?
For more
By Debbie Nicholson, Think-to-INK!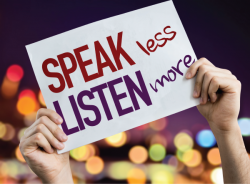 Are we listening to clients?  Do they know we hear them?
I am a firm believer that great selling and customer service are simple. It's just a conversation!
Small Talk (Smart Talk) is a necessary process of creating a personal connection. When you have conversations about topics outside of the work environment, you solidify the bond in a way that makes more goal-directed conversations and requests flow smoothly.
The next time you have an opportunity to talk with prospects or reacquaint yourself with clients – keep this in mind.  Don't start the conversation with - this is what we do - this is who we are -- and this is how much it will cost!  Bad idea!  Those comments do not build trust; it creates distrust.
Your heightened goal should be to listen to their frustrations – earnestly and remove their pain, thus allowing you to build awareness and curiosity into interest.
Don't be this sales rep!
Question:  I bet you get a lot of wide-format projects from your Entertainment customer, don't you?
Answer:    No, we only print offset and small format digital for them.
Question:  I'm confused; why don't you produce their wide-format projects?
Answer:    I've heard they only pay bottom dollar for that work.
Question:  Who told you that, your competitor?
Answer:    
In closing: (source)
Today, I spoke with Piedmont Plastics, a well-known distributor with a national footprint providing Wide-Format products for our industry - and the news is Good.  They see huge increases in "standard work" and "program purchasing."  I was assured it just wasn't acrylics – but rigid substrates overall (including - ACM, Foam PVC, P.O.P substrates).
Be committed, relentless, innovative, and strong!