When Is the Last Time You Made a Huge Impression?
For more

By Debbie Nicholson, Think-to-INK!
https://www.linkedin.com/in/debbie-nicholson-24a53627/
Your customers are Waiting!"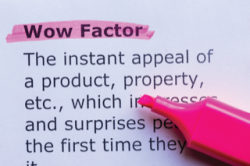 WOW, wake up your Customers with Wide-Format ideas they didn't see coming!
Last week one of my customers was asked to bid on a fleet graphic project with a potential client. 
The Bid Request received was "as usual" (project specs, vehicle specs (make/model) quantity of each, project timeline, bid due date, and more).
As my client read the details – he said: "I need to WOW this potential client," because he was tired of losing projects solely because of "pricing."
He began working his WOW Factor:
He sat with his in-house design team to illustrate a beautiful rendering of one of their vehicles.
(I am sorry you can't see it – it is AWESOME!)
Cover Page:  Was a full page, with the Customer's Logo (Vehicle Wrap Proposal) –six business icons in the foreground with a full bleed graphics background.  Placed at the bottom was my customer's name and the slogan "COMPLETE MARKETING SOLUTIONS."
Page 2:  He included a rendering of the driver's side van (specified model) for bidding.  It is a WOW factor!
Page 3:  Identifies in 5 paragraphs (Installation, Design, Warranty & Standards, Installation Prep, and Emblem Removal).
Page 4:  Pricing and every make/model of their fleet with the estimated cost beside each vehicle.
 
In my opinion, he covered everything (no pun intended)!  While everyone else just provided pricing, he offered a Solution.
Next Step:
An appointment was made with the potential client to discuss his presentation.
He was happy to have received the pricing; he was even more shocked to see the rendered visual image for beginning the process.
Just today, as I am writing this column, my customer is visiting with the buyer to make a few art tweaks to begin the production.  YES – he was awarded the project!
What my customer didn't know at the time – several bids had already been received by the buyer.  However, when my client walked in the door with a "total solution," the contest was over.  Just so you know, he is also placing an order for more work– not related to fleet graphics.  YES!
Moving On: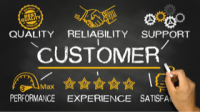 Why do we disregard our customers?  We can't continue to ignore them and expect loyalty.  We are in business for our customers; however, sometimes they are last in line.  If you make a list of tasks every day…taking care of our Customers should be #1.
Maybe they need to wake us up!
Be more to your clients than just order takers.  We should have a consultative heart, help them with their projects – maybe they directed us to use a material that is not appropriate for long-term use.  Perhaps, we can save them money by advising them to use a different product for short-term use.  They don't know what they don't know!
Why are we so scared to ask questions?  Why are we so afraid to delve in and make a difference for our client(s)?  Maybe we don't know enough about what we are selling. Is this possible?
Take your own experiences – are you not more loyal to vendors and suppliers because they HELP you make the right decisions for your end-product. 
A Few Ideas:
One-on-One:  Meet one-on-one with your clients often!  Please do not wait for them to call you.  
Estimating:  Respond to estimates promptly…do not let them sit on your desk.  If something doesn't look right on the estimate request, call or e-mail them immediately with a confirmation.  I have seen many printers lose a project because it takes them too long to return an estimate.
Touch Base during the production of a project:   Keep your customer apprised of a working plan.  Let them know if you are still on schedule.  If not, explain why.  Send them a short video during the production process (they will eat that up).  Daily: Send them a note via e-mail/text, updating them of your progress.  
After a Project has been received by your customer:  Call your customer to make sure everything was delivered as ordered.  If not, make it right IMMEDIATELY – priority #1.  It's not that you made a mistake; it is how you recover from the error that will always be remembered by your client.
Most Importantly:  Ask your customer if there was anything else you could have done to make the entire order process more manageable and better for them.
Remember, be an Order Maker, not an Order Taker!