Get Comfortable With Being Uncomfortable!
For more
By Debbie Nicholson, Think-to-INK!
https://www.linkedin.com/in/debbie-nicholson-24a53627/ 
2020 and 2021 From The Heart:
Like you, I have had to re-think my way of doing business!  Typically (in a comfortable setting), I would travel the United States educating and training printing companies in the Wide-Format arena.  However, due to COVID-19, that way of doing business came to a screeching halt on March 3rd, just as I was scheduled to leave for Los Angeles, CA., the following day.  CANCELED!
Yes…I was concerned – I thought we would get back to our normal (comfortable) work activities soon enough.  Well, I was definitely wrong!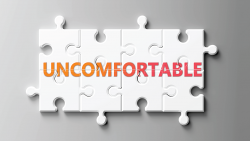 I had a major decision to make – stay comfortable or be uncomfortable!  I chose to be uncomfortable!
The feeling of being scared and terrified came back to me when I signed the contract to become a Columnist for American Printer on May 11, 2019.  (This is now my 33rd Column) 
Before signing - I remember asking myself…Debbie, why are you so uncomfortable with this exciting new opportunity? 
Here were some of my thoughts:
Why would anyone want to read what I have to write about?
Do I know enough about Wide-Format to not make a fool of myself?
How can I keep up with all the new technology evolving in our industry?
Will I write something that makes me look stupid and inept?
Are people too busy to even care that I am taking the time to research and write a column?
Will the passion that I have for Wide-Format be igniting and optimistic enough to make a difference?
How will I continue to be relative and enlightening for every column?
Will I be scared of failing?
If I fail, how will that make me feel about myself?
Am I smart enough?
 
As I re-lived those thoughts and feelings, I realized that as uncomfortable as it was, I focused on the outcome – which has been powerful for my inner strength and confidence.
If we learn from our experiences, mistakes, and successes, we can celebrate the present and future with open arms and confidence.
Here are some Uncomfortable things I accomplished in 2020 and will accomplish in 2021!
Experienced my first Podcast
Presented my first Webinar (extremely scared)
Facilitate a bi-monthly Wide-Format Peer Group Zoom Conference
Wrote an article for a well-known Printing Magazine
Awarded multiple 6-week contracts for Training & Educating Sales Reps via daily Zoom Conferences (You've heard of Zoom, right?)
Sourced W-F Materials with distributors and manufacturers (adding value)
Continue to write and create much needed W-F Educational Materials
Assisted clients to secure large W-F projects and new customers
Researched and influenced customer's purchase of W-F equipment
Serve on Leadership Teams for two companies
For 2021:  Signing a contract for a series of 6-8 weeks Educational W-F Webinar Programs
  
My goal this year is to stay uncomfortable! 
What about you…are you comfortable being uncomfortable?  We can't grow and achieve our goals if we are comfortable. 
In closing,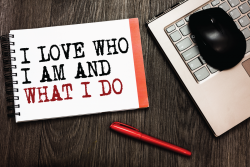 I want to thank Sid Chadwick of Chadwick Consulting for continuing to push my envelope.  He gives me the strength and confidence to move forward with my passion for Wide-Format Printing.  Thank you for your counsel.  You continue to make me aware that I am more valuable to my clients today than yesterday!
Also, I would like to thank American Printer for allowing me the opportunity to serve our industry.  Thank you for having faith in my abilities to reach your audience with a positive and informative view of Wide-Format Printing!
Blessings to each of you for a successful 2021!
Debbie Nicholson