Wisdom Gained at RICOH's INTERACT 2019 with Help from a Motorcycle Rebranding Story
For more
Ricoh's INTERACT 2019 was a great opportunity to engage and 'interact' with future-focused print professionals, the Ricoh team and Ricoh partners in Denver, Colorado.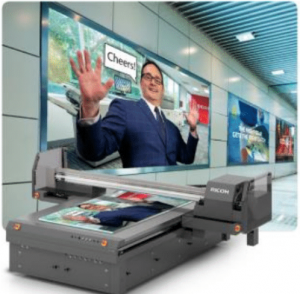 Gavin Jordan-Smith, only 90 days into his role as Vice President of Commercial Printing Business at Ricoh was an enthusiastic leader at the event. His passion for the graphic arts industry was contagious as he interacted with the wide variety of printers in attendance.
Leading From the Front, for the Front, By Being in Front
One of Gavin's strongest points was that "Ricoh is about supplying what their customers' customer wants, the end recipients, stepping beyond their customers need or pain points to be leading the way. Ricoh is focused on Operational Excellence, Customer Intimacy and Product Leadership."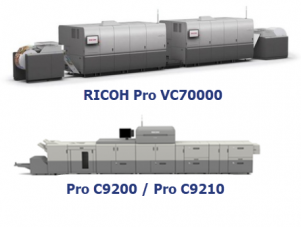 The Event's Technology
The RICOH PRO VC70000 was the talk of the event as it is no longer in beta. Early customers in attendance were more than ecstatic about the printer and the throughput, paper, and revenue gains they have experienced with the VC70000.
Sepire, a new and innovative omni-channel solutions provider, was one of the early VC70000 installs. In one of the event's sessions, Josh Bonham, Sepire's COO, shared insightful information related to how and why their new company selected the RICOH PRO VC70000 as their print platform.
Attendees with cut-sheet operations were pleased with the RICOH Pro C9200/C9210 Series Graphic Arts Edition. We heard various attendees' comment on their printer's excellent quality and the new markets the C9200/C9210 had opened for them.
Educational Sessions
We were impressed by the high attendance during the sessions of the four educational tracks. The sessions were led by Ricoh executives and technical experts as well as independent industry thought-leaders. Some of the most insightful sessions were those that included end-user print professionals.
A new 'Operational Excellence' track focused on operational solutions, lean manufacturing, media, and attracting new employees which was acknowledged as a growing challenge for many attendees.
The RICOH Process Director track was very popular with several hands-on sessions demonstrating the automated document factory and print/electronic delivery production workflow platform. The track's wrap up session was hands-on interactive with attendees offering their views on which enhancements would be of most value to their companies.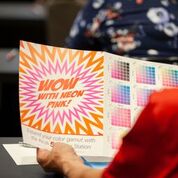 Samples of Excellence
Alysha Burch, Founder and Principal of Square Root Creative, was a popular track speaker. One of her key points was the need to educate print buyers, like designers and the creatives, because they don't know what is possible with the newest digital print technology.
Alysha showed samples printed on silver and gold media, using white, hot pink, or infra-red in the 5th color station. Ricoh customers can access the files Alysha referenced on RICOH's Business Booster site. The files can even be customized and individualized with the printer's or the end customer's branding. Business Booster is an important resource that allows Ricoh customers to generate great sales and marketing pieces to educate prospective clients on the power of today's digital print technology.
Interacting with Fun
In addition to excellent meals, a great keynote speaker, and a wonderful comedian, attendees enjoyed an evening event at Wings Over the Rockies Air & Space Museum. This impressive museum is filled with historic aircraft you can sit in and flight simulators that can tumble you around.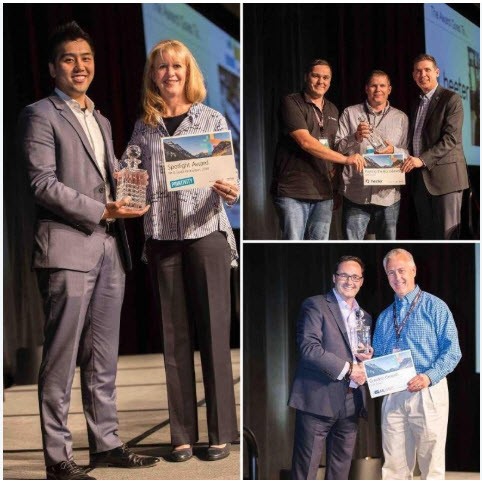 And the Winner Is
Ricoh's recognition of customer excellence was one of the activities that most impressed us about the event. Throughout the event, various customers were referenced for their innovation and creativity. And then the closing evening was highlighted with the INTERACT Awards recognizing: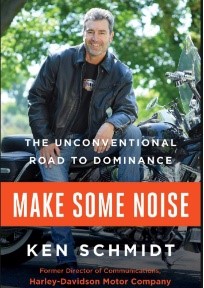 The Harley-Davidson Story
The event's keynote speaker was Ken Schmidt, former Director of Communications at Harley-Davidson during its climb from bankruptcy. We felt Ken's thoughts on the demise and rebirth of Harley-Davidson paralleled the print industry's potential for renewal with digital print technology.
Ken shared that the industry Harley Davidson help birth had changed, but the company had not adapted to the change. Motorcycles had become a commodity; they were all built 'good enough,' and customers were now buying on price. That was a talk-track that sounded familiar to many print professionals in the room.
Harley Davidson had to get its 'loyalty' back by answering three questions that we in print can also adopt:
What are people saying about your company?
What do you want them to say?
What are you doing to get them to say it?
Harley Davidson's answer to question 3 was to rebuild their brand with a personal touch to show that they cared about their customers, and to position their motorcycles as a lifestyle, not a commodity buy.
Ken's Harley Davidson story provided excellent wisdom advice for future-focused printers at the event.
Ken autographed his new book 'Make Some Noise: The Unconventional Road of Dominance.' Note that Ricoh had arranged to have their customer, Heeter, print the book on their PRO VC 70000. The cover was printed on the PRO C9110. What an excellent tactile, wisdom-filled technology demonstration!
We base our judgment of the success of events like INTERACT by how many attendees mill around after the session networking with fellow attendees. Ricoh's INTERACT 2019 was a great success!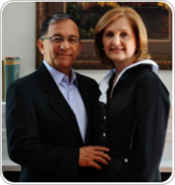 Promoting print tech for the digital age,
Andy & Julie Plata
Co-CEOs, American Printer and the OutputLinks Communications Group
Stay tuned for our continuing reports on print industry events we attend around the world.