Xerox to HP: If You Let Me Own You It Will be a 'Value-Creating Combination'
For more
An American Printer Commentary
By Andy & Julie Plata
Co-CEOs, the OutputLinks Communications Group
December 13, 2019
Xerox strongly encouraged HP's shareholders, via a 33-page PowerPoint, to urge HP's Board of Directors to pursue mutual due diligence in considering the buyout offer.
The PowerPoint presented Xerox's vision for the benefits that will come to pass if HP acquiesces to the Xerox buyout offer:
$2 billion in savings (Section #2)
$1.5 billion in revenue growth (Section #3)
Review the full 33-page presentation filed on the SEC website.
One phrase in the presentation that we found most interesting was, "The value of the transaction goes beyond economics."  But we did not see any reference to those 'beyond economics' factors in Xerox's projection of:
More profits;
Capital to provide clients more and better products;
Higher capital returns to shareholders.
Xerox strongly encouraged HP's shareholders to urge HP's Board of Directors to:
Engage with Xerox;
Conduct 3 weeks of mutual diligence;
Realize the value of the buy-out offer.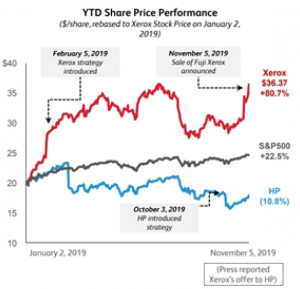 One More Interesting Twist
Carl Icahn and four other investors own:
23% of HP's shares, AND
31+% of Xerox's shares!
With just five investors controlling over 20% and 30% of both companies, it may only be a matter of time before the profit opportunity for those five organizations finalize a close-the-deal decision.
A Florida firefighters pension fund sued Icahn based on his purchase of the HP shares during the tine Xerox was contemplating the HP buy-out offer. Stay tuned as the storyline of the lawsuit unfolds.
Read and Share
We look forward to your ideas, thoughts, and comments after you peruse Xerox's 33-page presentation.
Stay Connected
We will continue following this transaction closely. Our goal is to provide our readers with a series of short synopses of what we learn as we learn it.
For consistent updates and to share your views on the Xerox / HP transaction, join us at LinkedIn's 'Print Industry Thought Leaders' group.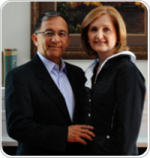 Thanks for Reading.
Promoting print tech for the digital age,
Andy & Julie Plata
Co-CEOs, American Printer, and the OutputLinks Communications Group
Stay tuned for our continuing Commentary on the changing print-tec industry environment and its effect on clients, employees, dealers, partners, and stockholders in the global print industry.