A Print Profit Acceleration Discussion: Are Sonora XTRA Process Free Plates a Profit Accelerator?
For more
A Print Profit Discussion
By Andy & Julie Plata
Co-CEOs, the OutputLinks Communications Group
---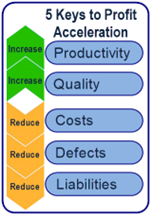 After surviving the past year, your company may be looking to accelerate profits by increasing productivity and quality while reducing costs, product defects, and liabilities.
The purpose of this discussion is to determine if technology like KODAK SONORA XTRA Process Free Plates can help your printing company accomplish its profit acceleration objectives.
Are Chemical Free Plates an Answer?
Has your firm considered reducing costs and production delays related to chemically processed plates? If so, we trust this discussion will be of value.
 
Print buyers are increasingly expecting sustainability initiatives from their service providers. A proactive way to respond to those expectations is by reducing the print operation's chemical footprint. SONORA XTRA Process Free Plates provide a safe and proven migration to the latest innovation in chemical-free technology.

Accelerating Productivity
SONORA XTRA Process Free plate technology gets jobs on the press faster. They accomplish that by eliminating the wait time for chemically processed plates to go through the conditioning process. SONORA XTRA generates plates with enhanced scratch and scuff resistance, increasing print quality while decreasing damaged, unusable plates.
Productivity increases because operators can go straight from the imager to the press with SONORA XTRA Process Free Plates.
XTRA High Volume Production
High volume production is where SONORA XTRA shines. The technology sustains run lengths of up to 400,000 impressions on web presses, 250,000 impressions on sheetfed presses, and 100,000 impressions for UV-ink applications.
The fastest CTP on the market can be accomplished by combining Kodak's T-Speed KODAK MAGNUS Q800 Platesetter with SONORA XTRA. This combined process delivers as many as 80 plates per hour to provide even greater acceleration of your company's production and profits.
Jürgen Winkler, COO at ONLINEPRINTERS, stated, "… we wanted to see whether we could rely on (the MAGNUS Q800 Platesetter) to handle 80 plates per hour. We were so excited when it really did output a plate every 45 seconds that we decided to migrate our entire CTP imaging to Kodak."

Refined Innovation
During these disruptive times, many commercial printers prefer to avoid the risks associated with buying new, unproven technology. Kodak's process of continuous innovation and refinement offers the ideal solution for those wishing to gain the benefits of the latest process-free technology.
SONORA XTRA Process Free Plates represent the latest innovation in Kodak's SONORA Plate technology and the world's most widely used and trusted process free plates.
SONORA XTRA Plates boost the SONORA X image contrast to be 3X stronger for clearly visible images and machine-readable codes on the plates.

SONORA's process-free designs and technology were originally developed by Kodak in 2005. SONORA XTRA's high-value innovations are the result of Kodak's engineering teams working collaboratively to consistently improve the process free process. The result is time-tested, innovative, and reliable SONORA XTRA Process Free Plates.
Process Free Benefits
The refinements to SONORA X that are integrated into SONORA XTRA provide:
Higher contrast after imaging means:

Enhanced quality for readability
Easier to use for increased operator productivity

Highly automated plate handling equipment means:

Enhanced productivity
Labor savings
Defect reductions

Faster imaging means:

 Higher-speed plate making for increased productivity

XTRA Reductions

Process-free Sonora XTRA Plates present a vault of XTRA cost reductions in labor, space, chemicals, water, energy, and standard plate processing resources. Your company will also eliminate resources previously required to manage and dispose of plate processing chemicals. And imagine the time and aggravation savings with not having to complete the EPA and associated reports for plate processing chemicals.
Bluetree, an online print supplier, leveraged Kodak process-free technology to efficiently produce an average of 40,000 plates each month. SONORA technology resulted in reduced costs, faster prepress, and a strengthened commitment to sustainable manufacturing. Read more here>>>
Cost reductions and productivity gains realized with chemistry-free plate processing can be significant contributors to your company's profit acceleration objectives.
Sustainability Branding
Extreme weather disruptions are making climate change and sustainability initiatives topics of growing importance with print buyers. Developing a positive sustainability brand will be increasingly important to gaining and retaining clients.
SONORA Process Free Plates decrease your company's environmental footprint by:
Eliminating processing, disposing of, handling, storing, and shipping of platemaking chemistry.
Eliminating water used to rinse plates, mix chemistry, and clean platemaking equipment.
Eliminating energy used to run your plate processor and plate baking oven.
Eliminating pressroom waste from defective plates due to variations in plate processing.

As protecting the environment becomes increasingly important to your clients, employees, and suppliers, reducing the company's environmental footprint will become paramount. Kodak's process-free plate technology will be a vital component of your company's quantifiable reduction of harmful chemicals and waste products associated with production print.
In addition to simplifying processes, saving money, reducing defects, and increasing quality, replacing a chemical-laden process with Kodak's process free technology will earn your firm recognition among buyers seeking environmentally sensitive suppliers.
Green Sales Acceleration
"Cheaper, faster, better" is what may have won new print customers in the past. But as sustainability regulations and societal expectations increase, your old sales message will need to evolve to "cheaper, faster, better, AND greener."
KODAK SONORA XTRA Plates will be a key factor in your company's environmental branding for a competitive sales advantage. Replacing the old chemical-laden processes with Kodak's process-free plates will give your team a new sales strategy for attracting buyers seeking supply chain partners that can contribute to their sustainability commitments.

Top-level companies with green initiatives value "sustainable supply chain" partners who can contribute to their environmental commitments. By documenting sustainability improvements, your company's sales teams will gain a strategic advantage in selling to those top-level companies. The lifetime client value of those new clients can be excellent profit accelerators.
 
To date, 115 businesses have signed The Climate Pledge, sending an important signal of rapid growth in demand for products and services that help increase sustainability and reduce carbon emissions. Review the 115 companies here>>>
Our Analysis
It seems to us that KODAK SONORA XTRA Process Free Plates are worth consideration for increasing productivity and quality and reducing costs, defects, and liabilities. And SONORA XTRA can enhance the company's sustainability brand for a strategic competitive advantage.
Next Steps
Let us know, in the Comments Section below, if this discussion has been of value in your search for ways to accelerate profits.
If you would like more information to determine if KODAK Process Free Plates could help your company accelerate profits, here are three steps to consider:
Download the Unlock Hidden Savings white paper
Thanks for reading. Your thoughts on this discussion are appreciated.
Promoting print tech for the digital age,
Andy & Julie Plata
Co-CEOs, American Printer, and the OutputLinks Communications Group
Stay tuned for more discussions on products and services of potential value to Print Profit Acceleration.