How Can Virtual Product Demos Replicate In-Person Experiences
For more
                     
Reviewing OutputLinks Communications Group Services 
By Andy & Julie Plata 
Co-CEOs 
Selling Print Technology in Today's Environment
When we all began this long, strange pandemic journey, the terms social distancing and physical distancing entered everyone's vocabulary. Many people felt uncomfortable with those terms - especially sales professionals.
A salesperson generally sells high-value print-related products by developing close business relationships with clients. Printer demonstrations and sales also occurred at a customer experience center or big trade shows like drupa. But those options are now hampered by the new aBnormal business environment and may not return anytime soon.
To assist our OEM clients, we began researching ways to provide prospective buyers an equal to or better experience than face-to-face product demonstrations. In that search, we attended many virtual printer demonstrations over the past six months.
This article shares our experiences and conclusions. We also share ExhiVision, the solution our company is now selling because it was the best.
Selling in a Socially and Physically Distant Marketplace
Creative sales and marketing teams have been using new tools and techniques to minimize the effect of physical distancing on product demonstrations and sales revenues.
Although we salute all efforts to try new techniques to accommodate today's challenging environment, we did find a wide disparity In the 'virtual' product demos we attended.
Most of the demos were static product videos projected over Zoom or Teams platforms. These were nicely done but lacked any audience interaction and just added to the growing Zoom fatigue.
A few were live printer demonstrations using mobile or video cameras for display on prospects' PC screens. We found these to be of varying degrees of professionalism and effectiveness.

Konica Minolta Business Systems USA did well-produced, virtual, and in-person product demos from their Customer Engagement Center;
HP had equipment delivered to their technicians' homes for 1on1 product demonstrations via handheld video.

We attended a Virtual Showroom built with gaming software by Konica Minolta Business Systems Europe. A sales rep could use the platform to lead a customer's virtual character through the showroom to preview an AccurioPress C14000, AccurioJet KM-1e, or the AccurioLabel 230 (presented in graphic format). Prospects experience system component animations for items like paper feeding and inkjet software. The platform is in its initial stage, with many additional features planned for future releases.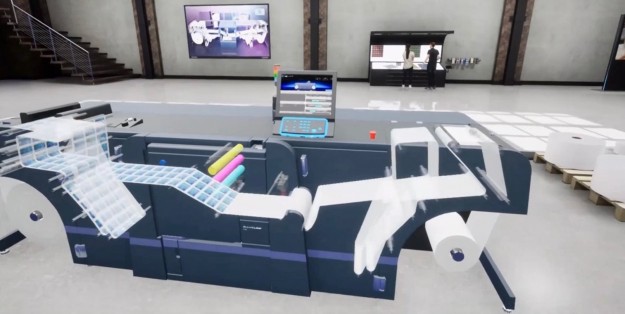 Our Virtual Demo Observations
None of the demonstrations we attended provided us an experience-near, equal to or better than face-to-face.
We do commend Konica Minolta Europe's application of gaming technology to the product demo processes.
The gaming crowd will enjoy navigating the showroom and equipment.  But non-gaming prospects may find the experience challenging.
Many printing press OEMs are making good progress towards creating virtual product demonstration experiences. But more effective solutions are needed quickly because sales now are what the industry needs.
Our ExhiVision Solution
We were introduced to a company that had developed drupa extravaganzas for some of the largest print OEMs. When we heard their vision for integrating the best in live demonstrations with the latest in virtual technology, we were so impressed that we immediately formed a new partnership around ExhiVision.
Here are what most impresses us about the new offering:
ExhiVision delivers a live, customer-interactive experience on-site and/or via screen sharing platforms. With ExhiVision, an audience sees, experiences, understands, and interacts with the demonstrated print technology.
ExhiVision allows sales teams to nourish personal relationships with prospective buyers during product demos. Engaging prospects with one-to-one interaction throughout the demo provides a unique, memorable, and differentiated buying experience.
ExhiVision's unique integration of video and virtual technologies turns product demos into highly engaging story-telling experiences.
Watch for future articles where we dive deeper into ExhiVision's unique integration of virtual, AR, video, and presentation-grade broadcast technologies blended with live product presentations.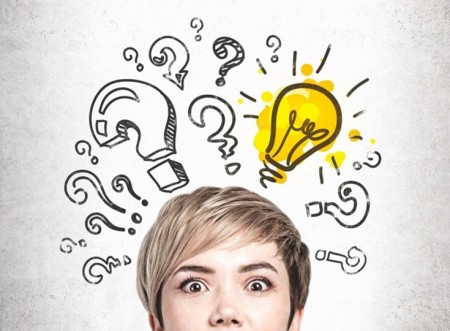 Your Experiences
We're curious to learn what your experience has been with screen-based virtual demonstrations. Let us know how it went in the comments section below.
Also, feel free to share any predictions you may have on how this remote-demo technology might evolve.
We believe that new opportunities can develop from challenging situations. Therefore, we will continue offering new insights on ways to learn about new products in the industry. At the same time, we'll be thinking about staying safe and complying with the public health measures in force where you live.

Want to Talk?
We are happy to discuss ExhiVision with you. To schedule a no-obligation call with us, touch the button below:
In Closing
We trust this introduction to our new ExhiVision platform provides new options to help you reposition, secure, expand, and enhance your businesses to flourish in these "new aBnormal" times.
Challenging times can be leveraged for exciting new opportunities. Therefore, we hope each of our articles stimulates ideas for profit-producing initiatives.
Thanks for Reading.
Promoting print tech for the digital age,
Andy & Julie Plata
Co-CEOs, American Printer, and the OutputLinks Communications Group
Stay tuned for our continuing Commentary on the changing print-tec industry environment and its effect on clients, employees, dealers, partners, and stockholders in the global print industry.