Thoughts, Musing and Questions on The Xerox HP Buyout News
For more
An American Printer Commentary
By Andy & Julie Plata
Co-CEOs, the OutputLinks Communications Group
We learned Monday evening that Xerox's board discussed buying HP. That offer was quite the surprise since HP is 3X the value of Xerox, and we have been predicting that HP would buy all  or parts of Xerox by December 31.
Xerox makes for great and complex stories. Last year was the Xerox / FUJIFILM / Fuji Xerox roller coaster ride. The new thrill ride is Xerox's buyout bid for 3X bigger HP (HP = $27 billion valuation / Xerox = $8 billion valuation).
Who Will Buy Who

Or might this be Xerox's attempt to stimulate HP to reverse the process and bid on buying  Xerox?
Or is Xerox trying to entice another player to come into play – Canon or Konica Minolta or EFI – for all or part of Xerox???
Go Big or Go Home 
Business consultants often counsel business leaders to set Big Hairy Audacious Goals (BHAG). Therefore, John Visentin and the Xerox Board should be applauded for proposing this HP BHAD (Big Hairy Audacious Deal).

 However, Xerox's offer should be viewed through the lens of the company's largest shareholder – Carl Icahn. Icahn and fellow major owner, Darwin Deason, are the venture capitalists who engineered the Xerox takeover from FUJIFILM last year. And, in Carl Icahn's venture capital business this type of creative approach to stimulating offers is often practiced.
Creative Financial Engineering
HP is a $23 billion firm, and Xerox's valuation is $8 billion. So, the acquisition would require creative financing – hence the thrill ride.
Maybe Xerox is planning to use the $2.3 billion it gained from the sale 5-days ago of its portion of Fuji Xerox to FUJIFILM – are you getting dizzy yet?
With that $2.3 billion payout plus some of its stock plus a hefty loan from a bank like Citicorp, Xerox could possibly finance its $27 billion offer.
HP's Response to the Xerox Offer
"We have had conversations with Xerox Holdings Corporation: From time to time about a potential business combination. We have considered, among other things, what would be required to merit a transaction. Most recently, we received a proposal transmitted yesterday.
We have a record of taking action if there is a better path forward and will continue to act with deliberation, discipline, and an eye towards what is in the best interest of all our shareholders."
As of 5 ET Thursday evening, HP has not confirmed whether it will move forward with a Xerox merger or acquisition.
Points to Ponder
As we complete this week's report, we share these pondering points:
Combining the two companies could result in billions of dollars in savings by eliminating redundant processes and reducing headcount.
If Xerox ends up buying HP, the combined company would be heavily burdened with billions of dollars in debt.
If HP ends up buying Xerox, the combined company would have little or no debt but would still enjoy all the cost savings noted above.
Do you think a Xerox/HP combined company will be good or bad for the print industry?
Stay Connected
We will continue following this transaction closely. Our goal is to provide our readers with a  series of short synopses of what we learn as we learn it.
For consistent updates and to share your views on the Xerox / HP transaction, join us at LinkedIn's 'Print Industry Thought Leaders' group.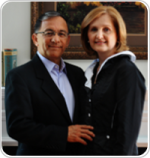 Thanks for Reading.
Promoting print tech for the digital age,
Andy & Julie Plata
Co-CEOs, American Printer and the OutputLinks Communications Group
Stay tuned for our continuing Commentary on the changing print-tec industry environment and its effect on clients, employees, dealers, partners, and stockholders in the global print industry.