ExhiVision Productions for Sales Acceleration
For more
Reviewing OutputLinks Communications Group Services
By Andy & Julie Plata 
Co-CEOs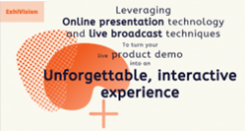 The ExhiVision Production team applies decades of drupa skills to assist your team in leveraging the latest in hybrid presentation technology. ExhiVision shortens sales cycles and accelerates revenue with live demos enhanced with multi-sensory embellishments for fully immersive experiences regardless of the audience being onsite, offsite, or hybrid. An ExhiVision Production provides equivalent experiences whether prospective buyers attend the live demo onsite or online. Tools and Product presentations without all decision influencers present often lead to longer than desired sales cycles and even lost opportunities. The solution is providing sales producing, immersive demonstrations at the right time, to the right people, with the right tools to increase attendance and shorten the sales cycle.
Sales acceleration means closing sales faster.

Sales enablement
A salesperson's productivity increases with easier, faster, more flexible scheduling of live product demos to larger audiences thanks to the innovative use of ExhiVision Production's demonstration technology. And, when closing the sale requires a follow-up demo, an ExhiVision can be immediately scheduled. Gone are the time-consuming delays and frustrations trying to arrange a group's schedules for a location-based demonstration.
Video Demo Alternative
To counter travel restrictions, many companies tried demonstrating their high-value technology with a video camera pointed at the device while a person pointed out the product's features. That was often disappointing as it lacked the interactive dynamics of face-to-face (F2F) demonstrations.
Hybrid is About Meeting Your Prospects Wherever They Are

ExhiVision provides a much more effective solution. For example, an ExhiVision Production at a vendor's showroom powered highly, interactive, live product introductions to country-wide, hybrid audiences of clients and dealers who attended onsite and online.
The ExhiVision Platform integrates F2F experiences and stimulates lively Q&A interaction between buyer-prospects and the presenter. Informational layers of A/R, graphics, text, and videos can be displayed on-demand. Even off-site experts can be included to help prospects understand the product's full value proposition. The ExhiVision Platform supports Zoom, Teams, WebEx, or whatever broadcast platform a client prefers.
Quotes from  ExhiVision Users:
"This is incredible, I can't wait to use this, especially with the animations and the details... I've never seen anything like this and it's cutting edge"
"I think this is spectacular, and the most impressive thing is the connection between the showroom experience, but also the linkage with the content. I think this experience is absolutely amazing because it is touching all the channels and communication lines"
"You can really see the textures, you can feel it through the screen, it really steps up the game. I think one of the biggest advantages will be speed to market with new products"

A New Tool for More Sales Revenue Sooner
Imagine being able to have some prospects in the room with you, while simultaneously providing their decision-influencing associates back at the office the same immersive, interactive product presentation. The result is sales acceleration.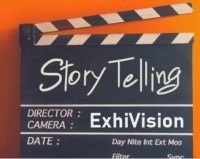 An ExhiVision Production lets your prospects participate in presentations regardless of geographical location. The benefit is the ability to expand your client reach across geographies without a distributed sales force.
If you are a commercial printer, supplier, or OEM looking to stand above your competitors with your sales presentations and demonstrations, an ExhiVision Production is the answer. ExhiVision produces story-based presentations with informational visual elements focused on the profit-producing benefits prospects can gain from your products and services.
In closing
Our goal was to discuss how ExhiVision Production can help your company achieve greater sales success regardless of travel and time restrictions. We trust we have stimulated ideas to enhance your sales presentations. If we have also stimulated interest in how our ExhiVision Production can help you expand your sales success, just click here to schedule a call >>>
Thanks for Reading.
Promoting print tech for the digital age, 
Andy & Julie Plata 
Co-CEOs, American Printer, and the OutputLinks Communications Group
Stay tuned for our continuing Commentary on the changing print-tec industry environment and its effect on clients, employees, dealers, partners, and stockholders in the global print industry.