Profit Acceleration Discussion: A Digital Press?
For more
Is the KODAK NEXFINITY Digital Press a Profit Accelerator?
A Print Profit Discussion
By Andy & Julie Plata
Co-CEOs, the OutputLinks Communications Group
---
After surviving the past year your company may be looking to accelerate profits by increasing productivity and quality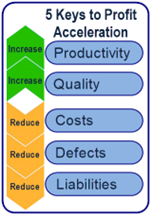 while reducing costs, product defects, and potential liabilities.
The purpose of this discussion is to determine if technology like the KODAK NEXFINITY Digital Press can help accelerate your print company's profits.
Is A Reliable Digital Press the Answer?
Is your firm considering accelerating profits by adding a reasonably priced, ultra-high-quality, production press? If so, we trust this discussion will be of value.
Commercial printers have historically maintained a fleet of presses to produce the wide variety of client requested output projects. But expenses related to service, consumables, power, and staffing are driving the search for fiscally responsible alternative solutions.

A Reliable Heritage
This is not the time to be gambling on new, unproven technology. Your clients need (and may even demand) the best quality output, on time, as ordered, with no excuses, delivery delays, quality snafus, or limitations. You need a reliable, fully-featured production press to meet your client commitments.

NEXFINITY is the latest evolution of Kodak's NEXPRESS platform. Commercial printers have used that platform, and Kodak has consistently refined it, over the past two decades. The paper path was developed from an offset press heritage. And the digital aspect of the press is achieved by integrating Kodak's digital data and print technologies.
Since NEXFINITY is based on Kodak's proven in-the-field platform, you can count on its uptime reliability to meet, and even exceed, your clients' expectations and SLAs.
Critical Consideration Factors
When evaluating a production press, critical factors include variable run-length capacity, high-quality color variable data output, odor/emission-free processing, and flexibility to print on the widest range of thick media, long sheet, and even recycled substrates with no pre-treating requirements.
With proficiency on each of those factors, your team can count on NEXFINITY's ability to produce applications that previously required multiple specialty presses. Read about current user experiences with NEXFINITY>>>
NEXFINITY has a reputation for quality, consistency, reliability, and uptime. This is the result over almost 25 years of Kodak's strategic enhancements to modular design, instant dry ink, and automatic substrate adjustment technologies for digital sheetfed presses.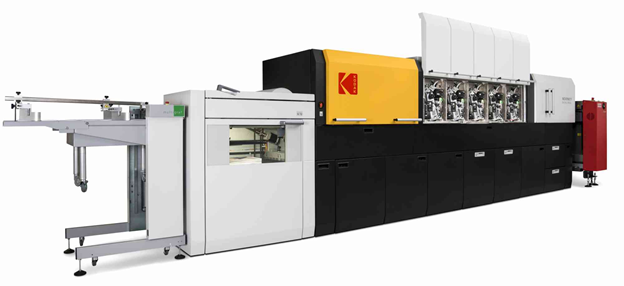 Risk Reduction
Failure to achieve full-term ROI on your technology investments can result in serious bottom-line losses. NEXFINITY's fully modular, upgradable platform maximizes the press' service life for a significant return on your investment.
Rather than obsolete a press, NEXFINITY buyers can easily boost efficiency and profitability with field installable upgrades. A broad range of options can be added such as expanded output capacity, enhanced print quality, embellishments, and specialty inks. NEXFINITY owners can also add more input, output, and finishing options as needed.
 
Kodak's commitment to a cleaner, more sustainable environment carries through to the NEXFINITY press. Higher productivity. Longer duty lifecycles. Eco-friendly components. Safe, clean inks. The result – healthier workplaces, healthier employees, and a healthier planet.
A fully modular design allows you to easily expand your NEXFINITY press' capability as your print applications expand. There is no need to buy more than needed. Just add the upgrades you need, when you need them, and can profit from them.
You'll also benefit from a continuous stream of software, feature, and quality upgrades that consistently improve your NEXFINITY ROI.
Right-Time Buying

With the past year's business disruptions, buying a press with a host of costly, unneeded features in hopes that they will someday be useful is very risky. A safer alternative is NEXFINITY. Its modular platform allows the freedom to buy what you need now, and then to add the technology, features, and options as needed to meet your clients' needs.
"With the NEXFINITY's enhanced speed and adaptability, it easily handled one of our larger hybrid digital/offset projects with 150,000 unique variable covers for a strategic publication. We enjoyed a 40% increase in efficiency and managed to save a few days in production, thereby freeing up capacity for more client work," comments Gregory Wong, of MITCHELL PRESS.

Kodak's right-time buying process means you can control costs and reduce the risk for a faster, more secure ROI.
 Real-World Throughput
When manufacturers mention throughput, they often cite their press' speeds, feeds, and paper width.
But commercial printers measure throughput differently. They measure the number of billable documents that can be produced in a 24-hour period. That real-world measurement encompasses the speed, feeds, and paper sizes, but it also includes important factors like scheduled service downtimes and break-fix times.
In-House Maintenance
The NEXFINITY platform was engineered for operators to easily perform 90% of the maintenance and repairs need to keep the press at optimal quality and production capacity.
The press platform is designed with operator replaceable components which operators learn to manage during a week of training at Kodak's facility and another week of on-site start-up assistance. Kodak's NexPert Operator Support System provides additional information and guidance for your operations team. And Kodak maintenance staff is always available when needed.
By enabling the people who operate the NEXFINITY to be the ones who keep it in top shape, the days of lost productivity while waiting for vendor maintenance staff to arrive are over. Having in-house maintenance maximizes throughput and on-time deliveries while reducing downtime, and costs.
"PRINERGY On Demand Business Solutions makes it better"

Reliability = Profitability
NEXFINITY's reputation for reliability can be largely attributed to the KODAK Digital Front End (DFE) that was developed specifically for that platform.
The proprietary DFE hardware incorporates RAID storage, with Kodak's advanced automation software to enable the data redundancy to support stringent quality output requirements of photo printing, high-end direct mail, and variable data applications.
The Force Multiplier 
The NEXFINITY DFE can also integrate with Kodak's subscription cloud-based, PRINERGY On Demand Business Solutions. That powerful integration is a force multiplier as it combines the power of NEXFINITY, with Kodak's cloud-based PRINERGY Workflow, plus Microsoft Office's business applications, and Microsoft Azure's advanced business solutions – all provided by and managed by Kodak.
NEXFINITY * PRINERGY * Microsoft Azure = The Force Multiplier
PRINERGY On Demand provides you a fully integrated portfolio of the most, reliable, scalable, secure data and IT cloud platform powered by Microsoft Azure and managed by Kodak. This powerful portfolio can be integrated with your NEXFINITY Digital Press for greater company-wide productivity and fewer data security and business software and support headaches. Learn more >>>
Vibrant Offset Equivalent Colors
NEXFINITY's new writing system will attract new application and client revenues with its consistent outstanding detail in highlights and shadows.
The writing system quadruples image density, matches ink gloss levels to the targeted substrate, and provides ongoing image correction to maintain a high-level uniformity at running costs equivalent to medium-run offset litho.
Fifth Imaging Unit
Kodak's award-winning Fifth Imaging Unit Solutions makes it easy to customize your customers' high-value communications with unique imaging embellishments:
· 

Raised Dimensional

· 

Opaque white

· 

Anti-Microbial

· 

Clear

· 

Light black

· 

Red Fluorescing Dry Ink

· 

Gold

· 

Watermark

· 

Glass Coat

· 

Metallic Clear

· 

RGB color expansion

· 

Matte Finish
Photo-quality images, vibrant colors, spot color matching, smooth flat fields, gradients, and denser blacks with superb detail and highlights  - that's what dreams are made of. The NEXFINITY Digital Press is that dream come true.
More Applications = More Revenue
Accelerating profits when print volumes are steadily decreasing requires adding much more value to your clients' printed products.

The NEXFINITY Digital Press's expanded paper path, vibrant color, and embellishing technology will serve as strategic assets for adding profit-producing value to applications. Consider the new opportunities enhancing direct mail, commercial print, publishing, packaging, photo, and signage applications on synthetic media and even with the imaging embellishments referenced above.
With an ability to print 16lb bond on up to 24PT and you can print 10.47x9.5 on up to 14x51, you have the processing flexibility to say YES to many of your client's most valuable applications.
NEXFINITY's fully modular design allows you to easily expand your press' capability with a broad range of input, output, and finishing options that boost both efficiency and opportunity. And you do not need to invest in those options until you need them.
You don't have to order and pay for a heavily featured outfitted press before you need it. With NEXFINITY you buy the press you need now and then order upgrades only when your new profit-producing applications require them. That is good for your bottom line.
With an average press life that exceeds six years, you'll also benefit from a continuous stream of software, feature, and quality upgrades that continuously improve your NEXFINITY Press.
Our Analysis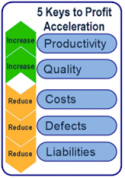 Our analysis shows that NEXFINTY can provide a cost-conscious way to increase productivity and quality while reducing costs, defects, and liabilities.
Next Steps
Let us know, in the Comments Section below, if this discussion has been of value in your search for ways to accelerate profits.
If you would like more information to determine if a KODAK NEXFINITY Digital Press could help you're your company accelerate profits, here are three steps to consider:
Download the "

From here to NEXFINITY

"

white paper
Thanks for reading. Your thoughts on this discussion are appreciated.
Promoting print tech for the digital age,
Andy & Julie Plata

Co-CEOs, American Printer, and the OutputLinks Communications Group
Stay tuned for more discussions on products and services of potential value to Print Profit Acceleration.