"Why Is CHANGE So Hard For Us?"
For more
By Debbie Nicholson, Think-to-INK!
https://www.linkedin.com/in/debbie-nicholson-24a53627/
Recently:
Julie Shaffer asked me, Publisher of LeadingPRINT magazine, to write a paragraph for their Summer 2019 issue.  Only a few short paragraphs required while spinning the thought; "Why is Change so hard for us?"  Now, keep in mind – the subject matter relates to the Printing Industry!­­
"Initiating change can take our breath away.  Are we willing to pay the price of admission for change --  uncertainty, time, money, risk, and company buy-in?" 
We call it change when it is in front of us and progress when it is behind us.  Take a moment to review the positive changes implemented within your company.  Possibly, those changes elevated employees, sales, production, and even customer awareness.  So, is change the vehicle that moves us forward?  It is!
"Honesty and continually collaborations with your internal and even trusted external leadership team create an open platform to discuss further growth and opportunities.  If you do not have this team in place, that is the first 'change' to initiate." 

C
hange is hard; we will do everything we can to ignore it – we will even make simple changes to ignore the real change we need to make. 
Many printing companies have faced pretty dramatic changes over the last several years.  They have old printing equipment and finishing equipment that needs replacement. Also, the number of finished pieces has diminished --  so justifying those large ticketed items is concerning and out of reach for most of us.
Maybe it's the mind-shift that needs to take place.  I know when Color Separations became a thing of the past, we had to think "now what do we do."?  So, I called all of our customers and asked -- if all things were possible and I could produce something you need – what would that be?  All of then told me, "Large Format Printing."   So, what did we do? – We bought large format printing and laminating equipment.  I was scared to death.  I had no clue what large format printing was.  Heck, we didn't even know where to buy the equipment.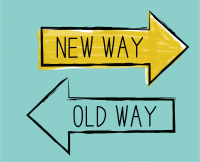 Somehow, I started getting excited because it was a challenge (and a big one at that).  I wanted to learn everything I could about it.   What size could you print, why could you only purchase dye inks?  Plus, you needed a laminator to cover up everything you printed so it wouldn't smear and get wet.  And -- feel sorry for me now…there was no direct printing on any substrate – you mounted everything.   Fun, Fun
I love progress – it's the change that is Sca­­rry!