Supplier Relationships in the Endemic Era
For more


An American Printer Commentary 
By Andy & Julie Plata 
Co-CEOs 
In previous articles, we've talked about coping with the COVID-19 new normal by adapting your relationships with customers and employees. There's a third leg supporting to your back to business stool. That's your relationships with suppliers.
Supply chain issues fall into two broad categories. The most pressing and obvious one is maintaining health and safety in your receiving area.
The second concern with your supply chain may be emerging more gradually as you start gearing up again. How reliable are your suppliers, and how can you ensure that the virus doesn't disrupt vital inputs to your production processes?
We'll be dealing with both concerns in this article.
OSHA has issued guidance for loading dock workers. Although we're at the point now where managers and workers "know the drill" on most of these points, they're still worth mentioning.
Above all, it bears repeating that we should actively encourage workers to stay at home if they're sick. Reversing the misguided notion that ill employees benefit the business by dragging themselves into work remains fundamental.
Receiving Staff Always Need to Stay Six Feet Apart
As we all know, your receiving staff always need to stay at least six feet apart. Since this may not be practical at times, they should also be wearing face coverings. Working on the loading dock is hard work, and some staff may have trouble breathing while wearing a mask.
There are ways for you to accommodate this. The first thing is to ensure that these employees aren't wearing N-95 respirator masks since, these are in short supply for our healthcare workers.
More to the point, they are much harder to breathe through than simple cloth masks. Employees with respiratory concerns could even try using a bandana, scarf or neck gaiter instead of a mask. In most jurisdictions, the guidance calls for "face coverings," not necessarily medical face masks. Even clear plastic face shields are an option.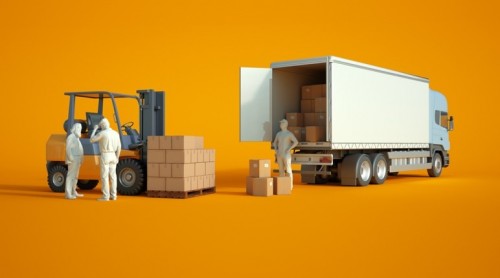 You'll also need to find ways to coordinate with suppliers and delivery companies to minimize contact with delivery drivers. You'll want your receiving staff to interact with vendor staff via phone or text wherever possible. Think about the best places to post signage with the contact information you'd like them to use.
The Infrastructure Health and Safety Association (IHSA) suggests that loading dock staff ask drivers to remain in their cabs while receiving staff offload items.
Managers could also look for space that can be set aside as a designated waiting area near the dock. A space like this can offer drivers the chance to leave their vehicles while limiting contact with your staff.
If you have a waiting area, and you offer drivers coffee or soft drinks, have your team provide disposable cups. Discourage drivers and other visitors from bringing in reusable travel mugs from outside your facility. Clean and disinfect the waiting area regularly.
Remind your receiving staff to wear work gloves to prevent the spread of infection. Ask drivers to do the same and have disposable gloves available in case supplier staff arrive without any.
Consider making it a practice to keep received items on their pallets. Keeping boxes on their skids prevents exposure to loose cargo that may be carrying the coronavirus.
Ensure Receiving Staff Don't Share Pens with Delivery Staff
You and your supplier will both want proof of delivery for your records. Try working with your vendors to automate and digitize this transaction as much as possible. If your staff end up signing for a shipment manually, ensure they don't share pens with delivery staff.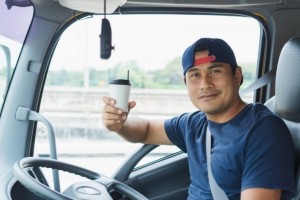 At a minimum, encourage your loading dock employees to disinfect all surfaces, tools and equipment at the very least after every shift. Have plenty of disinfectant, soap and hand sanitizer around the workspace. Make it clear that they're free to use as much of these supplies as they need.
In the past, loading docks were like water coolers. They were an ideal place to socialize for a few minutes and exchange industry gossip. Sadly, we now need to minimize that interaction.
Let the staff know that you didn't mind the idle conversation in the past. It may even have been a good source of competitive intelligence. However, while the coronavirus is endemic in the workplace, we'll all have to put a lid on these kinds of informal exchanges.
Once supplies have arrived, consider doing any restocking activities during off-hours. Instead of stocking shelves or supply rooms during business hours, you could have staff come in while your business is closed to put things away.
Off-hours stocking minimizes contact between these staff and production workers or customers. If this doesn't seem feasible, set up barriers or markers to keep stock workers isolated from others while they do these tasks.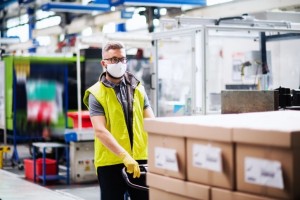 Those are some practical steps you can implement right away to manage the hands-on part of your supply chain transactions. The more managerial aspects of your supply chain might be tougher to tackle.
Two trends in management philosophy have left businesses vulnerable to the COVID-19 attack. These are so-called "just in time inventories" and single sourcing. These approaches were often more efficient than traditional practices under ideal conditions. Even so, many businesses are now learning that those efficiencies came at the expense of increased risks.
For example, Baker McKenzie reports that automakers in Japan and Korea have had to shut down some of their manufacturing plants temporarily. They had run out of essential auto parts that came from China. Had they maintained more of these parts in stock, or made deals with multiple suppliers, they could have avoided these costly disruptions.
Could You Afford to Carry More Inventory to Avoid Supplier Disruptions?
Give some thought to your warehouse capacity as well as your finances. Could you afford to carry more inventory to avoid being caught short by supplier disruptions? Do not overdo it, you do not want your business to become known as a hoarder in these challenging times. Even so, it might be prudent to stock up more than usual for the foreseeable future.
In any emergency, our risk management skills get put to the test. One place to start in terms of your supply chain is to review your supplier contracts. If they're not exclusive, start putting your feelers out to see what alternatives you have if your usual suppliers were to fail to deliver on time.
Also, review your suppliers' contract terms covering failing to deliver when it's not their fault --what lawyers sometimes call "force majeure." Is there anything in there that a supplier could use as a defense if they fail to perform?
If you spot any red flags, the law firm McCarthy Tetrault recommends talking them over with your legal counsel. Together, you can and try to come up with strategies to mitigate the risk from these relationships.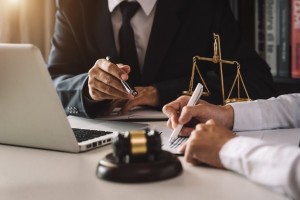 Each day brings a new ripple and insight about the new normal as we are merging into it. Share your experiences with our readers in the comment section below. Together we can find our way through this uncharted territory.
Empowering the print message for the digital age, 
Andy & Julie Plata 
Co-CEOs, American Printer, and the OutputLinks Communications Group