"We Quit," Xerox Says to HP
For more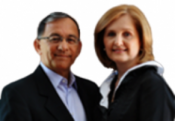 An American Printer Commentary 
By Andy & Julie Plata 
Co-CEOs 
American Printer, and the OutputLinks Communications Group 
Updated April 4, 2020
Xerox announced that it had ceased its battle to buy HP. At first, we thought it was an April Fools joke, but the announcement was dated March 31. The reason given for quitting the battle was "The current global health crisis and resulting macroeconomic and market turmoil caused by COVID-19."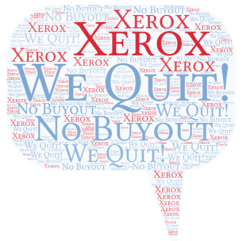 Background
Xerox's final offer to HP was $24 per share. Approximately 75% of the offer was in cash and the rest in Xerox stock. Had the buyout succeeded, it would have been a highly leveraged transaction with Xerox having arranged almost $¼ trillion in bank loans.
Losers and Winners
To the best of our knowledge, except for attorneys and investment advisors who billed by the hour, there are no winners in this prolonged, six-month takeover battle.
With both companies having spent considerable time and money battling each other, the result is: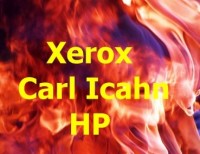 Xerox's stock value declined dramatically since initiating the takeover effort;
Xerox's revenue, which was steadily decreasing, is now falling even more with the pandemic slowdown.
HP had committed an additional $5 billion in stock repurchases during the battle, which will be difficult to honor based on the current business environment.
Carl Icahn, who owned a substantial share in both companies, was slated to recoup his investments plus substantial profits and now is left with declining HP and Xerox stock.
 
The biggest losers are commercial printers, and end-user clients who were deprived of HP and Xerox's attention and resources being applied to their business needs.
The battle is over, and now it is just a matter of assessing the full damage and determining how to channel that battle passion into innovative, cost-effective solutions at a critical time in the print industry.
Thanks for Reading.
Promoting print tech for the digital age,
Andy & Julie Plata
Co-CEOs, American Printer and the OutputLinks Communications Group
Stay tuned for our continuing Commentary on the changing print-tec industry environment and its effect on clients, employees, dealers, partners, and stockholders in the global print industry.
Updated March 27, 2020 
HP to Shareholders: Keep Xerox Socially Distanced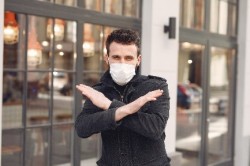 HP's CEO, Enrique Lores, and Board Chairman, Chip Berg, issued a joint letter to shareholders Wednesday. The letter stressed that now more than ever, Xerox's offer threatens the future of both companies.
Both companies are being and will continue for an extended period being negatively affected by the COVID-19 global business slowdown. The economic impact may also adversely affect the availability of the $24B loan pledged by Citi, Mizuho, and Bank of America to help Xerox secure the buyout.


The Sustainability Question
Lores and Berg point out that "the global social, economic and financial environments have changed radically" since HP initially rejected Xerox's acquisition overtures,
If Xerox succeeds in convincing HP shareholders to merge, can the combined, debt-laden company withstand the financial challenges that are bound to occur for an extended period after COVID-19?
______________________________________________________________________
"We believe the Xerox proposal fundamentally undervalues HP, threatens the future of both
companies, and creates an unacceptable level of risk to both HP and Xerox shareholders."
______________________________________________________________________
As the business world focuses on how to manage the current and post-pandemic climate, Xerox continues to push its HP stock-purchase offer and replacement of HP's directors. HP's posture is that dealing with the Xerox offer is a diversion from the critical work needed to succeed through the current COVID-19 pandemic environment.
_____________________________________________
 "… it's abundantly clear that now is not that time."
_____________________________________________
Review HP management's letter to its shareholders HERE
Stay Connected
We will continue following this transaction closely. Our goal is to provide our readers with a series of short synopses of what we learn as we learn it.
For consistent updates and to share your views on the Xerox / HP transaction, join us at LinkedIn's 'Print Industry Thought Leaders' group.
Thanks for Reading.
Promoting print tech for the digital age,
Andy & Julie Plata
Co-CEOs, American Printer and the OutputLinks Communications Group
Stay tuned for our continuing Commentary on the changing print-tec industry environment and its effect on clients, employees, dealers, partners, and stockholders in the global print industry.
Updated March 12, 2020 
Canon Says to Xerox: If You Buy HP, We're Out!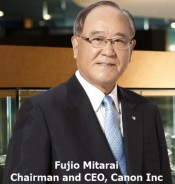 Canon and HP have enjoyed a long, mutually rewarding relationship since 1985. Canon's sale of printer modules to HP exceeds $5 billion, which is over 10% of the company's total annual revenue.
Regardless of the revenue loss, Fujio Mitarai, Canon's CEO, announced that if Xerox's takeover of HP succeeds, Canon will terminate the decades-long supply relationship. Mr. Mitarai said Canon "intends to partner with and strive to advance collective interests of organizations that have a strong track record of operating with integrity and clearly share our values." 
Since there has been minimal overlap in HP and Canon's product lines, they were able to develop a trust relationship that included both sales include technology exchanges. In his announcement, Mr. Mitarai stated that recreating the trust relationship Canon and HP's senior executives have developed would be difficult to recreate overnight.
If Xerox's hostile takeover succeeds, the merged Xerox/HP company could be a bold competitor with nearly twice Canon's sales revenue. Canon's announcement seems to be an effort to halt the merger, which would change the relationship dynamics among the print industry's original equipment manufacturers (OEMs). 
For more on this continually evolving story >>>
Updated March 9, 2020 
In its continued effort to force a merger with HP, Xerox submitted its slate of 'independent' candidates to replace HP's Board of Directors. Xerox's goal is to have HP Stockholders vote to replace all or most of their current Board members with Xerox's twelve 'independent' nominees.
Two years ago, Carl Icahn and Darwin Deason used the same 'independent' candidates tactic as a weapon in their battle to gain control of Xerox. It seems Icahn and Xerox are now aiming that same weapon at HP's Board in their quest to merge the two companies.
 
March 6, 2020 
"Fifteen Reasons Why We're Not Meant for Each Other," says HP to Xerox
Yesterday, HP said 'NO' to Xerox 15 ways as the Board concluded that Xerox's unsolicited exchange offer for all of HP's outstanding common shares is not in the best interests of HP shareholders. The Board unanimously recommended that HP shareholders reject the Offer. What will Xerox's next action be? And then there is Carl Icahn, who is insisting on this 'arranged marriage.'
It's Not Me; It's You
A message from Chip Bergh, Chair of HP's Board of Directors, "Our message to HP shareholders is clear: the Xerox offer undervalues HP and disproportionately benefits Xerox shareholders at the expense of HP shareholders. The Xerox offer would leave our shareholders with an investment in a combined company that is burdened with an irresponsible level of debt and which would subsequently require unrealistic, unachievable synergies that would jeopardize the entire company."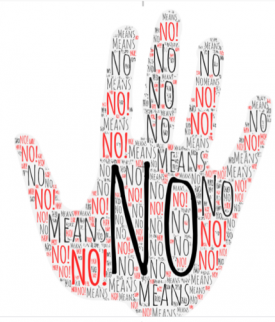 Fifteen Reasons Why We're Not Meant for Each Other
HP Board's based its Xerox Offer rejection recommendation on, but not limited to, the following 15 points:
It principally offers HP shareholders something they already own, and would disproportionately benefit Xerox shareholders relative to HP shareholders.
 
It would use HP's balance sheet as transaction consideration for the benefit of Xerox shareholders.
 
It meaningfully undervalues HP by failing to reflect the full value of HP's assets and its standalone strategic and financial value creation plan.
 
HP has a track record of execution that has resulted in strong, consistent operational and financial performance.
 
The HP Board believes that HP's standalone plan has positioned HP for significant value creation.
 
HP's strong balance sheet and financial flexibility provide multiple levers for value creation.
 
The HP Board believes that the Xerox Offer would compromise the future of HP and the value of shares of HP common stock by transferring value to Xerox shareholders and leaving HP shareholders with an investment in a combined company with an irresponsible capital structure, premised on unrealistic synergies estimates.
 
HP believes that Xerox's "synergy" estimates, including cost cuts, exceed reasonably achievable levels.
 
It includes a significant equity component, the value of which the HP Board believes would be subject to significant risks and uncertainties.
 
Xerox does not have experience operating businesses in the sectors in which HP operates, including within Personal Systems, Home Printing, and 3D and Digital Manufacturing.
 
Xerox has been experiencing declining sales and its recent sale of its interest in the Fuji-Xerox joint venture raises significant concerns about its future position.
 
HP believes that Xerox's cost-cutting has come at the expense of long-term value creation, and Xerox has demonstrated a lack of focus on research and development.
 
The quantity and nature of the conditions of the Xerox Offer create significant uncertainty and risk.
 
The HP Board believes that Xerox's urgency in launching the Offer, while simultaneously running a full slate of director nominees for election at HP's 2020 Annual Meeting of Shareholders, evidences Xerox's desperation to acquire HP to address its continued business decline.
 
The HP Board has received an inadequacy opinion from each of Goldman Sachs & Co. LLC ("Goldman Sachs") and Guggenheim Securities, LLC ("Guggenheim Securities") to the effect that, as of March 3, 2020, and based on and subject to the matters considered, the procedures followed, the assumptions made and various limitations of and qualifications to the review undertaken set forth in their respective written opinions, the consideration proposed to be paid to the holders (other than Xerox and any of its affiliates) of shares of HP common stock pursuant to the Xerox Offer was inadequate from a financial point of view to such holders.


Read HP's full statement here >>>
Thanks for reading. Stay tuned for continuing coverage on this HP/Xerox dance.
Empowering the print message for the digital age, 
Andy & Julie Plata 
Co-CEOs, American Printer, and the OutputLinks Communications Group