Icahn's 'SAY NO' letter to Shareholders & Deason's Lawsuit Threaten Fujifilm's Xerox Buyout
For more
An American Printer Commentary
By Andy & Julie Plata, Co-CEOs American Printer
In this, our third Commentary related to the January 31 announcement of Fujifilm's proposed Xerox takeover, we share actions taken by Xerox's largest and third largest owners.
Carl Icahn and Darwin Deason together own approximately 15.2% of Xerox. Their Xerox stock would be valued at about US1.2 billion, based upon Xerox's US$8 billion market value the day before Fujifilm announced its Xerox acquisition plan.
Reuters, the international news agency, reported that the acquisition's financial value was US$6.1 billion which is about US$1.9 billion less than Xerox's US$8 billion market value.
Two Unhappy Owners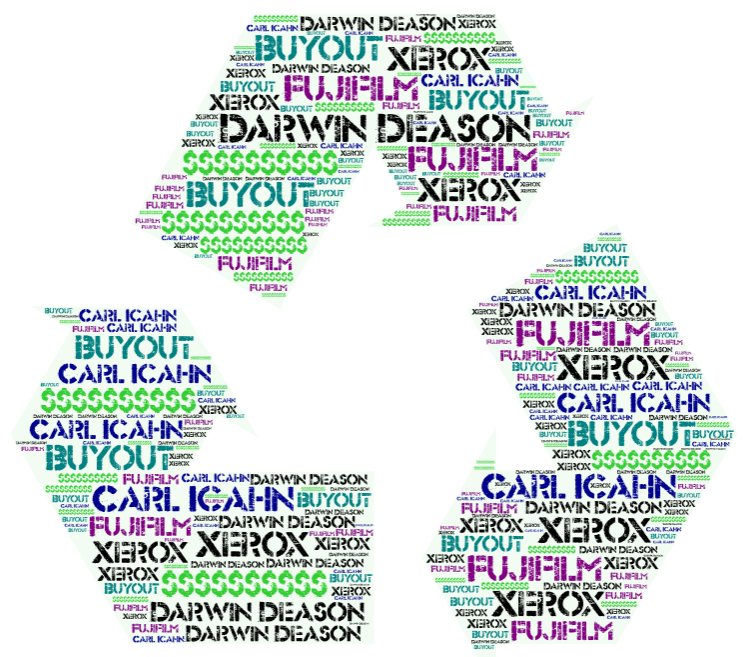 So, one can see why Icahn and Deason may not be very happy with the proposed sale to Fujifilm. But there is more that has the stock owning duo upset, which Carl Icahn expresses quite vividly in his February 12, open letter to all Xerox stock holders. Here are a few excerpts:
The transaction has a tortured, convoluted structure

take control of Xerox without spending a penny 

The structure reminds us of a timeless anecdote about two brothers who are bequeathed a vast estate. The older brother receives a 50.1% controlling stake and an instruction to keep the interests of his younger brother in mind. The younger brother receives a 49.9% minority stake and assurance that his older brother has been directed not to abuse his controlling position. Fast forward a few years, and you'll find the older brother living in a mansion and driving a Rolls-Royce while the younger brother lives in a shack and drives an old beat-up hatchback.

last year's massive accounting scandal at Fuji Xerox should make us all extremely nervous

another depressing display of incompetence by a Xerox Board of Directors

this is not the first time Xerox has negotiated a dreadful deal with Fuji 

the current Board of Directors has overseen the systematic destruction of Xerox

vote against the Fuji scheme to send a clear message that we will not be fooled into giving up control of our company for $9.80 in cash.
Darwin Deason Lawsuit
Darwin Deason filed his lawsuit on February 13 seeking to enjoin the transaction, terminate the Xerox/Fuji joint venture lock-up and joint venture agreements and pursue strategic alternatives for Xerox. Defendants in the suit included Ursla Burns, Former CEO of Xerox and Jeff Jacobson, Xerox's current CEO and the announced CEO of the new Fuji Xerox (to be formed via the buyout).
A letter announcing the lawsuit alleges that the Xerox/Fuji transaction is the result of an improper and fraudulently concealed "crown jewel" lock-up agreement.
So, stay tuned because this high-level business drama is expected to get even more dramatic over the next few days and weeks.
We invite your comments and feedback.
Follow the Transaction Trail
For a description of the many complex steps in Fujifilm's Xerox buyout (per the graphic below), read our previous Commentary. Click Here.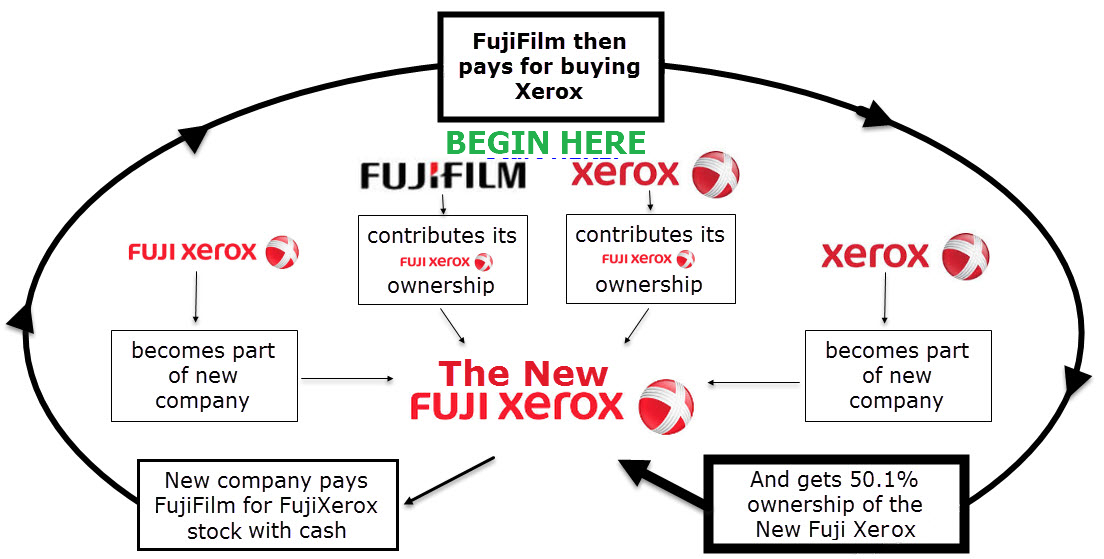 Promoting print tech for the digital age,
Andy & Julie Plata  
Co-CEOs
American Printer and the OutputLinks Communications Group