American Printer Commentary: Xerox to become Fuji Xerox This Summer
For more
Fujifilm to buy Xerox for US$6.1 Billion and merge it with Fuji Xerox. Jeff Jacobson, Xerox's CEO, retains his position despite a loss of 10,000 jobs worldwide.   
An American Printer Commentary and Video.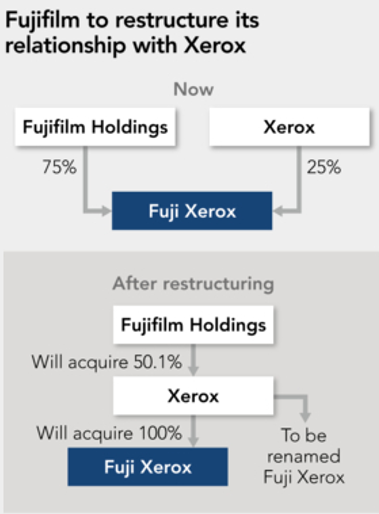 Fujifilm Holdings Corp is buying Xerox to combine it with Fuji Xerox. The combined company will cut 10,000 jobs worldwide. However, Jeff Jacobson, Xerox's CEO, will retain his job despite the call earlier this month by Xerox's two major stockholders to have Jacobson removed. The merged company will create a US$18 billion company.
We wish this soon-to-be-combined global company the best of luck in its quest for increased profitability. However, to meet the goal, 'new thinking' is essential to better leverage Fuji Xerox's print tech in the transmedia communication mix while also developing new solutions to help the current client base meet their business objectives. It will be interesting to see if and how the combined Fuji Xerox goes about accomplishing the new thinking and new solutions objectives.
American Printer Commentary focuses on issues relevant to print tech professionals - owners, investors, employees, suppliers, marketers, brand owners, advisors, and end-user clients -involved with or dependent on print-related goods and services.
Fujifilm CEO Komori told reporters at a briefing. "The new structure will leverage the strengths of our three companies."
Cuts & Value
The goal will be to cut costs, develop new income outside of print and increase profits. The acquisition announcement was accompanied by Fujifilm
announcing a cut of over 20% of its workforce and a near 30% drop in operating profit at its document solutions operations. Those announcements combined with Xerox's 4Q17 net loss report of $196 million, may have led to Wednesday's 8.3% decline in Fujifilm shares.
Still recovering from admitting to improper accounting standards at Fuji Xerox last year, Fujifilm's CEO feels that Xerox's strong governance standards could be beneficial to the new company.
What Happened to US1.9 Billion?
Although Xerox was valued at US$8 billion at the close of trade on Tuesday, Fujifilm announced Wednesday that that they only paid $6.1 billion for the company. That seems like a big US$1.9 billion win for Fujifilm especially since there was no cash out for Fujifilm as it will be using "unrealized profit" from its Fuji Xerox interest to make the purchase.
An unrealized gain is a profit that exists on paper, resulting from an investment. It is a profitable position that has yet to be sold in return for cash, such as a stock position that has increased in capital gains but still remains open. A gain becomes realized once the position is closed for a profit.
The print tech industry has been quickly consolidating over the past decade. This new merger should accelerate the pace of consolidation. So, stay tuned for more exciting news – soon.
Twitter: Read the Twitter feed on Fujifilm's Xerox acquisition announcement
Video: CEO Jeff Jacobson discusses the deal that will combine the company with its joint venture with Fujifilm
Promoting print tech for the digital age,
Andy & Julie Plata
Co-CEOs
American Printer and the OutputLinks Communications Group