Industry Must Act to Solve Talent Issues
By Brian Regan, Semper International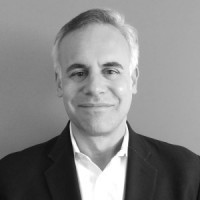 The printing industry has a serious talent issue. The problem is multifaceted and will require a combination of ideas, actions, groups and dedication to solve. The time is overdue to take workforce development seriously. Lip service is no longer cutting it.
We all know why we are here. Baby boomers retiring, school programs dwindling and for many years now it is the reality to many that print is dying. And today we increasingly hear that students are not motivated to seek careers in manufacturing. They see it less flexible, lower paying and easily automated without long-term job security. "It's not the future, it's the past." This inhibits new workers from considering the industry as they select their career path. That is a very challenging message to overcome.
The reality is we need quality workers. Old approaches are failing and our industry worker's average ages increase. Employers can no longer rely on taking workers from each other, and they most certainly can no longer suppress wages. The talent pool is not enough for those tactics to yield fruit any longer. Even with consolidation, plant closures and fluctuations in the economy, (which often leaves skilled workers and companies that need them in geographically different areas) the issue will remain.  What the industry needs is a concerted effort, both public and private, at workforce development.
We must look at a variety of potential solutions, identify the ones that will work for each of our organizations and implement them. We need to expand our talent ecosystem.
Take heart. A recent Wall Street Journal article discussed the changes employers were undergoing to adapt to the new reality. The majority of employers were willing to drop the experience requirements for their open positions. The catch phrase for this process is called "Down Skilling" This is a dramatic shift from the days of the great recession that saw employers asking for very highly skilled workers and getting them.  Point being, our industry is not unique in its need. And don't let a key factor go by unnoticed. These firms will take people from any industry if they have the right competencies and transferable skills.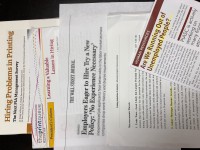 Recently a large digital printer closed its plant. They held a career fair that my company attended. There were 5 printers, 3 staffing firms and 3 non-printers. They were there to take the print skilled workers and transition them to their industry. Looking back at all the other non-print career fairs we have attended, in no instance was a printer or print group seen. Why are we passive when others are not?
We need to take action! What skills do we need now and how do we train for the future? It makes sense to develop a series of competency models and assessment tools to identify people that will fit these roles. Once identified these competency models will assist us in marketing to and recruiting those with the raw skills and talents we need.  This is how we develop robust pipelines for our industry. 
Partner with our associations that are focused on these issues and help fund them. And unfortunately, just paying membership dues is not going to fix the issues. Recruitment in today's market is extraordinarily expensive. Top companies thoroughly understand and appreciate that the best talent continues to be a key success factor for their businesses. They are very aggressive in this area. In a recent Semper survey we asked firms how much they spent monthly on recruiting. Smaller firms reported between $500 and $1000 a month with larger firms well over $1000. That is per month! Imagine the obstacles any one group has in trying to solve an industry wide problem. This survey did not take into consideration onboarding, assessing and training the found talent. It's a big dollar item.
We will also need to become more aggressive as an industry attracting young people to our school and training programs. Reaching out to schools, guidance counselors and parents to change the discussion from a dying industry to an evolving tech industry. Connecting with students with a powerful positive pro-print message. Once the young talent is identified we support them via scholarships and programs into our schools and plants for education and training. The remaining schools with applicable programs are dwindling and need all our support - from local and national, private and public entities.
Key Elements
• Going to career fairs or hosting them to be visible and communicate a viable message that inspires, shows the value of the industry, and how individuals can impact it.
• Understanding the competitive landscape as it pertains to wages, career growth, benefits and opportunities. With understanding comes targeted solutions.
• Developing training programs within companies. Identifying and empowering the trainers and programs. Set the programs up for success by rewarding the trainers and cross training employees.
• Work with the various associations / consultants to demystify apprenticeship programs and unlocking state and federal money. For example, in July 2018 the U. S. Department of Labor released data on $150 million of additional funds for apprenticeship programs. In the list of areas they site as viable for the support is advanced manufacturing. Print fits squarely in that realm.
The first step is to recognize there is a problem. Then work and support each other, our associations and each other in building a solution or series of solutions that target the key areas of concern. Each day we remain disjointed in this area is a day lost. This industry is an adapting, technologically focused and evolving. We have a lot to offer the next generation. We can do this!

Career Fair for students held during the Print 18 show in Chicago.
About Semper International
Semper International, LLC., a Workforce Solutions company, with over 25 years in staffing the Print Industry with Skilled Print Industrial / Light Industrial, Marketing, Creative, Administrative & Clerical Talent.  Semper serves 3 main vertical markets;
· Consulting: Talent Attraction, Employee Retention & Training Programs
· Staffing Solutions: Payrolling, Staff Augmentation, Flex Staffing, Contractors, Direct Hire, Talent Acquisition, Strategic Partnerships & Talent Management 
· Career Fair Services: On-Site, Campus, Regional / National