Braintree Printing Hosts and Informs the NextGen Print Buyers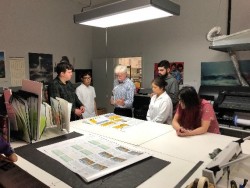 On Wednesday, October 10, 2018, a group of twelve graphic design students from Curry College toured Braintree Printing, Inc. in Braintree, MA, accompanied by their Design & Production instructor, Chris McCusker.
The visit was the result of a long-term relationship between Jim Corliss, Owner of Braintree Printing, Inc., and a customer who became a teacher at a local college.
The visiting students split into two groups and spent time in the prepress department with Prepress Manager, Stephen Rogers and Director of Technology, Kim Kreitman. They also spent time in the pressroom with Pressroom Supervisor, Scott Knowles.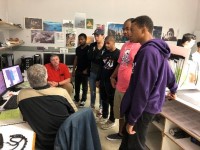 The tour enjoyed seeing print manufacturing equipment in operation consisting of Xerox iGEN Digital presses, Ryobi 5-color 29" offset sheetfed presses and some bindery operations. The students were especially interested in seeing pocket folders being die-cut, glued and folded
The tour provided students a glimpse into a world that they had little knowledge of. A student comment after the tour was "It was great to see what happens after the file leaves the computer."
 "The staff at Braintree Printing could not have been more accommodating - they were all very happy to share their knowledge and insights," said Chris McCusker.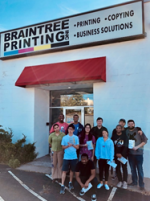 We Salute
The American Printer team salutes Jim Corliss and the Braintree printing team for investing their valuable time to expose design students to the power of print. Those design students represent the next generation of print buyers/influencers who may have never before been informed of how print can help them achieve their design objectives. 
Promoting print-tec for the digital age,    
Andy & Julie Plata
The OutputLinks Communications Group