New High-Volume Inkjet Press's Color Perfection Allows Fowler to Add New High-Revenue Clients
The Fowler Group, a multi-generation, family-owned design and delivery agency based in Fort Worth, Texas, continues its legacy of thoughtful, innovative client engagement and brand enhancement with the acquisition of the Konica Minolta AccurioJet KM-1 inkjet press.
In a continuing series on innovative printers that embrace the potential of new technologies, we sat down with Pat Fowler, President at The Fowler Group and Foxy Propaganda, to learn about their business, philosophy and continuing mission to provide impactful and actionable branding services to a growing list of clients.
To read about innovative printers who are profiting with the Konica Minolta AccurioJet KM-1 Inkjet Press, request the AccurioJet KM-1 Business Success eBook.
%form1%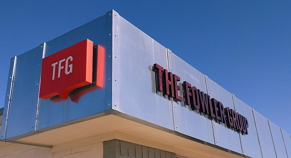 The Fowler Group
In 1968, Tom Fowler began providing high-end sales collateral through his company, Advertising Graphics. Tom's foundational philosophy was that all businesses should have access to engaging brand design and impactful photography. In 1992, his firm transformed into The Fowler Group, a design agency focused on providing best-in-class advertising and branding services to businesses in a wide range of industries. The focus on building strong relationships and partnerships is central to the ongoing successful evolution of the group.
Foxy Propaganda


With a new commitment to providing a full-service agency experience, The Fowler Group expanded the business to include printing with the formation of Foxy Propaganda in 2005.  They started with the purchase of a small offset, waterless, direct image press and, over the past 12 years, Foxy has added a variety of digital printing equipment. The acquisition of the Konica Minolta AccurioJet KM-1 makes them the largest sheet digital printer in the DFW Metroplex.
In 2006, Tom's son, Pat Fowler, took on the leadership role. He continues to build on the company's legacy of providing the most integrated and compelling brand solutions for every client.
Family Culture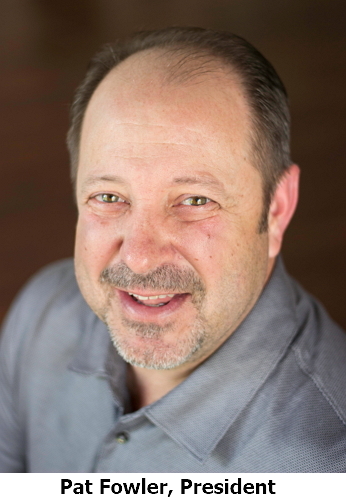 Pat Fowler provided insights into how the two companies operate, the family culture, and their commitment to clients that make this a place where people are excited to come to work.
Pat shares, "It is really a family business.  It feels like home to the people who are here."  To underscore the sense of security and stability that the team enjoys, he adds," We have a great culture of longevity. The majority of our team have been here 10 to 15 years. Our creative director has 15 years of service, and our CEO has been here for 20-plus years."
Full Service
As a full-service agency, The Fowler Group is organized to quickly offer their creative and operational services in any way their clients need. Their expertise spans creative services – from copy to graphic design to world-class photography that drives branding efforts to fulfillment and delivery across multiple platforms including web, print, and direct mail. Clients have the opportunity to build creative campaigns and choose elements that will be brand-consistent and delivered at premium levels of quality.
One Foundation, Two Pillars
Pat gives a bit more insight as to how the two pillars of the business operate.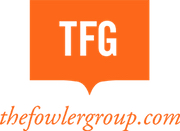 "We take the time needed to discover how each campaign can create the greatest impact and what channels should be leveraged. The Fowler Group are the experts in all things digital, but we cannot ignore the possibilities and proven impact of direct mail. The blend of digital marketing and digital printing will create the greatest ROI for our customers.
"As we continue to provide innovative solutions and explore ways to push digital printing we will focus on all the key drivers to success including tracking and analytics, run lengths, improvements in technology, setup costs, and environmental benefits and the savings will ultimately be passed along to our customers."
"Foxy Propaganda has a great advantage over our competitors because of the depth of capabilities in both digital marketing and direct mail."
Waiting and Watching
For years, Tom Fowler told his team to keep an eye on the inkjet space.  He knew that inkjet technology was going to change the game, and he wanted to be ready to make a move when the time was right.  The business made strategic investments in digital print assets over time, building their capabilities and competencies as the technology evolved.  They kept current on industry advances through the usual ways – trade shows, publications, vendor visits and peer-to-peer chats.
Other multi-generational offset printers, like Old Trail Printing and Flash Reprographics (who are featured in the AccurioJet KM-1 Business Success eBook), expressed similar thoughts on anxiously awaiting a color-perfecting, offset-paper capable, high-volume inkjet printer.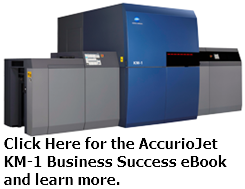 AccurioJet KM-1
Pat describes some of the critical moments of the process. "Our excitement around inkjet technology began many years ago, and the interest in learning more drove us to a Fuji Inkjet summit in July of 2016. With continued enthusiasm for the new inkjet presses, the Foxy team decided to attend the Graph Expo'16 in Orlando later that year. The show was the first introduction to the Konica Minolta AccurioJet brand. Konica Minolta VP, Barbara Stainbrook, then led the process of helping us understand all the capabilities that KM-1 offered."
Before making any decisions on where to invest their technology dollars, the Fowler/Foxy team needed to be sure that the highest levels of color quality and consistency would be there.
Pat explains, "Our level of color perfection is critical to our success. After seeing the KM-1 at the Graph Expo'16 show, we requested that Konica Minolta print samples of our files on similar paper. We were able to compare the results with some of the other conventional offset runs and a few other in-house digital runs, and other inkjet press alternatives. The product that we saw from the KM-1 was superior to the others, and we had the proof."
"Konica Minolta is proud to become a strategic partner to the Fowler Group and Foxy Propaganda in Texas.  The AccurioJet KM-1 UV Inkjet Press will provide the technology for them to offer cutting-edge, customer centric products and services to their long standing and new customers," says Bill Troxil, Senior Vice President, Strategic Business Development, Konica Minolta Business Solutions USA, Inc.  "We are experiencing enormous momentum for the transition to UV inkjet in the marketplace and leading-edge companies like the Fowler Group are taking advantage of it to move into new markets and applications. The Fowler Group will redefine high quality and substrate choices for their customers."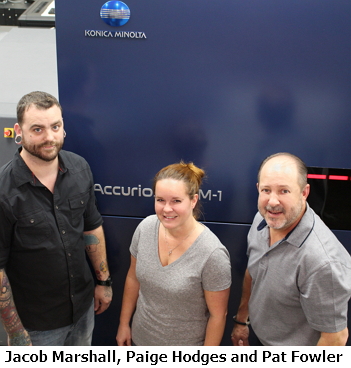 Be Not Afraid
Investing in new technology can bring on a mix of excitement, anticipation and a bit of fear. Every dollar spent is a dollar that will need to return value to the business. Bringing in something new can lead to hesitancy or fear about, "Can we do that?"
Pat answers that question. "For our team, it was the right evolution at the right time. Everyone was waiting for it. There was absolutely no fear, just a general excitement to be able to move the printing needle forward." Rather than thinking in terms of hesitancy and fear, the Fowler team embraced the opportunities.
Experience the stunning quality for yourself. Request the new KM-1 Print Sample Kit.
%form%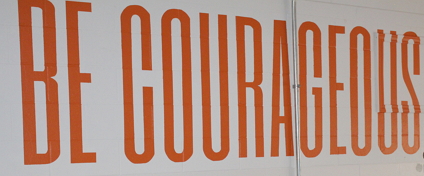 "There is so much excitement about getting the KM-1 into full production. The team has this renewed sense of optimism and excitement around the product. They are asking, 'What can the KM-1 do for us and how can it help us leverage what we currently do?' So, it's a great, great evolution." Fowler was even able to replace a press that was not offering anywhere near the value of the KM-1 Inkjet Press..
Regarding print companies that are reluctant to take the step to high-speed inkjet, with a smile Pat says, "We will be happy to do it for you."
Why are printers embracing the Konica Minolta AccurioJet KM-1 Inkjet Press?
Read the AccurioJet KM-1 Business Success eBook. To see how high-tech industrial inkjet is bringing printers new profit opportunities. 
%form1%