Prices in Our RFP….Weren't…The Key To Winning……?
For more
By: Sid Chadwick, Chadwick Consulting, Inc.
"We are here to improve the economic performance of our customers ………we have no other reason to exist…."………..Sid Chadwick
INTRODUCTION:
Our client was NOT….happy.
We'd advised them that the key to retaining that customer….. to winning that important annual RFP piece of business…. was focusing on…….on demonstrating……..that they understood….and could deliver…….what their customer's business model needed…………..
Price was important…..but Price wasn't THE key strategic award issue for the customer's RFP's.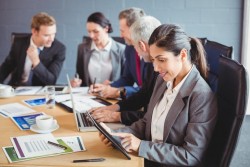 That RFP award….ultimately….. went to the One Supplier whose RFP included…..focusing….. on understanding what the Customer's Business Model needed.
In a period of increasing business sophistication….increasing risk….soft and questionable future demand…….and disruption from competitors………. ……suppliers who could demonstrate positively impacting the customer's business model…….would win…..would be chosen………….!
SUMMARY:
Some….pour their funds into self-promotion………(Really…?)
How many of your Sales Reps and CSR Education Sessions…..and Customer Education Programs…focus on…relentlessly hammer on…..how to use their intellectual and technical resources….for understanding and solving Customers' business model problems……?
On understanding………… your Customer's Business Model challenges……?
When the U. of Houston, and Dr. Jerry Waite took a chance….and used our Case Studies…and the teaching skills of Mark Hargrove….. for teaching and understanding the use of public Databases……………to solve business problems……...requiring the use of Print….…..they moved into providing their students with tools and intellectual skills….future graphic communications employers…… would prize.
What do the students say? The ones who were hired….. because of that course…..before they even graduated…….?
"Best Course I ever had...for what I was introduced to learn.....that no one seemed to know existed......or how to use.....that required the use of PRINT"
"Education of the Customer….drives Demand to the Sponsor"…………………..Dick Gorelick