For Experienced, Highly Skilled Employees, and New, Additional Business...Go To -- "Who's Being Acquired/Who's Been Acquired"
For more
By Sid Chadwick, Chadwick Consulting
https://www.linkedin.com/in/sid-chadwick-163a1a12/
"Big Hat….No Cattle"…….Cultural  Aphorism From Texas
INTRODUCTION:
We see this unfolding story…. Repeat itself….over… and over…..
--- Promises are made to the Seller….from the Buyer….re. how his/her employees will be valuable….and particularly those in leadership positions.
--- Customer-prized capabilities at the Seller…competencies of unusual, hard-won expertise --- treasured by customers and employees alike….are promised to be studied…certainly adopted by the new owner's organization.
--- Acquired customers can count on more capacity, production options, and more reliable delivery --- available to them.
Somehow….with the ink barely dry…..
--- Acquiring company personnel….don't know newly acquired customers, personally --- who were "part of the family" --- at the acquired company….and interestingly enough….as an observation….some don't appear to have an interest to make the effort……
--- Previous employees don't have the authority to "get things done"…they used to have….and they know it…as they experience it.
Six-to-Twelve-to-Eighteen Months Out….
--- Employees….and Customers….are "peeling off"….one at a time….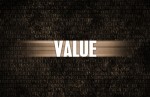 How can this happen?
What happened to "The Value" --- that was acquired……it was recognized…….wasn't it….?
Did anyone… Recognize …The Value….?
SUMMARY:
My tally sheet…shows…
The M & A firm….did their job….did it well…no longer on the scene….no one really wants them around….including them….
The Seller… has moved on to his/her fantasy life…now with a legacy for the children…and grandchildren…..(Oh…. And Creditors… may be asking, "Where did the Seller go….?")
The Buyer…having demonstrated to his peers…. his/her ability to make industry headlines….at a most attractive low earnings multiple…..
 And….Employees… and…acquired customers…..want to go where their existence, their position in these commercial transactions….still counts for something……
Well…they've all moved-on….everyone wanted to be important to someone…..so they went to where they could again count on…(including) ….what they expected…and were told…..
For Experienced, Highly Skilled Employees…and New, Additional Business…....Find  --  "Who's Being Acquired/Who's Been Acquired..?
"Culture eats strategy for breakfast…"……Peter Drucker, Management Consultant, Author