Alumni in Print – Where Are They Now? - Hannah Brown
Alumni in Print – Where Are They Now?
The Print and Graphics Scholarship Foundation is publishing profiles featuring some of their more than 6000 former scholarship recipients. This series gives you an up close and personal insight into the thoughts and motivations of the former students who are a part of our industry today.  As our current employees reach retirement and leave, replacing them becomes an increasingly important factor for many companies. Here is one story…
A Profile
Hannah Brown attended Western Michigan University, graduating in 2013 with a Bachelor of Applied Science in Graphic and Printing Sciences.
How did you first get interested in the graphic arts, or decide to focus on graphic communications in school?
In Middle school, my class was shown a video about different careers. I became interested in Graphic Design based off this video and I already liked Art very much.
Did you take any courses in high school that were related to graphic communications, or that prepared you for your planned career?
 I took almost all of the art classes I was able to in high school. I took two years of Yearbook and in my senior year I was one of two Editors in Chief of my yearbook for that year. We designed our entire yearbook using Photoshop/Indesign and Illustrator. We had an intro to Graphic Design class as well where I learned some basic Photoshop skills.
How do you think going through your education process prepared you for the workforce?
My education prepared me for the basics about many different printing processes. It gave me the tools and understanding of how rotogravure printing works and how ink and paper are made. This made the transition into starting and learning my new career much easier than someone with no background in printing.
In the Workforce Today
What company are you working for now (name and location) and what types of products and services do they provide to their customers?
I work for Schattdecor inc, In Maryland Heights, Missouri (just outside of St Louis). We are based out of Thansau, Germany and print décor paper that is processed and used by the laminate industry. Our most well-known customers would be Pergo flooring, Wilsonart and Formica.  
What job did you first have when you entered the industry or with the company when you started, what position do you have now, and/or what else have you done since graduating?
After college, I started at Schattdecor in 2013 as the Digital Lab Coordinator. I still hold this position and am the only one in my position in Maryland Heights. Using wide-format Inkjet printing, I color match and create colors based on customer requests and design presentations on our wide range of decors. If a color and design is selected, we can take it and print in our Rotogravure production.
What do you think employers are looking for in today's workforce and the current industry environment?
I think employers are looking for someone with general knowledge about the industry and looking for someone they can mold into who they want them to be as a worker.
Is there anything that you have found to be particularly different from what you initially expected, now that you've progressed through your work career for a period of time?
My career is not one you can generally teach and focus on in school. Looking back, I would not ever imagine color matching as a job or to go to school to be a color matcher. It definitely has some "trade" based qualities.
Have you changed your plans or ideas about what area or type of job you might like to have since you first considered the graphic communications field and began studying for a career in it?
No, I love my job. It is very different and unique and always is a challenge but in a good way. I feel very proud to work for Schattdecor.
What do you see yourself doing a few years from now?
Still at Schattdecor. Maybe adding another employee to the lab and I would manage or lead them. Or if Schattdecor, in the USA, builds an industrial digital printer for production I have the experience and knowledge from working in the lab to run the digital production machine someday. We have one (with plans for a second) in our headquarters in Germany and someday we will build one here in our plant in Maryland Heights.
Was being a recipient of a PGSF scholarship important, or did it have an impact on your future or ability to succeed in the industry?
Yes, it made it easier to afford college in this day and age. I still needed student loans to cover my schooling, but it definitely helped lower the overall cost and I have been debt free of student loans for a few years now. I am thankful for the PGSF program. As a student, I don't think I realized the benefit or privilege to be a recipient, but as a graduate who needed to pay back student loans, I understand and now appreciate the benefit.
Anything else that you would like to add?
Thank you for the opportunity to connect and interview me. I appreciate you reaching out and I hope this helps other students in the future to go into the printing field. There are more opportunities in printing industry than what it seems like on the surface!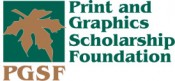 PGSF works to inform young people about the opportunities that are available in the graphic arts industry and then support them during their educational phase. To learn more about PGSF, or how you can support its work, visit www.pgsf.org or contact John Berthelsen at [email protected].  PGSF is a 501(c)3 non-profit organization and contributions are tax-deductible to the extent allowed by law.