A "Rare Offer" - From a Strategic Supplier - That Will Not Remain "Open"
For more
By Sid Chadwick
"Our Mission is to Grow Your Business"………...The Daniels Group Mission Statement
INTRODUCTION: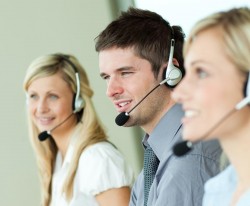 The Daniels Group --- in Asheville, NC --- has a "one-of-a-kind resource" --- they call it their……"Call Center." In-bound….and….Out-bound.
And they've taken a dramatic step: With excess capacity, and more capacity available to be added….they've opened their "Call Center" up --- to serving commercial printing companies --- with good to great reputations.
To put some meat on this skeleton,  and to get your creative juices moving, let's look at how they are using their Call Center.
Serving Universities' Recruitment

, when those Universities are receiving inquiries that overload their ability to properly respond, and follow-up. Note: Some Universities like the execution of The Daniels Group (a.k.a. TDG) to the point of asking TDG to handle both call receptions, and mailing of personalized literature, and then prompt reporting to the University Recruitment Office.  Results from TDG for student recruitment --- has been nothing short of spectacular.

Support for high-end real estate agents

. Including answering inquiries, from approved scripts, and prompt personalized mailings.

To support Restaurant Chains

– who have too many call-in orders coming-in at meal-time, and for customers who don't like being put-on-hold for 5-15 minutes, listening to ads and mind-numbing voicemail.

Support of inquiries to Chambers of Commerce

. That might seem like a "dead opportunity".  However, reports are that there's a significant number of people leaving California, Oregon, and Washington State.

Fundraising

--- there are certain demographic age-groups, wanting to leave something behind that can make a difference in their community, who want to speak to a live person. The scripts that are approved are professional, and many Fundraising organizations are learning --- they can exceed their goals --- through the use of this 24/7 Call Center.

New Product launches

, and Promotions.  Nothing kills a promotion faster than a 5-15+ minute "voicemail ad".

Calling a target list of prospects or customers

, to confirm they received a package, have reviewed its contents --- and their preferred follow-up, to be reported promptly -- to the sponsor of the package mailing.
SUMMARY:
TDG can develop the website for you and your client ---  in your name --- that serves your mission --- to exceed your traditional ability to serve your customers.
My opinion is --- this "Rare & Unique Offer" --- can not remain open long, as TDG can only process so many new major customers --- at once.
In today's environment, this new resource --- can separate your organization --- from your competition --- while serving current and new customers --- in a significant trajectory.
What else do you have going for you --- at this time…. that would get your customer's attention…….?
Ask for Tim Bryant - when you call.
"A hunch is creativity trying to tell you something."…….Frank Capra