A Paradigm Shift…..Truly… A Look At The Future
For more
By Sid Chadwick, Chadwick Consulting
https://www.linkedin.com/in/sid-chadwick-163a1a12/
"I'm in good company…in this paradigm shift….from Outside Sales… To Inside Sales…with a Plan to Move Forward"….Assoc.  Sponsored Program Attendee     
INTRODUCTION:
Whenever in doubt re. what to do next, look closely…at the marketplace, and how it is changing. ……and especially re. buyers' needs……..
Here goes……….
Buyers…generally….don't have time to waste…e.g., "entertainment of buyers for gaining business"…today…. is not what it was --- 30 years ago……20 years ago….or 10 years ago….!
"New Buyers"… especially….. don't have time to waste….there's too much to learn….and get done….with almost no written instructions….
Sales Reps…experienced or new….. without… "useful information" to share with their buyers….tend to waste their buyers' time….and tend to not receive follow-up appointments.
Experienced Sales Reps…without useful information to share…tend to recognize that they should not waste their buyers time….so many of them… avoid making needed Sales Calls…..
New buyers --- tend to move to those few suppliers, who are most helpful…..(From our Customer Surveys, we see approximately 35% - 45% new buyers --- every 12 -24 months… at major accounts.)
Sales Reps, who take a "protective position" re. their customers, are all but guaranteed to lose those accounts, in time. (They tend to not allow needed, prompt… CSR support --- directly to the buyer.)
When Sales Reps invite CSR support, your CSR tends to become THE "Inside Sales Rep" --- to that buyer. Those buyers know they get more accurate, prompt information --- from their "Inside Sales Rep"/CSR --- sooner.
Also:
"Inside Sales Reps" --- can effectively, proacively contact at least…5X the number of customers --- each day…..as an Outside Sales Rep.
"Inside Sales Reps" --- when trained to be proactive, can be effective --- developing new business --- from both current customers, and new customers.
SUMMARY:
At the end of yesterday's Association Sponsored Program….I had three clients –call-in… to talk to Program attendees on a speaker phone  – three clients --- with successful "Inside Sales Rep Programs".
They each had a slightly different story to tell, because each company --- has a different equipment configuration, and different culture, in a different geographical location.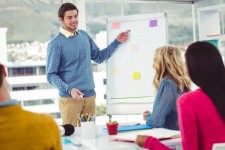 Next Step for Program Attendees: Deliver an Education &Training Program --- for Inside Sales Reps --- to quickly become successful --- developing business, that outside Sales Reps --- are not developing.
As fate would have it, today, about 12:00 noon, a long-term client called and said, "I need an effective Inside Sales Rep --- who can deliver $20,000 to $40,000/ month --- of additional business….Can you make that happen for me?"
My response, "We can find and train that person for you….and within 90 days of hiring, with your company's capabilities --- that person should be hitting the $20,000/month target."
My opinions include: That our industry's overall soft revenues reflect --- NEGLECT --- of Customer Education…and…. Proactive, Meaningful Customer (Service) Contact --- of Current Customers.
In other segments of our economy….when an important product does not receive great, reliable performance… and especially SERVICE…. that Product Brand Name --- becomes Trash…a Pariah…..It's true of autos…. it's true for computers…. it's true for food companies… it's true of appliances.
And it's true for Commercial Print…..........
"Beware the fury of a patient man"………………………..John Dryden