"…Your Customers…Don't Know Your Capabilities…"
For more
By Sid Chadwick, Chadwick Consulting
https://www.linkedin.com/in/sid-chadwick-163a1a12/
"…We chose to go to the Moon…..not because it is easy….but……because it is hard…"………….John F. Kennedy, U.S. President
INTRODUCTION:
Important issues before you….are not required…. to be hard……!
Good research…. can go a long way toward…. improved revenues….and improved profitability.
We just delivered an "out of bounds"…. Customer Survey Analysis & Report…to an important client…..
Most of their customers…..(but not all)…. who do business with them…are generally of the opinion…they are very good at delivering…..what's expected, when it's expected.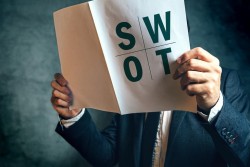 However……….there were…. over 300 requests for additional Products and Services…..from Current Customers……
And….as one of the owners thoughtfully wrote me…"…..I read …your Analysis and Report……it was 'eye-opening'…."
There were…. also…. 22 identifiable customers…. who declared..…" We send this supplier less than 11% of our printing requests……..!"
Requests for additional….Products and Services….bordered on…….. "overwhelming"…..There were…. a dozen requests…. for…. "Storage & Fulfillment"…….!
There were…over a dozen requests….to discuss…. "Long Term Agreements"…!
Review of their self-promotion program….that in my opinion….is not very effective…. shows they focus on" target prospects"…..not…."current customers"….!
If you wanted $2-$3 million in additional business…. at decent margins ….…quickly…….with this information….. where might you start….?
SUMMARY:
Because of our coding and Survey design, we can identify every response source --- there were well over… 70 current customers….who responded…!
My opinion is that most companies in our great industry …are somewhat similar…. in what they do well…..and what they don't do well……..
This client…. has a great future….with significant upturns in both revenues and profitability…..if ….they make just a few changes….. in their overall strategy…….and day-to-day execution….!
What do you know…..about what your current customers know…..and don't know….about your company's capabilities…..and how much of their business you are receiving….and not receiving………?
What does your company's self-promotion literature……say….? (You do have a comprehensive self-promotion program, don't you….?)
A modest investment...…..can reward you…. with…an incredible ROI…and….it certainly helps to know who….and where…..and why…..to focus your time and attention.
"…Direction… is more important….than speed…"……………….Dick Gorelick, Printing & Publishing Industry Consultant