A Story About a 2nd Generation Printer and the Machine They Have Been Waiting For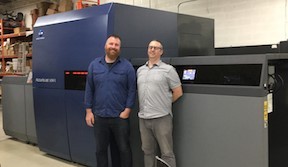 Toronto's Flash Reproductions is passionate about print. In the experienced hands of true print craftsmen, their combination of traditional, offset and digital print technologies positions them as the premiere provider of award-winning print projects. The acquisition of Konica Minolta's AccurioJet KM-1 UV Inkjet Press opens the world of digital print to the most demanding, creative professional graphic designers and content creators. 
The American Printer team had the opportunity to interview Flash's President, Rich Pauptit, and to attend a gathering of Toronto's graphic design community hosted by Flash to demonstrate the capabilities of its newly acquired KM-1 Press.
Read how successful commercial printers and in-plants are using the Konica Minolta AccurioJet KM-1 to increase profit opportunities.  
Founding Philosophy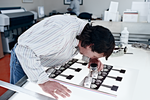 Founded by Carl Pauptit in 1969, Toronto-based Flash Reproductions has built a reputation for delivering printing projects that others thought were impossible. Their focus on service is fueled by the desire to never let a customer down.  This reputation has made them the go-to shop for Toronto's most creative graphic designers who bring their most challenging projects, confident that the craftsmen at Flash will continue to deliver some of the most beautiful, award-winning projects in Canada. 
Rich Pauptit, Carl's son, and his long-time friend and business partner, David Gallant, continue the heritage of excellence. Friends since high school, they found their way back to the business they both grew up around. Rich shares a bit of their history.
Old School
"David is a different kind of ambitious than I am. We are very much a Yin and Yang in this company. My ridiculousness would not be possible without him holding the purse strings and keeping us on the straight and narrow," says Rich.
Rich continues, "David and I went to high school together. There was a level that we connected on and for whatever reason, we had decided midway through high school that we were going to be in business together. He was at my parents' house ̶ I think he was 16 ̶ and he told my dad, "I'm going to buy your company someday." My dad is like, "Oh yeah, are you?" "Yep, you bet." That was something that he never really meant at that time because that was not the type of business we had our eyes on. He was just saying, "I'm going to be somebody someday."
Rich sees his place in the Flash legacy as continuing the hard work and vision of his father, while also being the creative driver for the next evolution of the business. However, that is not how it began. Rich did not grow up thinking he would take over the family business. He had dipped a toe far enough into the business to realize that that was not what he wanted to do.

Rich tells us that, "I had other aspirations so I went to business school. I was never a good student, so when my father asked me how school was going, I said, 'there's got to be something wrong with this school because I'm getting straight A's.' With that, my dad said, 'Well, maybe you're not learning anything there, and you should come with me. I'll teach you more about business than it sounds like you're picking up at school.' So, I decided to work with my dad. Since I was just going to learn how a business works, it was irrelevant what type of business it was. Then after a year in the business, I met some graphic designers who were trying to do a very interesting print project. The opportunity to use our company's tools to make that project come true really excited me."
That was almost 20 years ago when Flash first began partnering with graphic designers. "They would bring ideas for us to work together in achieving the end goal. That designer partnering model is what seems to distinguish us from other printers."
Rich and David continually look to the future as they honor the past, keeping the craft of printing alive while embracing innovations available with the next generation of digital printing.
"Flash is a home where projects that matter find the attention they deserve."
Passion for Print         
Since its inception, Flash has continually added both printing and finishing equipment resulting in a diverse collection of print processes. The latest advancements in offset printing operate alongside older print technologies including letterpress, screen print, and engraving. This span of capabilities puts an impressive range of capabilities in the hands of passionate, gifted and creative print professionals who truly keep the craft of print alive.
"Flash gives the best craftsman the best tools with a singular goal of producing the best work."
Rich Pauptit describes the people of Flash: "Flash is comprised of a tight-knit group of passionate industry professionals. Passion for craftsmanship is at a core value of our shop. Passionate people come to Flash with jobs that they care about to collaborate with equally passionate print professionals. We work together to choose the best fit from our wide array of processes and will stop at nothing to ensure that the finished product is the best possible presentation."
The Challenge
Rich describes what most printers know to be true; "Everyone has always wanted the best quality in the shortest time for the cheapest price. We have spent our careers working with our customers to prioritize those three desires, and it's often a difficult task.
The print market has changed drastically in the past decade and our challenge has been to stay focused our customers' needs as everything shifts. If we can figure out what our customers need before they do, then we are going to be successful. If there is one thing we are absolutely certain about it's that we cannot stand still. The print industry is changing and so we have three choices: lead, follow or get run over."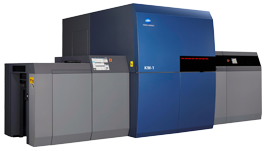 "The KM-1's speed, print quality and cost effectiveness allow us to streamline our workflow to pick up production time that was previously lost to extra prep steps." - Cobher Press. Read more about the impact the AccurioJet KM-1 has on print production processes.
The Solution
The Flash team is obsessive about print process; they spend lots of time researching and understanding the mechanics of print innovation.  Understanding the technology allows them to rely on their own experience and logic rather than promises and sales pitches. In 2012, Rich took notice of the KM-1 and saw it as a printer to watch. By Drupa 2016, the AccurioJet KM-1 had evolved into a frontrunner for Flash's next big move.
Flash had acquired an MGI prior to Konica Minolta's partnership and purchase of the company. As MGI integrated Konica Minolta's print engine in their device, they became an important part of Flash's support structure. Rich shares, "I will never forget the dedicated support we received for years from Konica Minolta, which technically wasn't our supplier." That extra level of support was a major factor in Rich's decision to partner with Konica Minolta.
Partnering with Konica Minolta was not only about the KM-1 Press, but the organization and support they demonstrated throughout the evaluation process. Konica Minolta's Senior Executive team was involved from the beginning and is committed for the long-term success of our company.  We have the confidence Konica Minolta has the global resources and expertise to deliver a world-class experience for the life of the press. 
"We are proud to partner with one of the most premier printers for quality to launch this exciting new high-end inkjet technology in the Canadian marketplace," said Bill Troxil, Senior Vice President, Strategic Business Development, Konica Minolta Business Solutions USA, Inc.  "The success in 2017 has Konica Minolta investing in more strategic resources to double the original outlook this year for the AccurioJet KM-1."
Evolution
With the AccurioJet KM-1 Press installed and ready to go, Rich and David reached out to their clients in the graphic design community and invited them to see first-hand why they, as Rich said with enthusiasm, "should give a sheet" about it. They hosted an event at a downtown Toronto brewpub and were joined by over 70 artists who got to see, touch and feel what Flash Reproductions could do with their new AccurioJet KM-1 digital printer. 
As samples of a wide array of printed output produced on a range of substrates  ̶  from traditional paper to substrates made from potato starch  ̶  circled the room, Rich told the audience that the AccurioJet KM-1 was truly the answer to longstanding questions around what was possible with print.  As the printed samples provided the proof of print quality, he brought the business value to the conversation.  The KM-1 enabled Flash to do short-run, offset quality work in the digital world, and at a cost that made it amazingly attractive.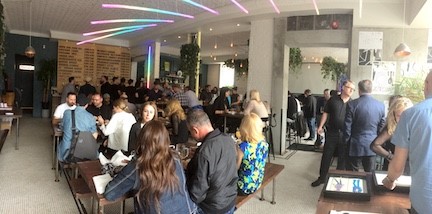 Members of Toronto's graphic design community join Flash Reproductions for a hands-on look at the brilliant output from the Konica Minolta AccurioJet KM-1 Inkjet Press.
Even though he has ink in his veins, Rich has creativity in his heart.  He is an artist too – his passion project is music, which he creates and records for the satisfaction it brings.  He translates the technical world of print into language that resonates with the creatives who are always looking for methods to bring their vision to the physical world through print. 
The crowd was convinced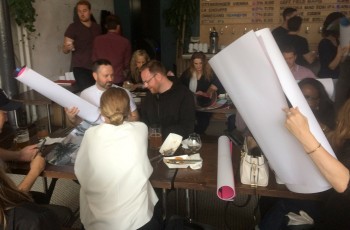 The Verdict
"To put it simply, the KM-1 appears that it will allow us to offer what everyone wants: the best quality in the shortest time for the lowest price. To be frank, it seems too good to be true, but our investigation into the machine has led all of the experts at Flash to uniformly believe that this may well be the machine we have been waiting for!"
"I'm not foolish enough to claim that I can see the future, but I'm smart enough to keep my eyes open while it's happening."
Flash Reproductions is embracing the opportunities that the Konica Minolta AccurioJet KM-1 brings to its business.  The KM-1 Success Series eBook contains experiences from other innovative commercial printers and major in-plants, like Old Trail Printing, Panoramic Press, and Shaw Industries, as well as an inside view from Konica Minolta's Bill Troxil how he and his team, backed by the world class Konica Minolta engineering experts, deliver on the promise of AccurioJet Inkjet Press technology.
Download the KM-1 Business Success Article eBook and read how successful commercial printers and in-plants are using the Konica Minolta AccurioJet KM-1 to increase profit opportunities.