Digital Media Graduate Immediately Hired as Architectural Firm's Marketing Coordinator
Gregory Grady, a recent University of Houston Digital Media graduate, shares his new job experiences.
Q: Hi Grady. Thank you for sharing your time with us. One month after graduating from the University of Houston's  Digital Media degree program you were hired as Marketing Coordinator for an award-winning architecture firm. How are you doing after a few months in the workplace?
Grady: I've learned that the workplace stops for no one, This was extremely clear on my first day as I wasn't even there 2 hours before I had an assignment. I was put to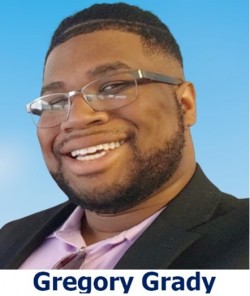 work constructing a PowerPoint presentation for one of the principal architects before I even finished setting up my login info and email.
Q: What other tasks have you been asked to tackle?
Grady: My Digital Media program included photography as a part of its curriculum. So, I will be doing some of the photography when the company does not feel like contracting a professional photographer or whenever they need photos faster than possible for their usual contractor.
I also performed a health checkup on the company website, as they repeatedly mentioned that it seemed "broken" and hard to use when posting new content.
Q: What did you find?
Grady: It was quite an old WordPress website that had not had any maintenance performed on it since day one!  I had never formally met the CEO, but I scheduled a meeting with him. After introductions were finished, I sat down with him and walked through the website page by page. I asked the purpose of each page and he shared how he wanted things to be changed, and where he wanted specific elements. I showed him how the site's problems were due to a lack of maintenance.
My recommendation was instead of trying to update the site, that it be rebuilt from scratch. He asked if I could rebuild it. It was too large of a project for me to handle alone. So, my team and I set up meetings with professional web developers and got quotes from them. After we received approval to hire one of the firms, the CEO assigned me the responsibility to manage the website rebuild.
University of Houston's Digital Media students go beyond a single profession. They are strategists who produce across print, packaging, emedia, eCommerce, simulation, app development, videography, animation, game development, and photography.

Q: How else has your Digital Media background been of value to the company?
Grady: Many of the digital media concepts we were exposed to and taught at UH like web design, page layout, and printing terms and practices. These are very important to companies but not very well understood. So, some of my initial suggestions have been rejected. But I look forward to the challenge of learning to patiently introduce my ideas at the right time, in the right way, to the right people. 

Q: Why do you think you were able to gain employment so quickly after graduation? 
Grady: On my first day, I asked my supervisor why she chose me over other applicants. She replied that I had an interesting skill set that the company could utilize.
In addition to my skills, she referenced my participation in successful projects like the XR Showdown, the Ion Documentary, and Houston's Freedmen's Town. My professional demeanor (which I credit as being gained from all my university experiences) was also noted as being beyond that of a new graduate.
Q: Based on your work experiences, what advice can you share with other Digital Media students?
Grady: I have been handed challenging issues and tight deadlines that tested my abilities. To meet the challenge, I needed to think quickly and effectively about ways to solve problems. Thanks to what I learned from my Digital Media professors; I haven't disappointed my team yet!
From those experiences, I realized that the skills we learned in school only matter if they can be used to help the company solve a problem or achieve a goal.
My advice to other Digital Media students is to be prepared to use your skills to produce something that is more than just video, or a page layout. Rather than just showing off your skills use your talents to solve a problem, develop a solution, or create a strategy.
If you think technical skills alone will help you succeed, you are wrong. Your skills only matter if they deliver business-building solutions to your employer and its clients.
---
The University of Houston's Digital Media Program is supported by generous donations of cash, hardware, and software from companies like: