What Can A "Great Open-House"- Demonstrate…and…Accomplish?
For more
By Sid Chadwick, Chadwick Consulting, Inc.
https://www.linkedin.com/in/sid-chadwick-163a1a12/
"I had no idea you could produce… and supply… such images…such products…...!"……….Long-Term Customer…During "Open-House Tour"
INTRODUCTION:
Here are a few options….. for your……Personalized Invitations: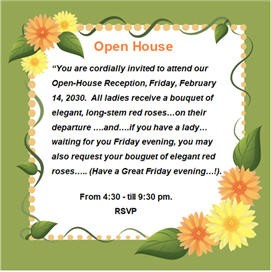 "You are cordially invited to attend our Open-House Reception, Friday, February 14, 2020.  All ladies receive a bouquet of elegant, long-stem red roses…on their departure ….and….if you have a lady… waiting for you Friday evening, you may also request your bouquet of elegant red roses….. (Have a Great Friday evening…!).
During your Visit and Company Tour --- we hope you'll:
Ask to take our "Color-Balance Eye Exam", to learn if you have "perfect or nearly-perfect " eye-color-balance…".
Allow us to showcase our many "Print Excellence Awards"….with photos of Clients and their Projects --- for whom we produced these stunning projects.
Meet our Project and Production Personnel…..with a dossier of their Project Photos and top-tier professional credits…..in each Department….
Pick-up a Copy of our "Packaging Design Catalog"….for your next Product Introduction or Direct Mail Launch…..remembering…."All Packages Get Opened"
Make time to enjoy our delightful hors d'oeuvres… including Smoked-Salmon from Oregon, French-Brie, and Sparkling Muscadine Sparkling-Wines - from the Yadkin River Valley.
Pick-up a Copy of "What To Expect from Your Press-Check…with Us"
Allow us to have your car washed…and waiting…  for when you're ready to head home…..or to a relaxing Friday evening….and Weekend….
Bring your toughest grammatical and proofreading questions, and try to  "stump" our English Literature expert, Ms. Marjorie Bruner, from UCLA…..
Pick-up a rare complimentary copy of The Greg Reference Manual…..
Pick-up a limited copy of our, "How To Properly Check A Proof"…..
Take your time at our "Sample Library"…it's spectacular….!
View our rolling series of YouTube Videos….guiding designers and Creative Directors on, "What can now reliably be produced …for improved communications"…..
And…..allow us to say "Thank You"… for the opportunity to serve you....... your organization….and your objectives…!
 
We want you…. to experience….."You always receive more….including great production and communication memories….. .from (Name of Your Company)".
From 4:30 – till 9:30 pm.
RSVP
SUMMARY:
Your customers do NOT know what your company can produce…they tend to only know…. what they buy from you.
Every  "Client Open-House" I've ever observed…resulted in "uplifting morale"….including… but not limited to "first-time" introductions to important customers we'd only heard about…or only talked to on the phone… or had not personally talked to….. for way-too-long. Prospects are personally met…..and have priceless opportunity to meet and talk to loyal customers….who sing your praise.
For your "Open House"……Personalized Invitations should go out two months in advance of your Open-House, followed-up by mailings, phone calls, and email blasts. (Did you receive your personalized Invitation…?), plus follow-up phone calls and emails….the week before, and the day before the event….with Target Customers…and…. Target Prospects.
Every event….every speaker…..every demo….should be reviewed….and practiced.
Make sure your Trade Press and local media…. have advance notice…..and are invited to cover your event.
What's the value of one-on-one time, with key customer and prospect personnel….?.............Do you think this "Open House"…..too much…..?
In today's noise-filled marketplace…….."Good enough"….." is NOT….good enough"……
How long has it been since you held an "Open House"…. of your company…?
"A ship in harbor is safe, but that is not what ships are built for…" ……………………………… John A. Shedd