The Océ LabelStream 4000 Series: The Right Technology, the Right Market, the Right Time
By Andy & Julie Plata
Co-CEOs, the OutputLinks Communications Group
June 12, 2018
In early June we were in Poing, Germany for the unveiling of the Océ LabelStream 4000 series, which marked Océ and Canon's entry into the packaging market.
 The elegance of the industrial-scale, UV inkjet platform for self-adhesive labels and selected flexible packaging applications demonstrate the advantages of waiting until the right time to enter the packaging and label market. Of the early entrant vendors who introduced inkjet-based label printers over the past few years, some are succeeding, and others failed.
From the LabelStream 4000's strategic features, it is evident that Océ took the time to study the market and learn from the early entrants' experiences. That research helped determine the end users' five most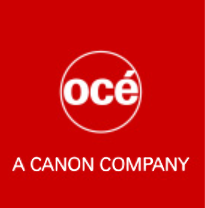 significant challenges:
    1. Cost of Ownership
    2. Press downtime due to service issues
    3. Finding enough business to fill capacity
    4. Finishing requirements
    5. Printing high opacity whites
When it was determined to be the 'right time' they applied their "Inkjet DNA" and their technology-partnering experience, to develop an industrial strength, self-adhesive label printer - and they did it over a very short timeframe.
As you may be able to tell, we were impressed.
See a short video of the unveiling with technology voice over here >>>
Why We Were Impressed
The LabelStream 4000 was designed to be much more than a simple label printer. The principal objective of the designers was to create a platform capable of operating at a lower cost with higher productivity than the competition.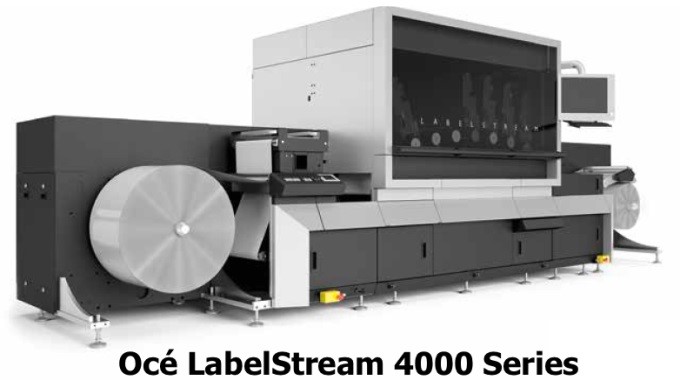 The goal was to provide buyers a fully integrated label solution with up to ten Flexo stations that can be positioned before or after the inkjet print station. In addition, the press needed to support foil, varnish, inline lamination and multiple rewind rolls. An ability to support an extensive array of customizations was also built into the platform.
One of the press' most impressive features was an automated die cutter controlled from an iPad-style screen from which an operator could visually select the desired label cut. The LabelStream 4000 provides high-value label production in a highly productive one pass, in-line system.
To achieve their goal of building 'the best of the best' in inkjet label printing, capable of adapting to an extensive array of customizations, Océ selected highly respected inkjet and transport partners, who were a good fit with the Océ culture, to help them move quickly to market with a best-of-breed solution.

The LabelStream 4000 Partners
edale provides the inkjet web transport structure and base machine. Their transport expertise for print and packaging ensures that the label substrate is in the right position, with minimal deviation, at the exact right time all fully integrate with the inkjet system.
FFEI supplies the digital imaging, inkjet integration expertise. Having developed one of the first inkjet presses in 2010 and then Graphium label printer in 2013, FFEI has a proven record of inkjet, label and integration expertise.
Xaar's 2001+ U printheads provide the critical, high precision, UV latest generation of UV print heads.
We had an opportunity to speak with Andy Cook, the FFEI's Managing Director, and James Boughton, edale's Managing Director. Both expressed respect for Océ's partnership model and the preparation and prior research which was evident in their early discussions. Most impressive was that the Océ team was willing to listen to their suggestions on how best to achieve the objective. Another factor that impressed Andy and James was the Océ team's absolute requirement for high reliability to maximize uptime and productivity.
Océ provides the technology architecture, integration, workflow and full system service for the LabelStream 4000.
Tailored Label Conversion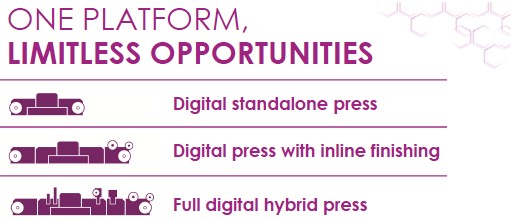 The keyword 'Tailored' indicates that the Océ LabelStream 4000 is not a one size fits all solution. The new platform is initially available in three configurations:
Digital Standalone press;

Digital Press with inline finishing;

Full digital hybrid press.
Each configuration has additional options for:
Two widths (13" and 16");

Two speeds (48 m/min and 68 m/min);

Two white ink modes - True White and Alpine White. 

A great deal of attention was directed to the Alpine White with greater than 80% opacity in one-pass.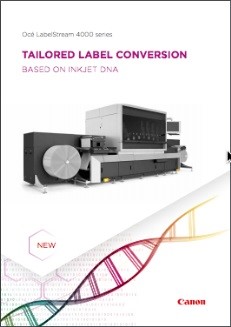 Additional options are available in-line with die-cutting, slitting and dual rewind at the end:
Up to ten pre or post-Flexo printing units;

Lamination

;

Varnish;

Cold foil.
Turning Challenges into Opportunities
Océ feels the LabelStream 4000 answers the five most significant challenges they had identified for end users (see paragraph 3):
Twice the productivity of competitive systems at up to 30% lower running costs;

24/7 world-class service;

Tailor-made business development supported by Canon's global support team;

Inline die cutting, slitting and dual rewind

;

Impressive quality with 80% opacity whites in a single pass
*Plus, inline embellishment with lamination, varnish, and cold foil.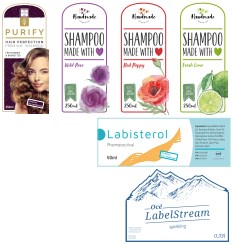 The Océ LabelStream 4000 is targeted at the 50 m/min to 75 /min speed market with applications running the gamut from beauty and healthcare, beverages, household, to industrial, pharmaceutical and promotional.
Focus on Service
Océ printers including the Colorado, ProStream and the i300 are all recognized for excellent uptime statistics. In like manner, the LabelStream 4000 promotes its uptime and service excellence as key differentiators.
In Closing                                                                                                           
Océ's "Inkjet DNA" has produced an excellent product for label printers desiring to enhance profits through increased automation, higher flexibility, lower running cost and maximum uptime. European availability will be 4Q18 at a price of €650K to €1.5 million depending on configuration. Availability in North America is projected to be mid-2019. This schedule provides print and packaging professionals ample time to review business growth objectives, meet with suppliers and then determine how best to profit from the label and packaging market which has not been impacted by the digital display technology.
For more information and technical detail download the Océ LabelStream 4000 brochure.
Promoting print-tec for the digital age,
Andy & Julie Plata
Co-CEOs, the OutputLinks Communications Group
Océ LabelStream 4000 series Key Features
 Canon and Océ are confident to add value to label converters by providing a superior package consisting of technology, end-to-end solutions, service and business development based on our experience of more than 1.500 webfed inkjet installations.
Modular toolbox: From a standalone digital press to a full hybrid configuration –

custom

mix of digital, flexo, finishing and embellishment units, seamlessly integrated

Industry-leading productivity: Two print speeds of 48 m/min and 68 m/min combined with two print width of 330 mm (13") and 410 mm (16") correspond to a productivity range of 950 – 1,672 sqm/h

Excellent white opacity: >80% opacity in one-pass at standard press speed

Seamless integration and automation: Single-point of operation, servo-drive technology, auto-registration and impression setting plus inspection cameras

enhances

the usability while reducing make-ready times

Outstanding service quality: Each unit comes with the confidence of working with the world's number one vendor for inkjet production technology

Canon's

world class

service includes 24/7 availability, remote service assistance

and

outstanding parts logistics

The Océ LabelStream 4000 series provides industry-leading UV inkjet productivity including high opacity white at standard press speed

A modular toolbox concept allows to create a tailor-made and seamlessly integrated single-pass label conversion solution

Optional flexo color, embellishment

and

finishing options help to meet various demands and budgets

Cost-efficient short runs, quick turnaround times and customized content will give brands a boost while meeting the most demanding supply chain challenges

Customers will benefit from the best package in the industry based on Canon's and Océ's inkjet DNA. Innovative technologies integrated into comprehensive end-to-end solutions and supported by first-class global service and business consultancy will help to develop and grow a sustainable and profitable digital business.